Khan (district) Daun Penh's name comes from a local legend where a woman named Lady Penh supposedly found statues of Buddha inside a floating tree along the Mekong river. Nowadays, Daun Penh is considered one of the largest commercial hubs in Phnom Penh – lined with art deco architecture, sprawling local markets, various F&B options and criss-crossed by key arterial roads of the capital city.
Khan Duan Penh has 11 Sangkats in total. These are Srah Chak, Phsah Chas, Phsah Kandal I, Phsah Kandal II, Chey Chomneas, Chaktomuk, Phsah Thmey I, Phsah Thmey II, Phsah Thmey III, Boeng Raing, and the location where Lady Penh supposedly hid the artifacts, Wat Phnom.
How's the property market in Daun Penh?
Duan Penh Land Market:
Land prices in Phnom Penh continued to rise from 2010 to 2016. Daun Penh represents one of Phnom Penh's most valuable districts. Land value in Daun Penh generally ranges between $4,000 to $4,300 per square meter, according to the H2 2016 CBRE Cambodia Market Overview by CBRE Cambodia. It is considerably cheaper than land in BKK 1 & 2, yet prices are still high in Duan Penh is key retail locations and along main roads. Parking is in high demand in this district, so land lots with space for car parking are highly sought after.
Duan Penh Residential Property Market:
Condominiums/Condos in the area range from $21,500 for a basic, unfurnished one room unit to $520,000 for a fully furnished two-bedroom unit. Rental rates are from $150 a month for a unit near Sorya Mall up to $2,800 per month for a unit in Phsar Kandal I. These prices for both rental and sale of condos varies dramatically depending on the quality of construction, management and location.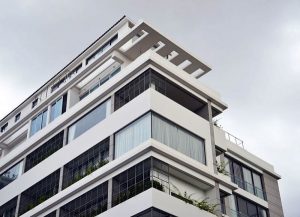 Some Villas are still available for sale in Daun Penh, but there is a limited supply. Many villa properties have been purchased by apartment, hotel and condo developers to make way for new construction. Meanwhile, expect to pay for what you get, because good quality villas with surrounding land are in high demand from wealthy locals in this area. You can rent a 200-square-meter villa for $600 a month all the way to $25,000 a month for a high-end 600-square meter villa. For sale prices start from around $200,000 and can rise to the millions depending on quality, land size and location.
Flats and shophouses for sale can start from $29,500. It can go up to $2 million for a flat with four-bedrooms and 4-bathrooms. Rental rates start from $90 a month to several thousand a month, depending on location and quality.
There are also a number of Borey projects in the area that you can inquire about if you want to buy a property within a gated community. Some of these are completed already, others are still in progress.
Office Spaces and Business Centers in Daun Penh:
Rental rates for office spaces in Daun Penh can go for as low as $6 per square meter a month and as high as $15 million to buy an entire office building with a land area of 1,070 square meters.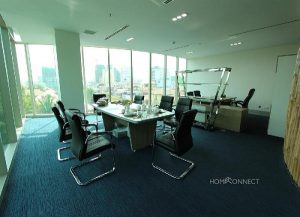 The major business center here is the Canadia Bank Tower, located at Ang Doung Street. It has 32 stories and has a total area of 6,000 square meters. It will comprise of a business lounge, workstations, meeting rooms, part-time offices, day offices, internal offices, and window offices that you can rent out through office provider, Regus.
The Vattanac Capital Tower is one of the most prestigious locations for business in Phnom Penh. It stands at a total of 187.3 meters high with 39 storeys of commercial space.It was built with international standards and even has a Gold Certification in Leadership in Energy and Environmental Design as a green facility from the United States Green Building Council.
The Phnom Penh Tower is another business center here. It also has a gross area of 1,172 square meters. It provides office spaces for every need and caters to anyone from individuals to large brands.
16-Levels of Grade A office space will also be available through the Hong Kong Land Exchange Square, which is expected to reach completion in 2017. The development – 30,000 square meters in size – will also include a four-level retail podium.
Daun Penh Lifestyle:
What is Daun Penh's environment like?
Daun Penh is characterized by its tasteful mix of culture and diversity. It contains historical value through its legends and structures but it also does not steer away from the construction of modern establishments such as restaurants, bars, hotels, business centers, and condominiums. It has no shortage of activities for backpackers all the way to executives. In Daun Penh, you are who you want to be because you have a variety of lifestyle options.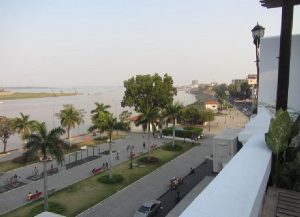 Daun Penh encompasses the Riverside area - and overlooks the great Tonle Sap river. Lifestyle wise, riverside has the best selection of restaurants and bars, making it very easy to meet new people. Of course it is riverfront, which means amazing views and fresh air. Riverside also has plenty of markets. For people interested in Riverside real estate, most of all this area is convenient – everything is just a walk away.
In regards to Tourism, riverside is the #1 spot in Phnom Penh, and one of Cambodia's travel hubs. Here you can easily access all tourist amenities, such as bus tickets, ferry tours, the night market, royal palace, and riverside is also home to a host of cultural events & festivals.
Are there any places to shop, eat, or entertain yourself in Daun Penh?
There are plenty of places to go to in Daun Penh such as the Central Market between St. 126 and St 136. It was built in the 1930s and is a bargainer's heaven for souvenirs, handicraft, shirts, and jewelry. And just south of Central Market is the Sorya Mall – a more westernized retail mall – which was once the largest shopping complex in Cambodia. Sorya Mall is currently being remodeled to attract new brands and create a more-modern shopping experience.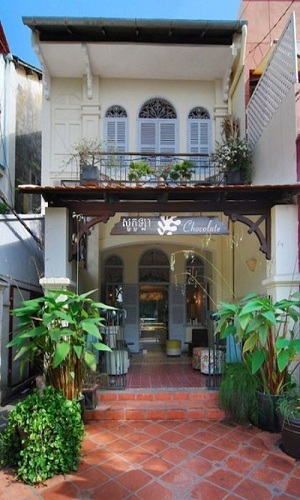 Golden Sorya Mall was also Phnom Penh's biggest mall back in 2009. It has a number of food courts and a big supermarket inside. But if you're looking for western supplies, Lucky Market is just along Sihanouk Boulevard, and includes a very well stocked supermarket.
A variety of restaurants, fast food joints, and coffee shops are available as well such as Kentucky Fried Chicken, Lucky Burger, The Deli Bistro Gourmet on St. 178, Ratanakiri Restaurant on St. 51, Le Point Café Restaurant, Mekong Korean Restaurant, Sarpino's Pizzeria, Golden Mermaid Restaurant, Brown Coffee, KOI Café Vattanac Capital, Bloom Café, and many more.
For those looking to create home-cooked meals, there's the Kandal Market, Pencil Supermarket, Orussey Market, and the Old Market. Here you can buy just about anything from the expansive wet and dry markets.
Where are the Gyms, Fitness and Wellness Centers in Daun Penh?
For those looking to unwind, relax, or work out, Daun Penh is crawling with health and wellness facilities. Among them are The Place 2 at St. 278, Prokout Fitness and Fight Center, Paddy's Fight Club, and Kim Hour gym. Spa's include the SK Relax Massage & Spa I, M Health Khmer Spa, and the Rock Hotel and Spa.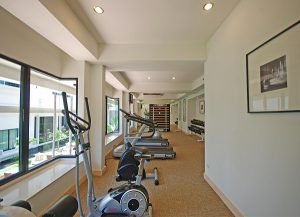 What's the nightlife like in Daun Penh?
For hanging out and chilling, you can head on over to the three main areas of nightlife in Daun Penh. Street 51 includes dynamic beats from Pontoon which serves up some mean music like EDM or electro house. Heart of Darkness is also on Street 51 which has been serving the locals and tourists since 1993. Street 51 area is the most well known area for bars and clubbing in Phnom Penh.
The riverside walk area is another popular location for people looking to go out and have fun. The Metro Hassakan is just one of the trendy eateries located here which serves Tapas by day and cocktails by night. It has a more upscale vibe with well-dressed tourists and trendy locals. Just stroll the riverside for countless other options and all variety of cuisines.
The third main area is over at Street 172 where you will find a strip of bars, restaurants and hotels. Since the filling of Boeung Kak lake years ago, many tourism ventures relocated on this street and have imported a truly metropolitan crowd. Other bars in Daun Penh include Blue Chilli Bar on St. 178, The Empire Movie House, Bar & Restaurant, Velkommen Backpackers, Shanghai Bar and Restaurant, Oasis Bar, Eden's Bar, Dream Bar, and bars in hotels like Monsoon Boutique Hotel, Le Grand Mekong Hotel, and Hotel Cambodiana.
What schools are in the area?
Daun Penh is filled with bilingual schools that are also accredited by IELTS and TOEFL. Some of them also offer U.S. high school diplomas on top of Cambodian high school diplomas. These institutes include the Wat Koh High School, Preah Sisowath High School, Westline School, Chaktomuk Secondary School, Paññāsāstra University of Cambodia, Beijing International Academy, Student Development Institute, Hun Sen Bun Rany Wat Phnom High School, Preah Sihanouk Raja, Golden Gate American School, ICS International School, and the Sovannaphumi School.
A number of these schools are also registered with the Cambodian Ministry of Education and accredited by the Cambridge International Exams, Western Association of Schools and Colleges, Middle States Association of Colleges and Commissions on Elementary and Secondary Schools and the National Council for Private Schools.
How do I move around the city?
There are plenty of transportation options in Daun Penh which is evidenced by numerous terminals and stations connecting the area to the outer provinces and cities of Cambodia.
Cambodia Railway Station is one of them - and this has a passenger line to Kampot and Sihanoukville. Other terminals include the Battambang Taxi Station, Central Market Bus Stop, G.S.T. Express Bus Stop, Medical University Bus Stop, BKC Bus Stop, Monivong Road 214 Bus Stop 36, Kampong Chamlong Phnom Penh, Precah Ket Mealea Hospital Bus Stop, Calmete Hospital Bus Stop, Old Stadium Roundabout Bus Stop, Giant Ibis Bus terminal, Larryta Express terminal, and the Daun Penh Health Center Bus Stop.
There are a also tuk tuks and motorbike taxis available in the area. If you're using your own vehicle, bikes are also a normal sighting in Daun Penh. Cars also have easy access to different parts of Phnom Penh through Daun Penh's surrounding main roads.
What if I get sick? Are there Daun Penh Medical Centers?
Serving as the location for the Medical University, Medical centers and medical supply stores such as pharmacies are also abundant in the area.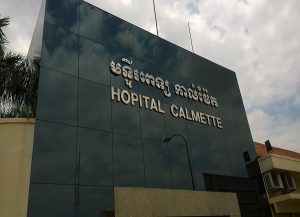 Pharmacies in the area include the Pharmacy Gold Palace in National Highway 5, the Pharmart UHS, and the Pharmacie De La Gare along Preah Monivong Boulevard, U-Care along Preah Norodom Boulevard, and U Care Pharma along Samdach Sothearos Boulevard.
Hospitals in Daun Penh include the Daun Penh Health Center, Calmette Hospital on St. 80, Bayon Hospital along Prah Norodom Boulevard, the Preah Ket Mealea Hospital on St. 47, and the Ang Duong Hospital.
For your dental care and needs, there's also the Roomchang Dental Hospital located on St. 184 in Sangkat Phsar Thmey III. This is known as one of Cambodia's leading dental clinics.
Is the Daun Penh area prone to natural disasters?
Daun Penh is prone to flooding. Just recently, reports have circulated about Daun Penh district's Psar Kandal commune, Chamkarmon district's Tonle Bassac commune and Tuol Kork district's Doeum Kor Market partially submerged in flood waters.
A continuous government initiative to offset flooding is being made. There are now more than ten pumping stations in Phnom Penh after construction of a new pumping station was started in 2015 in Boeung Trabek.
City hall spokesman, Chen Bunthoeun, said that "based on new water pumping stations that are equipped with large pumping heads which we are installing, the governor guarantees that the city won't be affected by flooding again."
If you want to make sure the area you're going to live in has no flooding issues, check the surrounding area or the property itself for flood lines. These are usually darker discolorations at the bottom part of a wall or vertical surface. You can also check for fresh paint jobs at the bottom part of these surfaces.
If you've already purchased or rented a house and read this just now, getting around the city during a flood will be manageable using a tuktuk or taxi. Storms in Cambodia are also windy. So, thick and waterproof outerwear would be better than using an upturned umbrella.
Now you know the neighbourhood. Take a look at some properties that are up for rent and for sale in Daun Penh!