Realestate.com.kh is proud to sponsor and support the Global Alumni Convention (GAC) 2016.
The Global Alumni Convention (GAC) is organized by IDP Education to bring together graduates from Cambodia, Australia, the USA, Canada, the United Kingdom, New Zealand, France, Russia, Korea, Japan, China, Malaysia, Singapore and other countries and give them a forum to meet, share ideas and network with experts, decision makers and leaders from governments, the private sector, and civil society for education, trade and investment opportunities.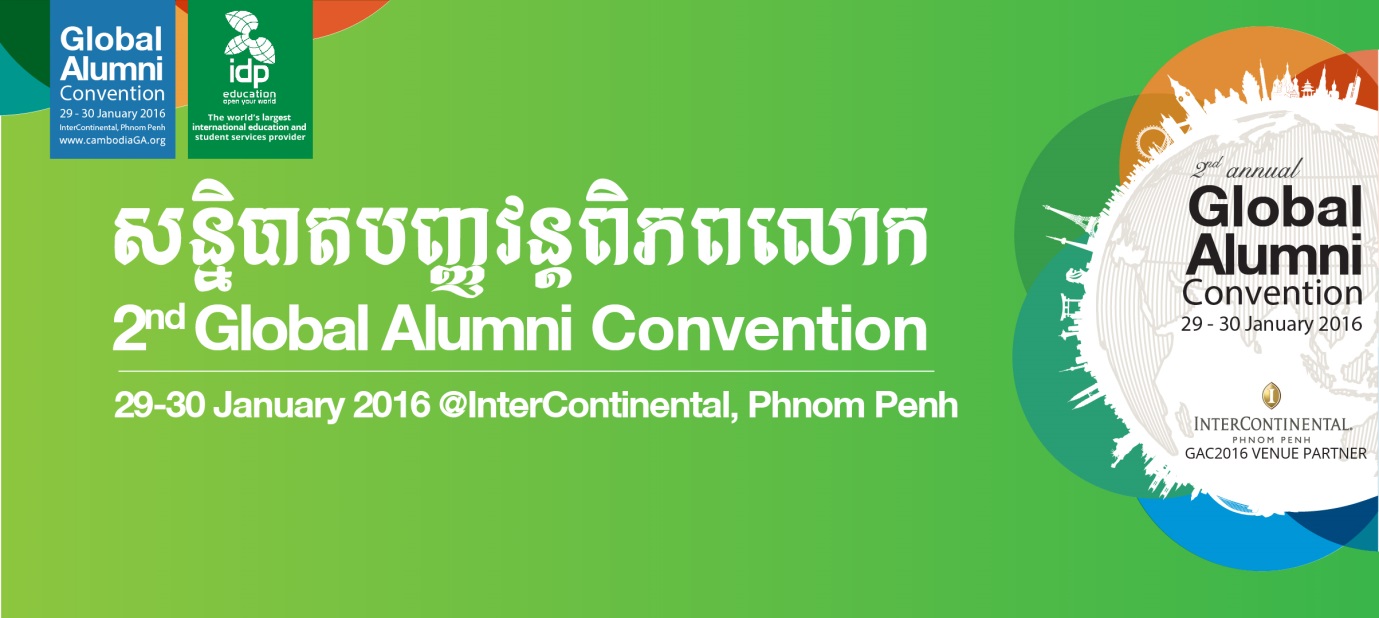 AIMS OF THE CONVENTION:
The convention is designed around the themes of reconnecting with learning, knowledge-sharing, and being inspired to fulfil education, professional, and business potential. Organizers anticipate attendance by more than 500 alumni, professionals, experts and leaders from the public and private sector.
The objectives of the GAC 2016:
To learn about the pathways and successes that alumni from these countries have achieved.
To showcase world class education systems and opportunities.
To gain insights into Cambodia's position in the world.
To enhance friendship and cooperation within Cambodia and internationally.
Who will attend the convention?
The Global Alumni Convention is a high-profile event with 500 anticipated attendees being:
Graduates from around the globe.
Leaders from Governments and Embassies.
Directors, CEOs and Senior Executives from business and civil society.
Professionals, specialists, and experts from diverse industries.
Cambodians and non-Cambodians.
When and where will the convention be held?
On the evening of Friday 29 and all day on 30 January 2016 at InterContinental Phnom Penh, Cambodia.

Convention Format:
The format of the panel discussions will be four panellists plus a moderator with an interactive Q+A. The convention will be in two parts – the Business & Education Networking Reception on the evening of 29  January  2016  coupled  with  the  Main  Convention  on  30  January  2016  and  concluding  with  the Convention  Cocktail  Reception. The  Business  &  Education  Networking  Reception  will  be  a  networking dinner  with  leaders  from  the  government,  embassies,  the  private  sector  and  civil  society. The  Main Convention  will  consist  of  a  series  of  moderated  panel  discussions  with  topics  being  on  Cambodia-related  issues  and  will  be  given  by  leading  figures  from  the  business  community,  the  public  sector, relevant industry figures and alumni themselves.
GAC  VIPs:
GAC 2016 will be honoured with a welcome address by HE Sun Chanthol, Senior Minister and Minister of Commerce on the evening of the 29
th
, and the official opening address by HE Dr Hang Chuon  Naron, Minister of Education Youth and Sport in the morning of the 30th January, 2016.
REGISTRATION FEES:
Early Registration – 01 Oct – 30 Nov 2015 (US$ 70)
Standard Registration – 01 – 30 Dec 2015 (US$ 80)
Late Registration – 01 – 28 Jan 2016 (US$ 90)
Walk-in Registration – 29 – 30 Jan 2016 (US$ 100)
To register, please go to
www.cambodiaGA.org
 ; For more information, please contact GAC Secretariat Office at gac@idp.com or 023 222 064.