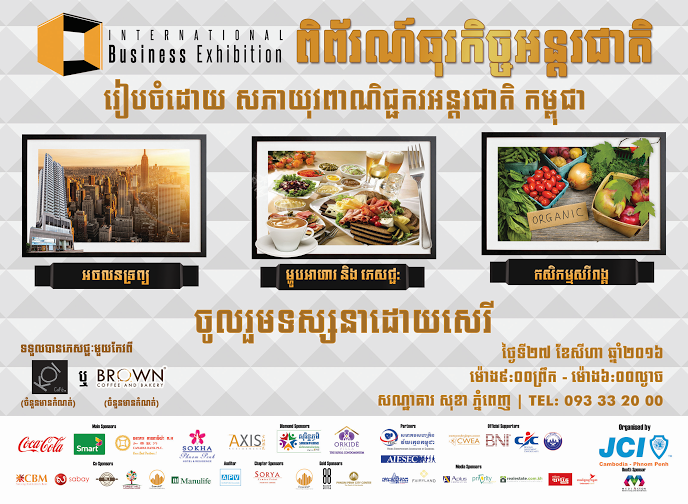 On this Saturday 27 August 2016, JCI Cambodia will hold the International Business Exhibition and JCI Entrepreneurs Forum at the Sokha Phnom Penh Hotel from 8am.
Realestate.com.kh is extremely proud to be sponsor for this year's event!
Alongside its business exhibition, JCI has also prepared a series of talks which will feature distinguished speakers and experts from the areas of Food & Beverage, Real Estate, and Organic Agriculture products. Although speaking about different sectors, the discussion will center on one key topic, "Key Success and Investment Opportunity in Real Estate, Food & Beverage, and Organic Products in Cambodia".
This topics will be divided into two parts, morning and afternoon. For discussing on food and drinks sector, and agriculture sector, there are 4 speakers such as: Kouch Sokly president President of Cambodia Restaurant Association, Dr. Tan Monivann – VP of Mong Reththy Group Co., Ltd. Mr. Chang Bunleang – Operations Manager and Co-founder of Brown Coffee, Mr. Neak Tharen – Board of Directors of Cambodian Organic Agriculture Association and CEO of Natural Garden and facilitated and Moderators by young entrepreneurs Ms. Dek Dary – National VP of JCI Cambodia, Managing Partner at 360 Event Management, and Mr. Khorn Chhundara– CEO of KOI Café Cambodia.
Discussions in the afternoon turn to speakers from the real estate sector such as: Mr. Kim Heang – President of Cambodian Valuers and Estate Agents Association (CVEA), Mr. Harry Martin IV, the sales and marketing manager of Worldbridge Cambodia, Mr. Kenn Yeo – General Manager of Orkide Villa Condominium (Mall & Condominium Project), and coordinated by HE Sok Siphana –  President of Sok Siphana law firm and  government adviser.
In 2016, we expect participants Entrepreneurs Forum, there are guest 250 to 300, with regular ticket price is $50 and $40 for members JCI YEAC, CIC, BNI, CWEA, CVEA and CRA.
For interested participants, you can contact: Tel: 017 59 46 19 or email:  sothearak2510@gmail.com / jci.phnompenh@gmail.com