Within the confines of Cambodia, there lies a paradise known as Sihanoukville, the nation's premier beach town. For years, this gem was overshadowed by the interest of tourists who only visited Cambodia for a few days to experience the temple complex and Angkor Wat in Siem Reap. 
However, with an eye for great investment opportunities, the developer Camhomes – part of the Singaporean Corporation, the HLH group – looked in the opposite direction toward the majestic views of the Sihanoukville coastline. This prompted the conceptualization and the progressing construction of D'Seaview, one of Cambodia's grandest property investments.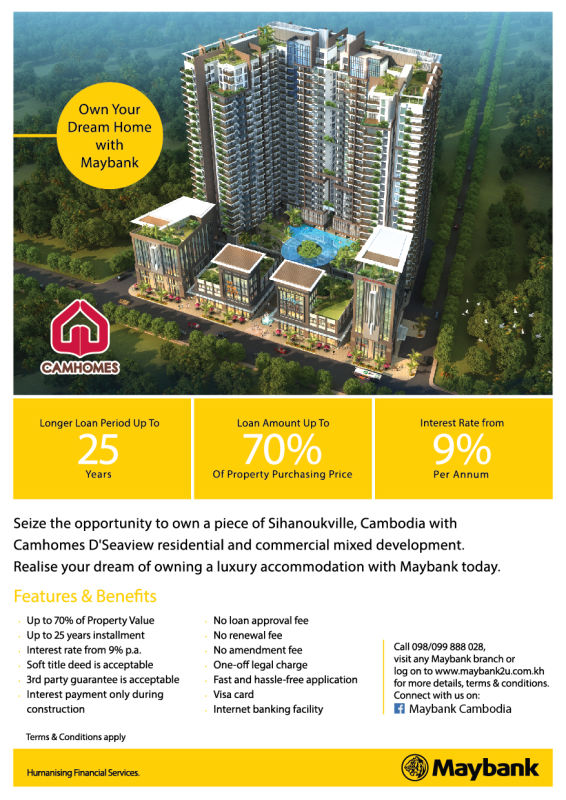 Standing tall with a 28-storey foundation, this project offers buyers a flexible finance scheme for purchase. With interest rates starting from only 9% per annum for up to 25 years, Maybank gives you the chance to own not only your own modern beach condo in Sihanoukville, but a chance to own part of Cambodia's beautiful skyline. 
Not only that, but Maybank will allow you to loan up to 70% of the property purchasing price for local Cambodian and up to 50% for international buyers. 
Even with its state of the art facilities and Singaporean-inspired design, Camhomes – through its unique partnership with Maybank – still allows third party guarantees and accepts soft title deeds with no loan approval fee, no renewal fee and no amendment fee.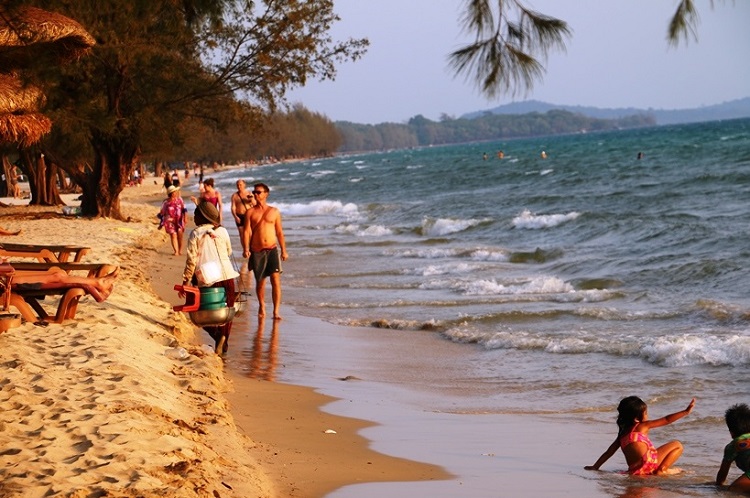 A well-equipped gym and lap pool will be available for those who need their daily health fix; and D'Seaview will also provide 24-hour manned security for individuals and families alike. A 24-hour car park for residents and guests, with ample space, is ideal for those who planned to extend their hours into the morning.
Peaceful gardens also await investors as they make their way through to their units, ensuring fresh and breathable air. Walk paths along the waterfront property will also provide them ease of access and an enjoyable sightseeing experience as they look upon the great architectural design of the buildings surrounding them. The modern and eco-friendly aesthetic and function of D'Seaview definitely takes into consideration the livability of this project - for each and every beach condo. That's why it also has a playground, so that the whole family can enjoy. And when you don't feel like going to the beach, you know that you always have the option of staying in the confines of Sihanoukville's first ever mixed use development where it will always feel like home.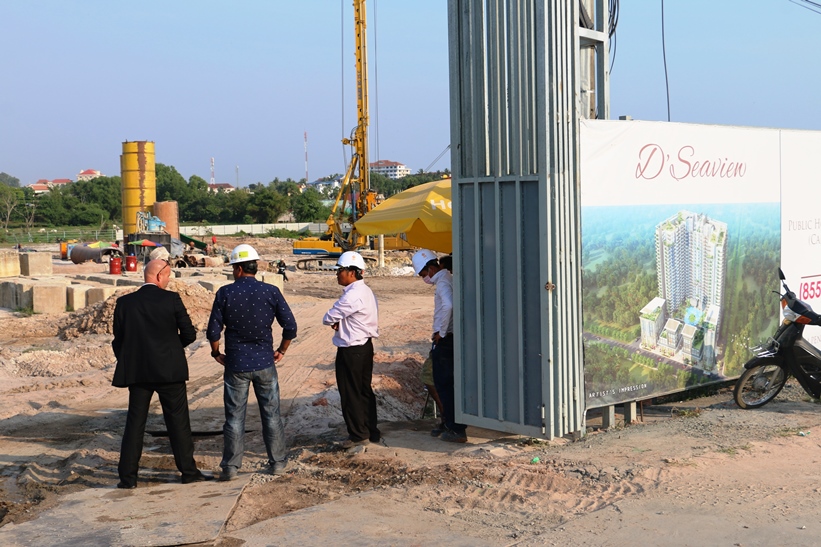 Don't worry though, the beach and views are not the only things that make this piece of Sihanoukville worthwhile. It also boasts of a convenient and strategic location where international and traditional Khmer dining is available just a few minutes away from your unit for when you decide that you're just too tired to cook. And if some partying and retail therapy is your idea of fun, bars, discos, night markets, spas and shopping plazas are just a few minutes away. 
So, you see, there's no shortage of things to do in Cambodia, especially in the town of Sihanoukville. Whether you want to get a tan or immerse yourself in local culture, D'Seaview by Camhomes will get you that perfect balance.
If you're retiring, moving to work in Sihanoukville or just looking to start a new phase of your life, why not consider this as an investment property for a beautiful future that just so happens to come with a beautiful view as well?