Last Saturday's official D'Seaview groundbreaking ceremony was a great success, with over 200 honorable guests assembling at the construction site to celebrate the physical launch of Phase 1 of the project.
The event was presided over by H.E. Yun Min, Governor of Sihanoukville province, and following the groundbreaking ceremony, a complimentary lunch was provided for all satisfied guests at the Sokha Hotel and Resort, Sihanoukville. 
Already, a host of eager buyers are proud to gain the status of first movers for this momentous development. 
In the first phase of sales and booking, already over 80 percent of the 300 units in phase 1 have been successfully subscribed by both local and international buyers at price per square meter ranging from $1750 to $2200* *(updated October 2016). 
As stated by Dr. Wang Kai Yuen, Chairman/Non-Executive Independent Director at the D'Seaview Condominium Ground Breaking Ceremony on Saturday, "After the launch of Camhome's unique queue system in September 2015, we have received more than 1,000 clients interested in this development and our upcoming developments. I believe more are coming, as Sihanoukville is one of the promising provinces in Cambodia, especially during the ASEAN Integration."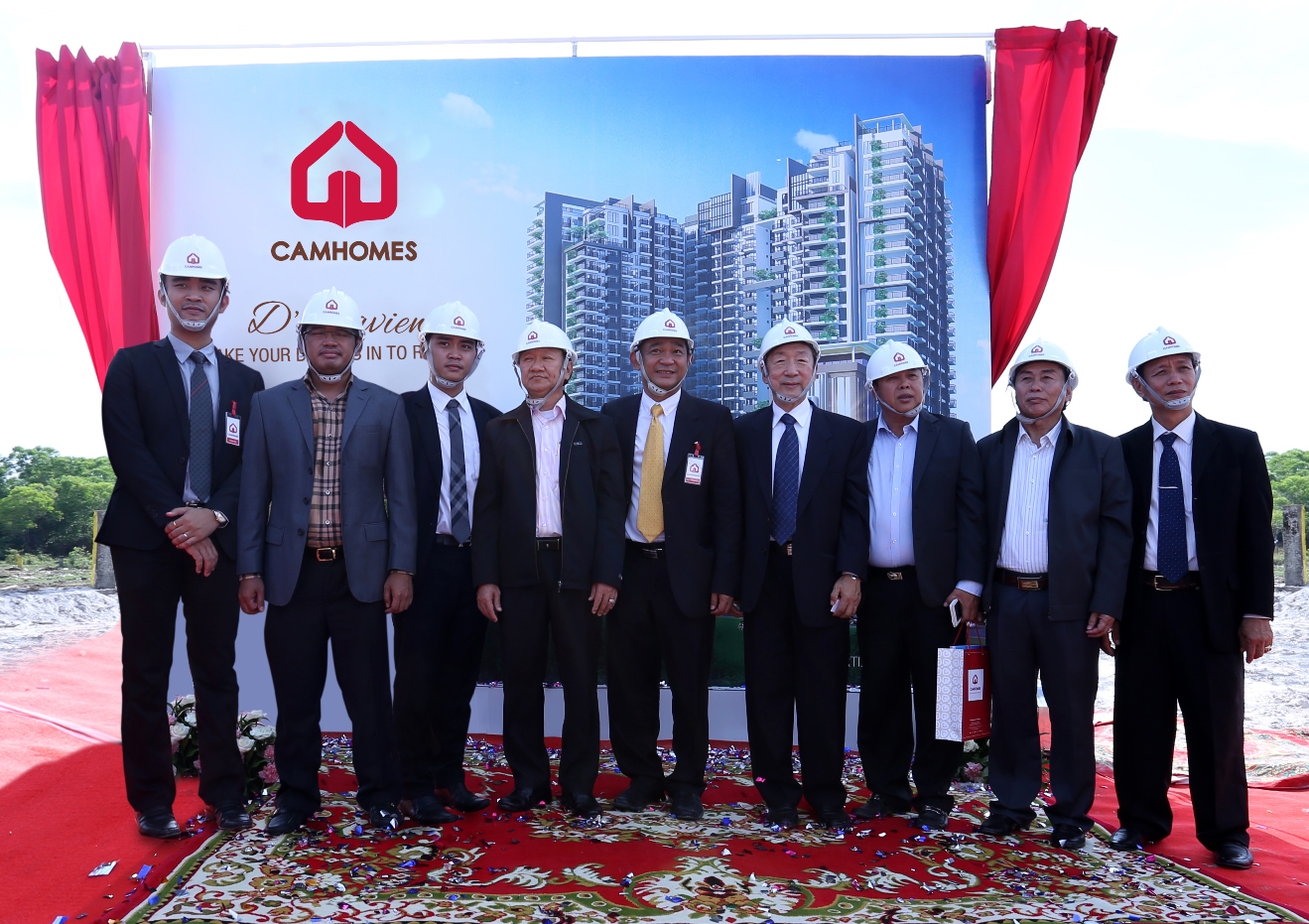 Nevertheless, as sales continue to expand, premier sea facing units and commercial opportunities are still available to buyers in the D'Seaview complex. But, those interested in these prime positions are urged to secure these units before they sell out! Further, a special "sure-to-win instant lucky dip" is being offered throughout the month of January to award attractive prizes for new buyers who purchase a D'Seaview unit at exclusive, off-plan prices. 
"Having accumulated more than 25 years of experiences in the design, construction and management of property developments in Singapore since 1988, D'Seaview will incorporate the latest in construction methods and modern building management concepts from Singapore," said Dr. Wang Kai Yuen at the groundbreaking. 
The guaranteed quality of the D'Seaview project pays tribute to HLH group's experience in the field of creating premium residential developments. 
The use of precast panels will allow for a smoother and more consistent finish throughout the complex; hollow core precast panels also allow service connections to be hidden within the wall therefore minimising the need for hacking and plastering or exposed ductworks; quality international standard fittings and fixtures will be used throughout, along with homogenous floor tiles, safety glass ( for windows which extends below 1m height), and a safe and quality assured elevator system; wall tiles to wet areas come standard, and beautifully-crafted roof terraces are provided for selected units; finally, all bathrooms have windows to allow for natural light and ventilation, and all enclosed kitchens have windows for ample ventilation. 
The design of D'Seaview likewise harks to the developer's unique understanding of what creates an attractive and highly livable residential development, while concurrently paying tribute to the unique environment of Cambodia's lush coastline. 
Naturally lighted and ventilated corridors, via cross ventilation, ensure a high level of comfort in all common areas within D'Seaview. As importantly, your new home will be a safe haven - with a high level of security via separate commercial and residential car park levels, card access and an integrated intercom service. 
Residential units will enjoy unrestricted sea views through design thanks to D'Seaview's efficiently shaped floor plans. Prime units also include spacious balconies for outdoor enjoyment. Luxurious amenities shall fall at your doorstep, with subscription facilities such as a pool cafe, swimming pool, kid's room, yoga room, library, and fully equipped function rooms. 
Further, the complex will bring a level of convenience previously unknown to residential developments of Sihanoukville. Commercial lots will house a bank, childcare facilities, a hotel, restaurants, food court and mini market, all within easy reach of residents. 
Realise your housing and commercial dreams now; and visit Camhomes' D'Seaview showroom at Canadia Towers and talk to their property consultants.