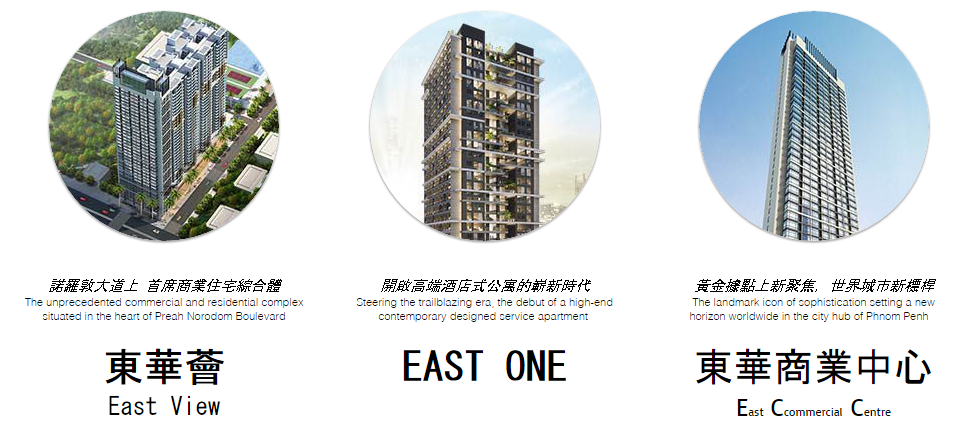 Eastland Development Ltd. has demonstrated its full commitment to stay in the Cambodian market and wishes to support the economy through developing innovative real estate projects, fit for the local market and international investors alike.
"Cambodia is exhibiting the correct economic growth indicators, investment incentives and political stability to allow us to enter this market in a real estate-related faculty," said Sam Yang, CEO of Eastland, and "we know these same qualities are appealing to many other international property investors."
Eastland Development Co. Ltd's head office is located in Hong Kong and is one branch of the world renowned Yuetai Group, which has over 8 Billion RMB in total assets. The Yuetai Group was among one of the first trailblazers to enter the Chinese real estate development market in 1994; and in just over two decades, the Yuetai Group can proudly stand behind a development portfolio that covers more than 20 groundbreaking projects, 10,000,000 sq/m of total floor area constructed, spread across 9 provinces of China.
In 2003, the Yuetai Group successfully purchased the majority equities of the listed company Guangzhou Donghua Enterprise Co. Ltd. (SH600393). The Yuetai Group has won various honors for their real estate developments, including the Guangdong Top 20 Real Estate Qualification and Credit Enterprise Award, Guangdong Top 100 Private Company Award, the Guangzhou Top 10 Most Competitive Real Estate Developer Award, Guangzhou Trustworthy Brand Developer Award, and a Contract Abiding and Creditable Enterprise Award, to name just a few. 
The first Eastland Development project to reach completion is "East One International Apartments" project – a condo development which is already 90 percent sold and under construction in Duan Penh, central Phnom Penh. East One is located within minutes of the central business district, the Prime Minister's house, and the majority of the international embassies. It will include a hotel, ample carparks, full services for residents and amenities such as swimming pool, gym and recreational areas. Main construction is now complete, and East One will be fully furnished and ready for handover to buyers by March 2017. 
Based on the success of East One, Eastland then launched "East Commercial Center (ECC)" along Norodom Boulevard, a key artery road of Phnom Penh, dotted with government ministry offices and embassies. The East Commercial Centre (ECC) will have 38 floors of pure Grade B office space, divided into small and affordable units, with low management fees, and common areas with all necessary business amenities. 
Eastland selected to build to Grade B office standard because there is a huge shortage of affordable office space in Phnom Penh, and this grade is in very high demand currently. This guarantees market absorption of the project on completion in 2017. 
The following stage of this development will be the East View Residence project, which will include four 38-floor high residential buildings. This will provide living space for international and local business people working within the ECC tower, meaning they will not have to commute to their place of work. 
Eastland's long term partners in all of these projects within Cambodia include the China State Construction Engineering Corporation, China's largest and most renowned construction company, and Buildwork Asia, a full-service property management company from Japan with over 50 years of experience in the property management industry.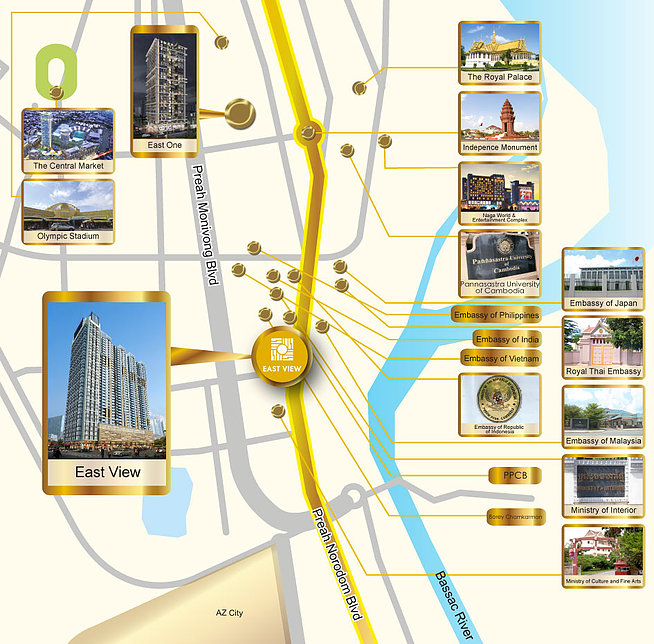 Inquire about Eastland projects today on Realestate.com.kh, Cambodia's home of real estate:
These Eastland projects have sold very quickly in the local Cambodian market, Taiwan and China. However, sales will now launch in Singapore and Hong Kong, as the Cambodian property market profile has now developed considerably in these markets. Eastland offer a level of quality and professionalism that the Hong Kong and Singaporean markets expect, with a unique company experience and understanding of what makes a project suitable, saleable and rentable for the local Cambodian market. 
Cambodia has also evolved into a place of notable political stability, despite a largely unverified international stigma. The country has now had the same Prime Minister for more than a quarter of a century, the longest serving non-royal leader in South East Asia. 
Out of the ASEAN nations, Cambodia has demonstrated itself to be within the top 3 in regards to political stability. 
Most attractive about the Cambodian property market for foreigners is the unique ability to invest totally in US$. There are no restrictions for exchanging US$, making it a highly-free flowing currency, and a global currency showing superior stability to all others. 
Transferring funds from abroad into Cambodia is very easy and able to be done with very little process. Meanwhile, when you resell your property in Cambodia, you can transfer your money outside of the country very easily, simply by showing your receipt of sale. 
Appreciation gains for Cambodian real estate are much more attractive than other established markets thanks to the nation's consistently fast growing economy and GDP. Buyers of property in Phnom Penh can safely expect 6 to 8 percent appreciation. And, especially for Eastland projects, a 7.5 percent 5-year leaseback guarantee is available for all buyers. 
Meanwhile, investors in Cambodia are guaranteed secure assets, with well-versed freehold foreign ownership laws and highly attractive long term lease policies. 
Yang also cites China's "One Belt One Road" initiative – wherein Cambodia is a part of China's elaborate plan of land and sea connections to the rest of Asia, Africa, and Europe – saying that plans for the Chinese railway in coming years would only aid international investment in Cambodian real estate, and fuel the economy further. 
"We are extremely confident that the next great international economic boom will happen within the ASEAN countries," concludes Yang. 
Don't miss out your chance to invest in the last real estate frontier, Cambodia, with a developer you can trust, Eastland Development. 
Inquire about Eastland projects today on Realestate.com.kh, Cambodia's home of real estate:
ARE YOU BASED IN SINGAPORE?