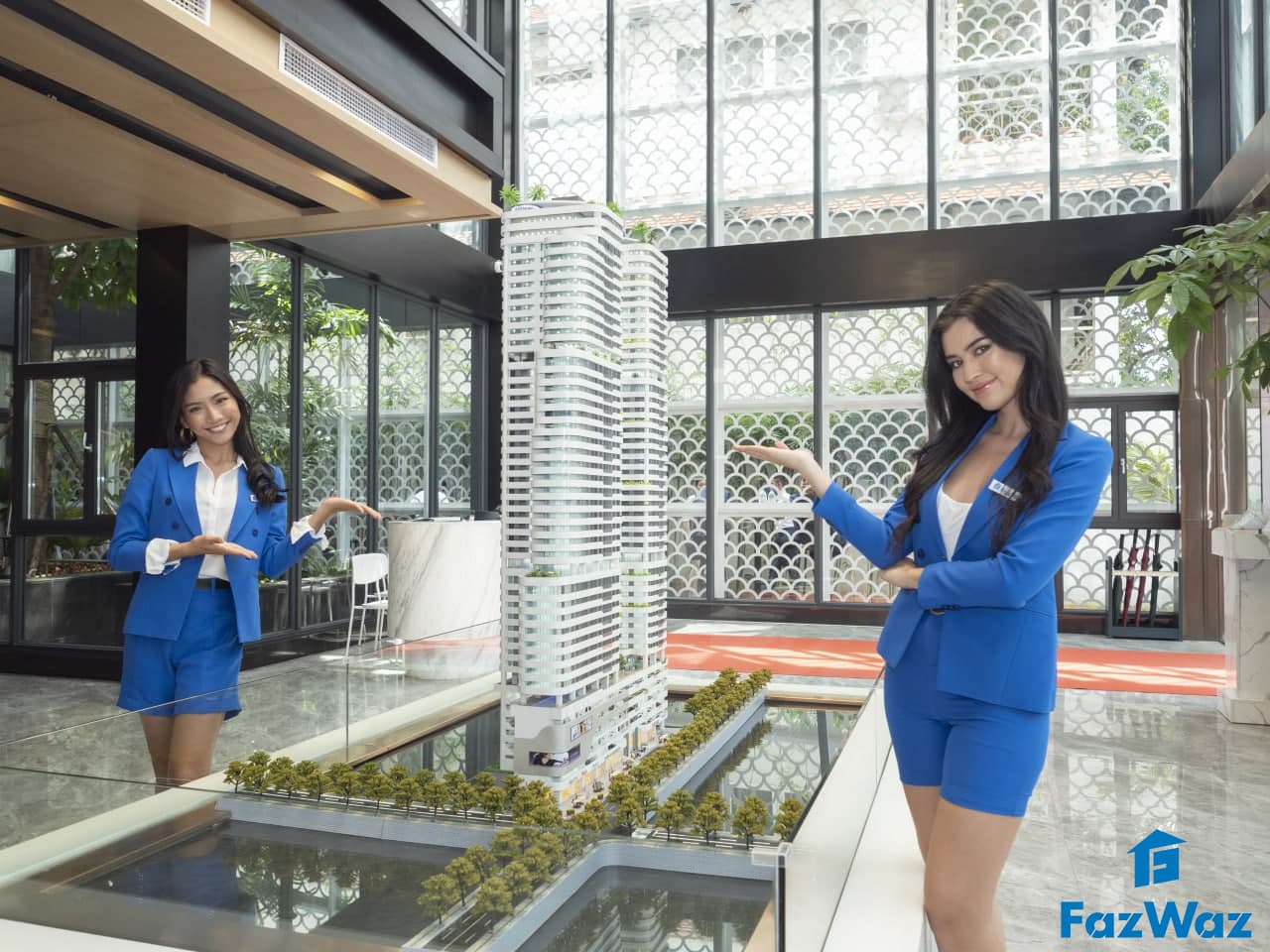 Introducing FazWaz Cambodia, your partner in real estate since 2020:
FazWaz is breaking into the Cambodian property market with a full scope unit sales and marketing solution for agents, agencies, and developers! With a multinational management team with over 30 years of experience in the Cambodia real estate sales and development sector, the head office is now open - located in BKK1, Phnom Penh.
Starting November 2020, FazWaz Cambodia will march its sales army into the Kingdom's new-build property market to empower local agents with the highest possible commission shares for their sales results, and unilateral support for selling the most prestigious, trustworthy, and in-demand projects nationwide. FazWaz vows to deliver strong and sustainable sales for partner developments across Cambodia.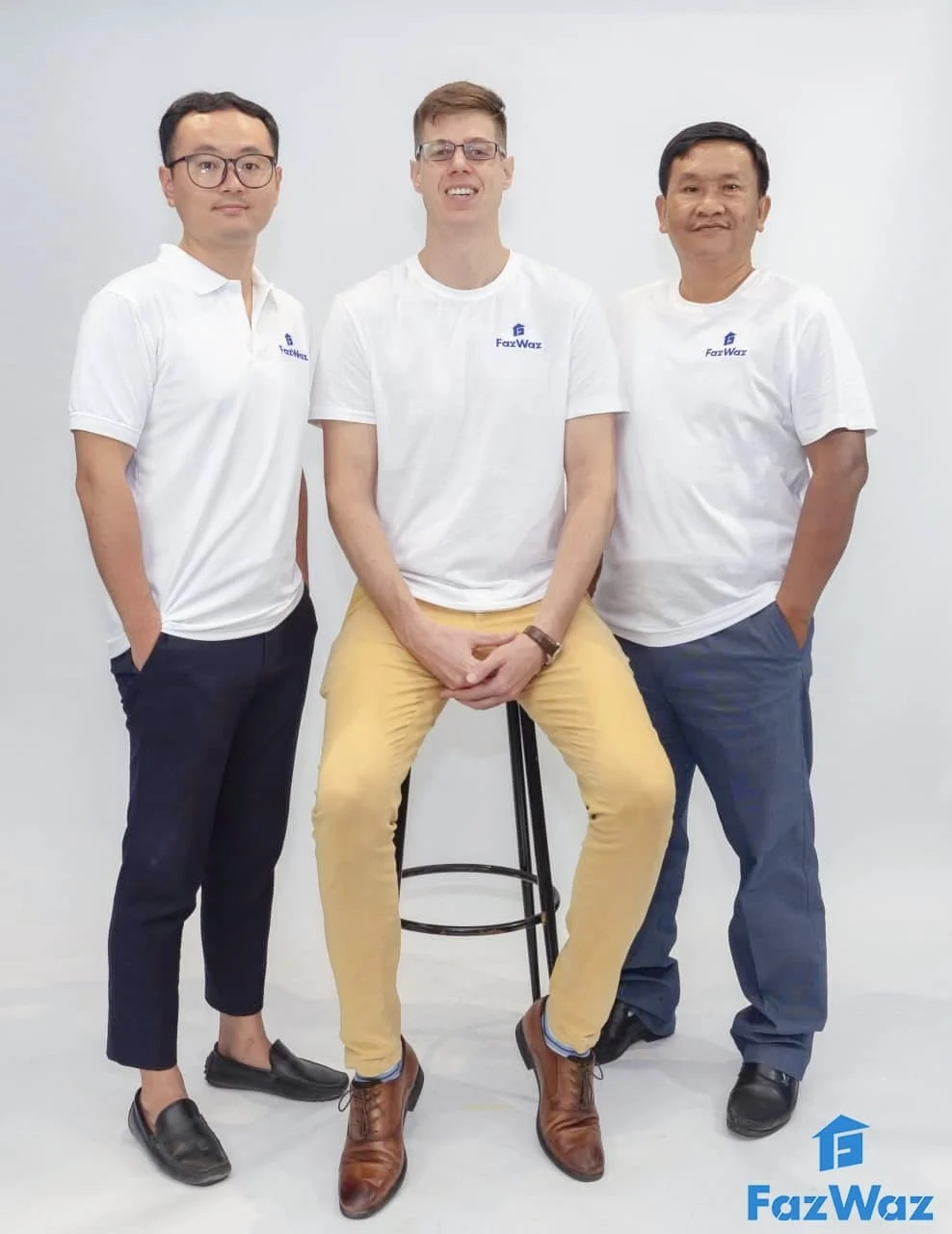 FazWaz Cambodia's experienced management team: James Whitehead, CEO of FazWaz Cambodia (ex-General manager of Realestate.com.kh for 5 years); Moek Chenda, BDM of FazWaz Cambodia (Founder of Realestate.com.kh and Renowned Technology and Real Estate trainer); Shengwei Zhao, COO of FazWaz Cambodia (ex-Head of Marketing of Realestate.com.kh and DCG Cambodia).
The new CEO of FazWaz Cambodia, Mr. James Whitehead, ex-General Manager of Realestate.com.kh for over 7 years, confirms that FazWaz Cambodia is a collection of "The Kingdom's very best property agents and a multinational management team of real estate, technology, and sales professionals. FazWaz will provide the best environment for success through our corporate culture, unbreakable core values, and collection of Cambodia's most respected development partners."
The new Head of Business Development at FazWaz Cambodia and founder of Realestate.com.kh, Mr. Moek Chenda, also confirms that "FazWaz is set to revolutionize the way the real estate is sold in Cambodia."
"We are the first truly tech-enabled agency in Cambodian history," says Mr. Moek, "powered by the leading real estate marketing networks of Realestate.com.kh and partner channels both locally and Worldwide, and this company will be driven by the most talented salaried and non-salaried sales team possible on the ground in Phnom Penh, Siem Reap and Sihanoukville."
Moek confirms, "From the top to the bottom of the FazWaz organization, a culture of professionalism and success is born this month."
Whitehead, FazWaz Cambodia CEO, continues to explain that FazWaz agency represents, "a new way to do real estate business - in a time that demands it. FazWaz's ultimate goal is to give anyone the opportunity to make the money they deserve from the real estate industry in Cambodia, and provide the best and safest possible investments to end buyers."
Underpinned by Realestate.com.kh and associated assets, FazWaz Cambodia (www.fazwaz-kh.com) is part of the Digital Classifieds Group in Cambodia (The Australian based owner of Realestate.com.kh and FazWaz Cambodia, in a joint venture with FazWaz Group of Thailand). FAZWAZ PTE LTE has operated technology-enabled real estate brokerages in Thailand and other countries since 2015: www.fazwaz.com. This direct partnership allows FazWaz Cambodia to leverage lead generation from Realestate.com.kh local and international media channels, and FazWaz Thailand's huge network of International buyers and world-class technology.
FazWaz will also commit to ethical agency standards, and ensure that projects sold are by trusted developers only. All agents, whether in house or freelance, are developed with a sense of responsibility for their actions and representation. FazWaz agents put the buyer first, and offer real advice and information to protect that buyer from any potentially fraudulent developers.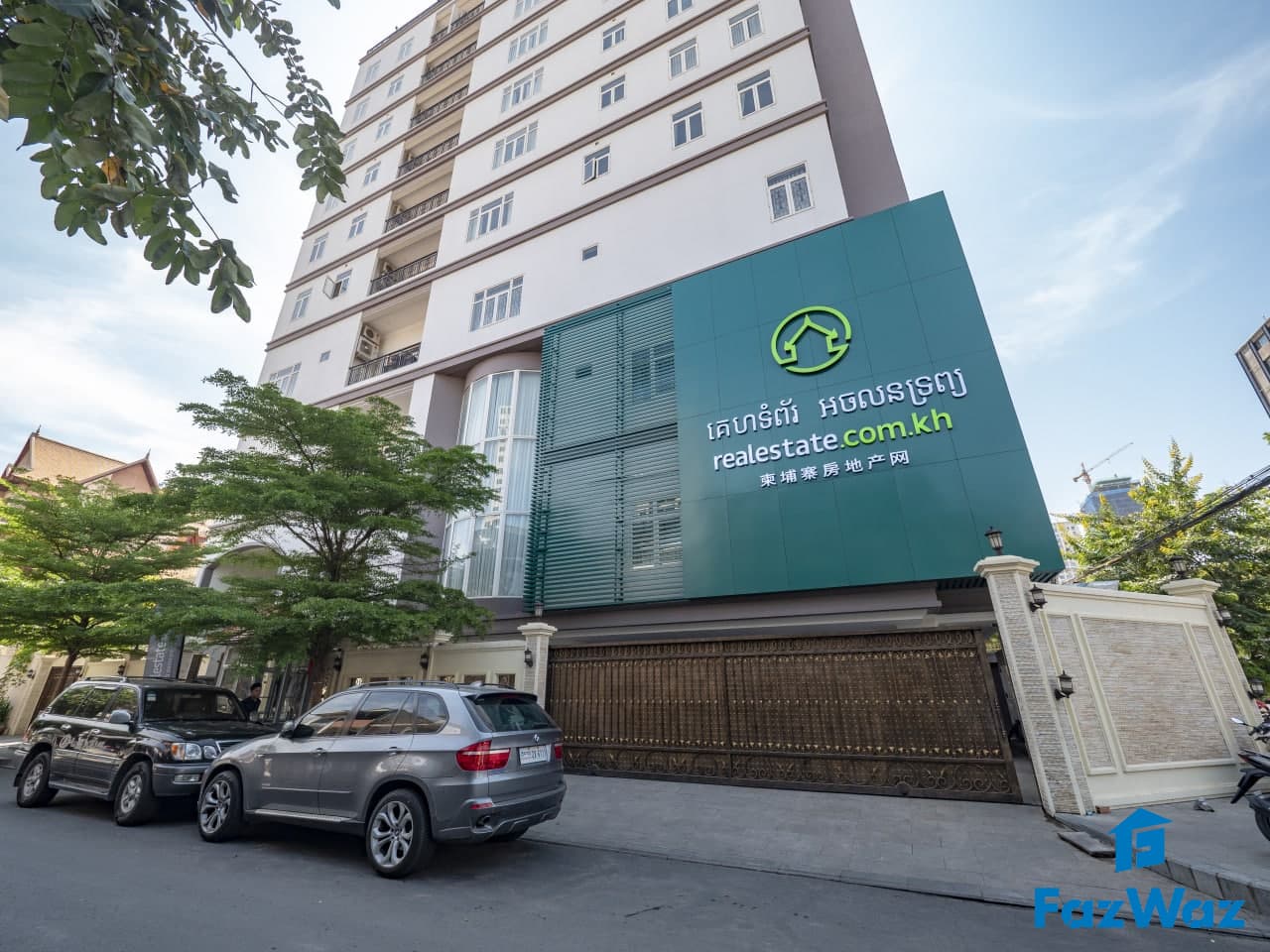 FazWaz Cambodia's new office is located in BKK1, Phnom Penh - sitting above the core marketing partner of the agency, www.realestate.com.kh, Cambodia's #1 real estate platform since 2012.
Core specialties of FazWaz Cambodia:
Empowering local agents to grow their income and career development
FazWaz Cambodia will offer freelance agents the best offer they have seen within the market to-date and the best environment for their ongoing success. To date, over 50 freelance agents have joined the FazWaz ranks, along with in-house sales, marketing, and management team 10 strong and growing. The company is widely supported by its core marketing partner, Realestate.com.kh - with a 50+ strong marketing and technology team located in Phnom Penh Cambodia.
Building peer-to-peer networks across Cambodia, FazWaz Cambodia firmly believes in rewarding lead and sale generators, wherever and whoever they may be. Every agent, every employee, every media company, and even mom-and-pop shops can create an alternate source of revenue - by simply choosing to deliver buyers to FazWaz Cambodia agency.
Immediately, FazWaz offers 90% of commissions to the agent for self-generated buyer sales in the most popular condo projects in Cambodia. The remaining 10% will be re-invested in that agent's future marketing drive for more sales. No fees. No commitments. Just commissions! Show FazWaz that you are a superstar sales, and they will continue to grow your career and success by feeding you 3-50 free customer leads per month, and benefits such as company phone, tablet, car, and corporate expense account. From day one, agents can benefit from their success with perfect sales and marketing tools for the most in-demand projects, Pipedrive CRM to manage leads, uniforms, business cards, and daily training. Successful FazWaz agents will see immediate career growth and development, and swift salary increases. In-house, multilingual, full-salaried teams and project supervisors are also being hired at the start of November to support the developer clientele's ease of service. Contact the HR team at FazWaz today @ hr@fazwaz-kh.com if you are interested in full-time salaried positions or part-time freelance positions.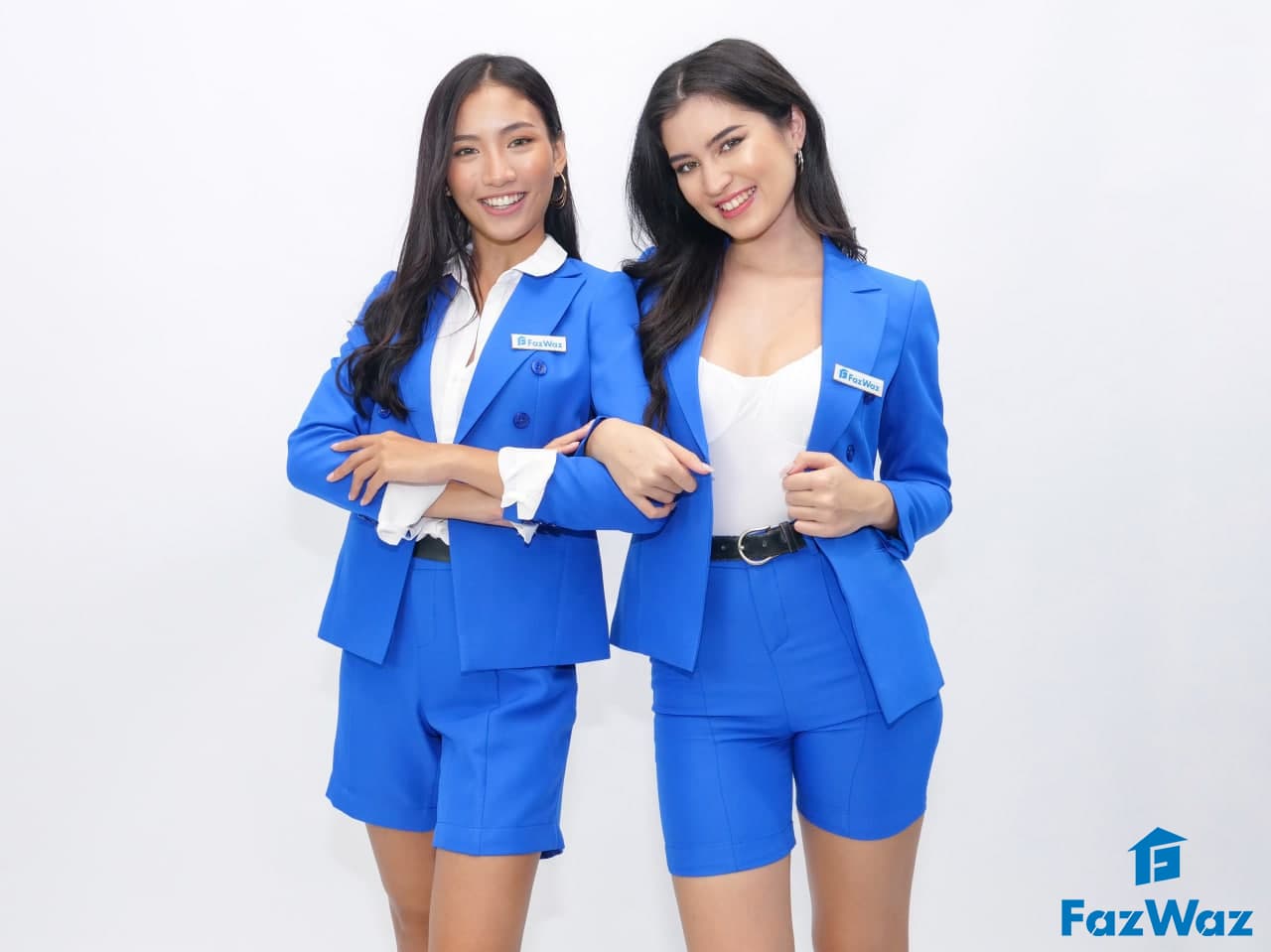 FazWaz Cambodia will lead over 100 freelance and in-house sales agents starting from November 2020. The best agents, the best environment for success.
Providing, even more, leads to agents & agencies in Cambodia
Agencies and agents in Cambodia will also be able to leverage the power of FazWaz as co-broking partners. Many agencies in Cambodia have buyers for developments but do not focus on negotiating strong commission shares with developers, given other focuses for their core business. Other agencies lack the negotiating power due to a lack of results, agents, or brand power in the market. FazWaz will be a key partner for such agencies allowing them to access to highest possible commissions for project sales by managing buyers through a co-broking relationship with the FazWaz brand. FazWaz will also help to match buyers to agencies other property whenever possible, sharing on sale/rent benefits. Contact the sales team today @ sales@fazwaz-kh.com if you are interested in becoming a FazWaz affiliated agency or agent. 
Delivering sales results for the most in-demand developers
FazWaz' experience in the property sector via Realestate.com.kh's makes it a prime choice for high-performance developers. FazWaz allows immediate marketing benefits + an activated peer to peer sales army, all at no upfront cost to the developer - given their project is in demand by local and international buyers. Every unit sold by FazWaz guarantees 1% of total commissions to be returned into marketing spend for that project and of the developer's benefit for the next sales lead. 
As of November 2020, FazWaz already represents over 15 leading developments in Phnom Penh - and seeks to represent over 50 nationwide by mid-December - based on the dictated demand of agents and buyers in the market.  FazWaz, however, follows a strict due diligence process when onboarding new projects for sale, to ensure end buyers are only offered the safest and most reputable investment options.  Contact the sales team today @ sales@fazwaz-kh.com if you are interested in becoming a FazWaz powered development. 
Providing Buyers the best possible experience
FazWaz represents our buyers first and foremost, and guarantees to offer independent and genuine advice on the benefits and risks of project investments. On top of this, FazWaz agents will ensure a convenient and enjoyable purchasing experience, through the best selection of properties and the best possible prices and offer at those projects. All buyers become part of a VIP after-sales support network and continue to receive benefits, updates, and support from FazWaz Cambodia agents and organizations. If you are looking for a property consultant to consider your investment options in real estate, reach out to FazWaz today for a free consultation in English, Khmer, or Mandarin: contact@fazwaz-kh.com
FazWaz Cambodia will lead over 100 freelance and in-house sales agents starting from November 2020. The best agents, the best environment for success

FazWaz is the new real estate agency of choice in Cambodia, for buyers, sellers, and new developments. Find out more today and join the revolution.
Website: https://www.fazwaz-kh.com/ 
Facebook: https://www.facebook.com/FazWaz-Cambodia
Telegram/Whatsapp: +855 77711009
Wechat: fazwazkh
For job opportunities: hr@fazwaz-kh.com  
For agency and developer inquiries: sales@fazwaz-kh.com  
For real estate buyers: contact@fazwaz-kh.com 
FazWaz Job Application Form: https://forms.gle/k1YoRWBERQYeqf2f9
FazWaz Freelance Agent Request for Full Info and Interview: https://forms.gle/zuHugapJECH8gk9XA