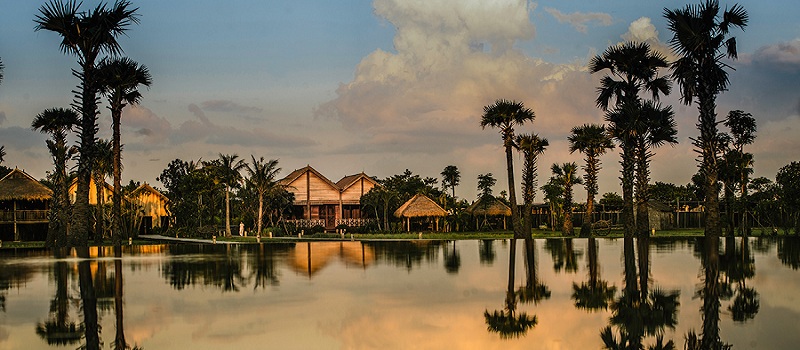 Being away from home in Cambodia can be a frustrating feeling for some people. And worthwhile accommodations have been helping them feel a little less unsettled. Some people like extravagant rooms, some people want a variety of amenities, some people want a view of the city, and some just want a view of their surroundings.
But Angelina Jolie likes to stay in places where she can immerse herself in the culture. That's why choosing Phum Baitang by Zannier Hotels was an easy choice for her home in Cambodia.
How It All Started:
It was in one of Jolie's numerous flights that she came across Phum Baitang on a magazine. It was perfect timing because she was then about to work on the Netflix movie "First They Killed My Father" at Battambang. She decided to make an arrangement for her and her family who stayed there for three to four months. She and her kids fell in love with the luxury resort instantly.
Arnaud Zannier, founder of Zannier Hotels, recalled that at one point, Shiloh – one of Jolie's children – set up a tent in the garden. Meanwhile, Jolie said that Phum Baitang is "where the best of Cambodia is shared with those who are looking to enjoy peace, tranquility and the uniqueness of the country."
Zannier says Jolie "loves the fact that the resort is very authentic, very simple, very emotional. We have tried to transport the real Cambodia within the walls of the hotel."
What the Hotel's About:
Phum Baitang Hotel is located in Siem Reap and is sort of a green village. There are a lot of authentic factors about this 5-star resort that make it stand out. But one of the rare things that Angelina Jolie fell in love with is the paddy field. It comes complete with farmers too.  More than that, the resort is an eight-acre property filled with greenery and natural elements such as stones and wood. It has 45 villas in total with authentic Cambodian architecture and designs. 25 of these villas have private terraces and the other twenty have private plunge pools.
Phum Baitang also offers relaxation treatments and facilities through the Spa Temple which has 7 treatment rooms, a steam room, a sauna, and a relaxation area. They also have a Yoga pavilion, a 50-meter infinity pool, and a fitness room.
Phum Baitang also boasts local and international cuisine through its two restaurants in the vicinity. You can also grab a few drinks at the cigar and cocktail lounge that's situated near the paddy fields.
So whether you're looking for an authentic Cambodian experience or just a relaxing stay in the area that feels like a home away from home in Cambodia, Phum Baitang by Zannier Hotels might give you a mix of a little bit of both. And you might just bump into Angelina Jolie too…