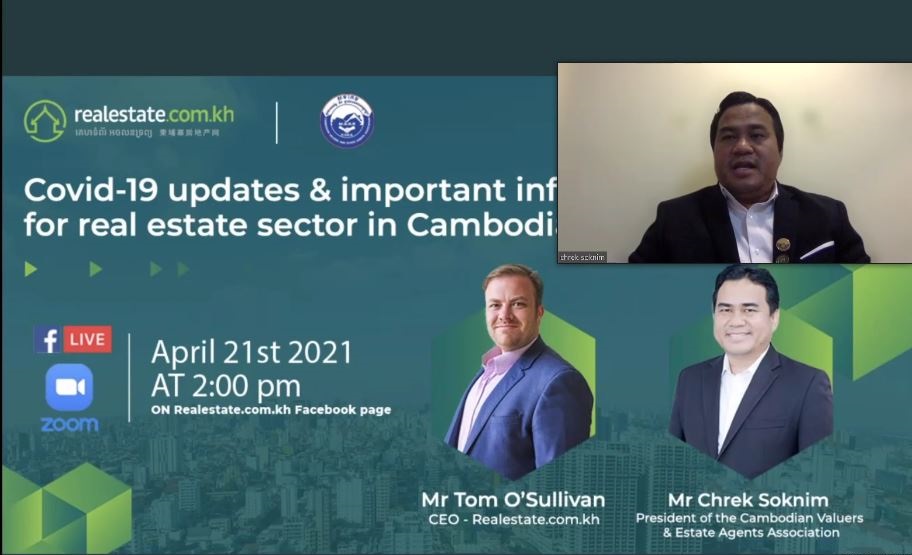 CVEA President Chrek Soknim gave us insights into the real estate market's response to the lockdown measures imposed in Phnom Penh. This article is a summary of the interview, which you can view in full-length on Realestate.com.kh's Facebook page.
On the eve of Khmer New Year celebrations (14th of April), the Cambodian Government implemented strict lockdown measures in Phnom Penh and Takhmao to prevent the spread of COVID-19. This is on top of the previously mandated 8pm to 5am curfew implemented throughout Phnom Penh. Many businesses, particularly in the real estate sector are wondering: "What happens now?"
Cambodian Valuers and Estate Agents Association (CVEA) President Chrek Soknim joined Realestate.com.kh CEO Tom O'Sullivan in a discussion about navigating the current landscape as well as a discussion on any possible reforms to allow agents and the industry to continue business during this period.
"Everyone is experiencing a measure of challenge in light of the lockdown" said Mr. Soknim. "This certainly affects the Cambodian property market, especially in Phnom Penh. But this has not deterred our efforts to continue doing business with the help of technology".
He highlighted the importance of recognizing the danger posed by COVID-19, following government-mandated health measures, and finding ways to continue doing business despite current circumstances.
The elephant in the room was the question of whether or not properties were still moving in the market, and Mr. Chrek clarified that deals are still being closed. "Deals are still being facilitated even during the lockdown" he said.
Properties for sale have noticeably slowed down but are still receiving inquiries from interested buyers. Mr. Chrek observed that developments have an easier time closing deals during this period as opposed to existing homes. 
If you are interested in knowing more about all the new developments for sale in Cambodia, check them out here on Realestate.com.kh
Generally "property buyers have all the information they need online and I think they will revisit the property market once the lockdowns are alleviated. After all, the nature of doing business in real estate is being able to see the property first-hand" he said. Mr. Chrek Soknim emphasized that providing information via online means has been crucial in capturing and keeping interest despite restrictions.
Mr. Chrek considers the overall current situation as far from being a crisis. "The market is still strong as the interest is there. It's just a matter of being able to visit the properties so buyers can make the right decision for themselves," he said. On the contrary, he sees the current situation as an opportunity for property agents to learn additional skills while they stay put at home.
 "There are plenty of online resources that teach negotiation, sales, and marketing skills," citing that he himself is subscribed to an online course teaching management and negotiation skills. "This is a good time for real estate agents to expand their skills so they have something more to offer for when the market eventually bounces back"
View in full-length webinar on Realestate.com.kh's Facebook page.

Article by: