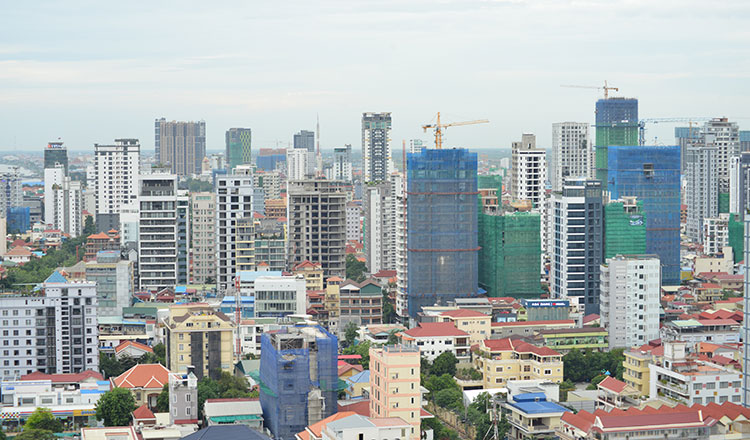 Land and condos are the most popular choices for investment for property buyers in 2022, according to the latest Cambodia Real Estate Consumer Sentiment Survey. Photo by Khmer Times.
Phnom Penh's property market is picking up with renewed confidence from property buyers both local and abroad. The Cambodia Real Estate Consumer Sentiment Survey 2022, an annual study made by Realestate.com.kh, the largest real estate online classifieds portal in the Kingdom, was recently concluded and covered several aspects of the property market under COVID-19.
Demographics of the Survey
The Cambodia Real Estate Survey 2022 was completed by more than 2,300 respondents over a period of 3 weeks from January 14 to January 28 2022. The respondents are a mix of those born in Cambodia (47%), while 29% are Asian nationals, and 23% from Western nationalities. Our first Survey in 2016 had a 68% Cambodian response rate. After Cambodians, the single biggest nationality of respondents was Chinese.
A More Affordable Sales Market
The survey suggests more Cambodians believe that property is affordable now (82%) compared to 2016 (59%). However, wages have also increased since then, so it makes sense that property is now more affordable to buyers in Cambodia.
Realestate.com.kh website data indicates real estate prices have generally decreased over the past 2 years. However, depressed prices have not flowed to land and landed property (such as boreys); in some cases, prices have increased. This was reinforced by the survey results indicating that a third of local respondents believed prices had gone up during the year. Therefore, it is not surprising that land remains a core investment target for local buyers.
Land remains the most popular property type in 2022, followed by Condominium/apartments, Villas, Shophouses, and Linkhouses.
Condo Rentals Back On The Rise
Although house types (Shophouse, Linkhouses, and Villas) are the most popular properties to rent, 31% of all respondents indicated they wanted to rent a condo or apartment.
Among only the Cambodian respondents, houses account for nearly a third of their preferences, while land also had a strong attraction. For Chinese (60%) and Westerners (47%), condos are more favourable, while Villas were their next biggest preference.
Of the respondents, around a tenth have a rental budget of over $2,000 per month, indicating a healthy appetite for high-end rentals, especially around the BKK1 area. The vast remaining majority have a monthly budget of between $500 - $1,000, while nearly a fifth are in the $1,000-2,000 range.
High Demand For Home Loans
In Cambodia, banks have historically focused on existing housing stock and properties within boreys (gated communities). 
A majority (56%) of all respondents indicated that they require a mortgage in order to purchase their property in Cambodia. Around a third of those surveyed currently have a bank or home loan. As more Cambodian buyers start to consider condominiums, some banks are starting to offer special financing options for local condo buyers.
Download the 2022 Real Estate Survey by scanning the QR Code below.