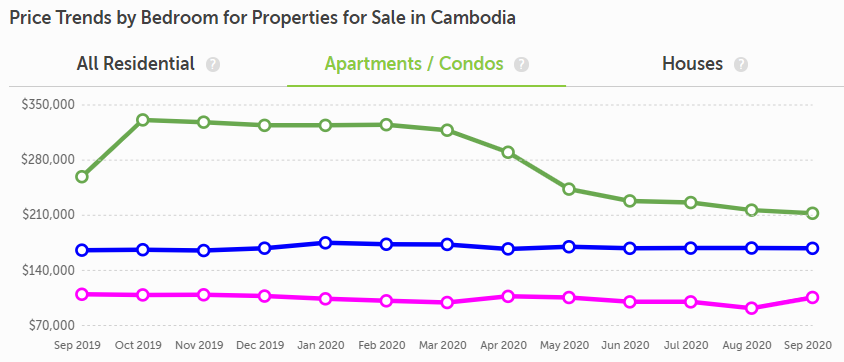 While Cambodia has done relatively well in containing its COVID-19 infections, the threat of the disease remains to be an obstacle to the Kingdom's return to pre-outbreak economic form. Cambodia's real estate sector, one of the key drivers for its growth in the past decade, is still undergoing a slump due to continuing travel restrictions and reluctance of the usual international clientele to go through mandatory quarantines on both ends of the flight.
Key highlights of condo/apartment prices in Cambodia:
3-bedroom apartments slide by 32% compared to January 2020 prices
2-bedroom apartments underwent no significant price disruptions in the months following the outbreak
The median price difference of 2-bedroom units and 3-bedroom units now down to 26% compared to 75% median price difference in January 2020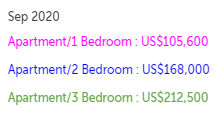 Cambodia's real estate sector saw massive developments, particularly in the high-end of the market, mainly fueled by foreign demand. But as it became increasingly clear that COVID-19 was going to affect international travel, real estate analysts braced the industry for major disruptions in the market.
January 2020 prices of 3-bedroom units kicked off at a median of $324,000. The price median remained largely unchanged until a steep drop off in the month of April and another drop off in May. As of September 2020, the median price for these units has dropped to $212,500. The market correction appears to be stabilizing at this price point for this particular property type.
Additionally, this may be a good time for families who are interested in buying larger units to consider buying a 3-bedroom instead of a 2-bedroom as the price difference is now only 26% compared to the price difference of 75% back in January 2020.
On the other hand, 2-bedroom and 1-bedroom units remained mostly stable with slight adjustments on the latter. These more affordable apartments have been seeing an increase in interest and are expected to see the most interest given the absence of the usual luxury foreign market and the resulting emphasis on delivering for the local market.
The slowdown in the Cambodian property market presents a good opportunity for local buyers or even foreign investors to buy at a significantly lower price. It may still be some time before the market bounces back. But as median prices stand, the usual luxury tier units may be in reach of more mid-high class Cambodians to purchase.

Article by: