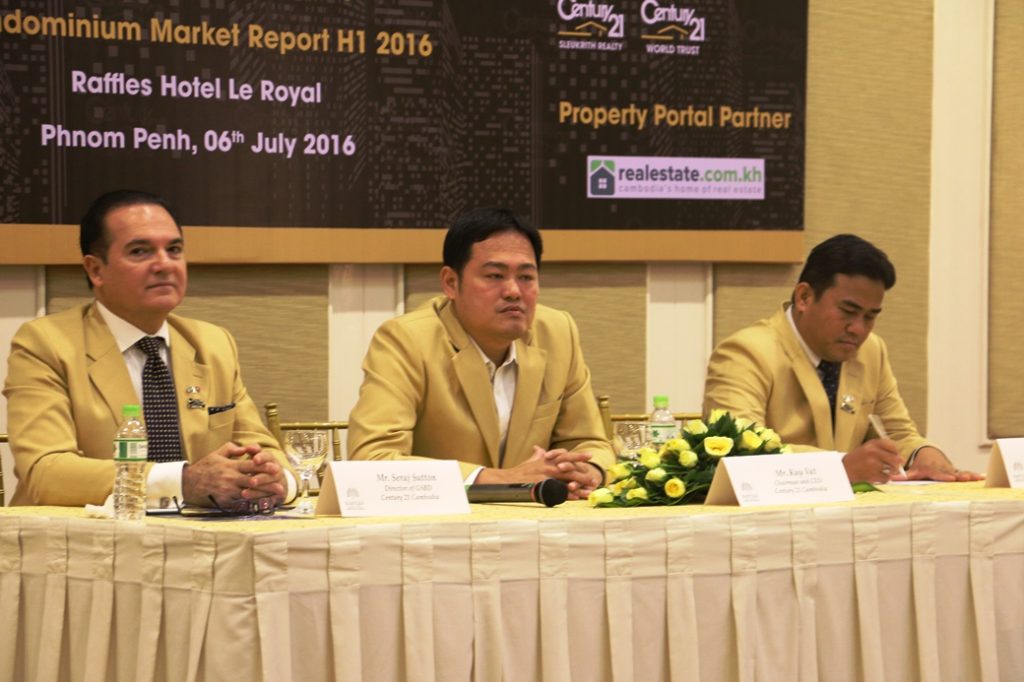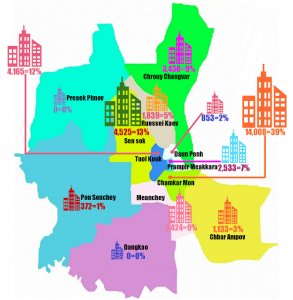 In 2007, Camko City and three projects of De Castle, along with a few other projects, started off-plan in the northern part of Phnom Penh, being introduced into the capital's housing market for the first time, with 1,700 units launched for presales off-plan that year. And it was, indeed, a nascent market at the time but still interesting enough to attract local and especially foreign buyers who speculated for returns at the resale market.
Now it is not a nascent market anymore. It has been around for almost 10 years, with lots of condos situated across the capital, especially in the central district of Chamkar Mon, or northeastern parts of Phnom Penh.
Today, a newly-released Century 21 record says there are in total 110 condo projects with 148 individual buildings, both finished and ongoing, or 37,570 units slated through to 2020.
Supply has shot up remarkably within these two years, while the market goes with a mix of tones – a today challenge and tomorrow blessing.  
That is said, current excessive supply is not only a pressure on the ability of the market to absorb in the short term but also a possibility that the market will reach equilibrium where buyers enjoy in the medium to long run.
For the market challenge, there two key factors to look at: sale-to-stock ratio and market absorption rate.
First, according to the Century 21 report, during the first half of 2016 saw a dramatic presale launch, about 13,300 of new units, into the capital's condominium market but only 13 percent of them sold, compared to 18 percent and 31 percent in the same period in 2015 and 2014, respectively. Second, absorption strength in the first six months of 2016 was 3.8 years, slower than the market absorption rate in 2015, which was 2.8 years.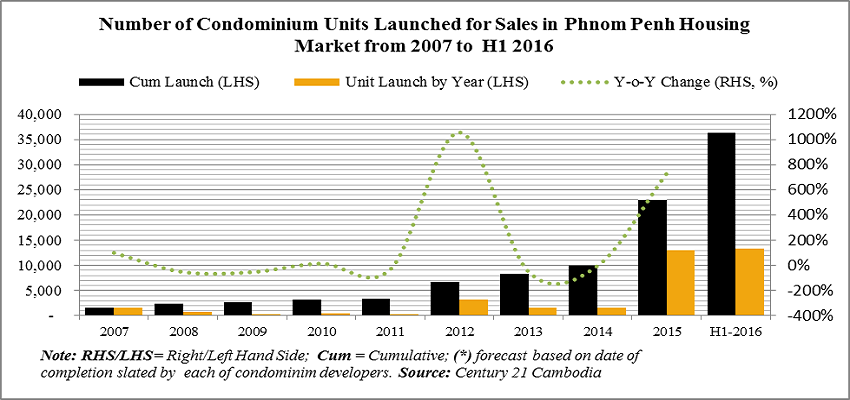 "It's nothing surprise because the supply early this year rose too high for the current demand to catch up, said Chrek Soknim, executive officer of Century 21 Mekong.
A market slowdown has been mainly dragged down by a huge number of new units added to stock last year and during the first half of this year, offering a hard time for the demand to take up in the short term, reads the same report".
Touch Samnang, president of OCIC, which is investing in condominium project Olympia City, acknowledged, telling the Post that condo sales early this year has plummeted due to too much supply, adding that before most developers focused on "foreign and upper class market, but today they have turned around towards the average crowd."
Too much reliance on international market, further, contributes to this market challenge, for local affordability and trend are not strong enough to bolster the market growth. In 2014, a Park Café's consumer survey among Phnom Penh's active professional population showed only 1 percent earned a threshold of US$2,001 to US$5,000 per month and 6 percent earned a threshold of US$1,001 to US$2,000 per month.
According to a Vtrust's housing market survey in 2015, about 54 percent of the respondents said they expected to buy homes at prices within a range of US$30,000 to US$70,000 per unit, while today only around 40 percent of condo units in stock are with prices lower than US$70,000. However, only 9 percent of the local expectant buyers said they would choose to buy condos.
On the other hand, an excess of market supply today could also potentially be a blessing for the capital's condominium market in the medium to long term, be it 3 to next 6 years.
It is an advantage because when the supply is widely available in the market, it offers numerous opportunities for expats and foreign investors who come to work and live in the capital, since some condominiums offer mixed-use options along with amenities that ease their ways of life.
Kuy Vat, chairman and chief executive officer of Century 21 Cambodia, supports the viewpoint, saying, "When business people or investors want to come for businesses in Cambodia, what if we don't have sufficient housing supply along with amenities