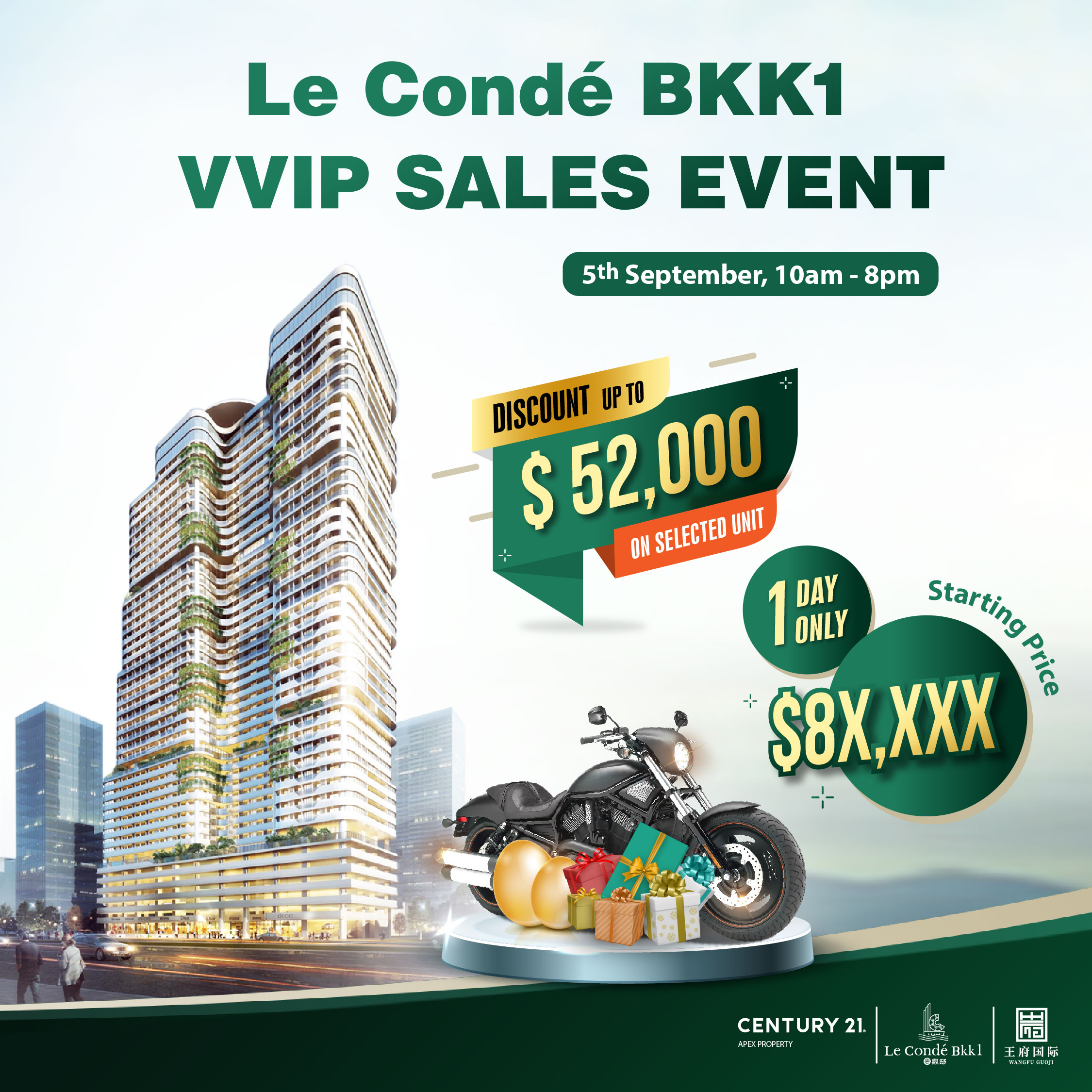 Le Conde BKK1 condominium project, Phnom Penh's upcoming smart condominium, will be hosting a VVIP Sales Event on September 5. The event will offer visitors the chance to own the city's premiere smart residences with starting prices as low as $8X,XXX. Buyers on the event day can also win additional prizes including luxury appliances, gadgets, and even a motorbike!
Le Conde BKK1's VVIP Sales Event is organized by Wangfu Guoji in cooperation with Century 21 Apex Property. The event will be held in the Le Conde showroom in BKK1 on September 5 starting from 10:00 to 20:00.
The term "modern home" has come to refer to a wide variety of things. From design to comforts, plenty of developers across Phnom Penh have been marketed as modern homes. But none have yet to truly emphasize modern living through integrated smart home technology.
Le Conde BKK1 stands out as the city's premier smart condominium choice. Its developer, Wangfu Guoji, partnered with Xiaomi technologies to integrate a smart system in its condominium units. Simply put, residents can comfortably set up room temperature, lights, and even schedule when certain appliances will turn on - all within a few simple steps!
Standing 43-stories high, Le Conde BKK1 will be the biggest landmark condominium project in the district. A total of 1080 units ranging from studio units to 2-bedroom units will be made available. Sizes will range from 30sqm to 42sqm for studio units, 50sqm to 62sqm for 1-bedroom units, and 70sqm to 90sqm for 2-bedroom units - all fully furnished and provided with the smart home solution quintessential for 21st-century living.
Residents will also be under the care of HOPETREE, a Japanese property management firm, known for its consistent quality of services provided for residents. Under HOPETREE, Le Conde BKK1 will offer 5-star services for its residents such as cleaning services and car wash, to name a few.
Its location within BKK1 gives it great value potential for many years to come as many established businesses, renowned schools, and popular cafes/restaurants are based there. Whether you're a young professional or have a family, Le Conde's location allows you and your relatives to live the utmost comfort and convenience within Phnom Penh.
Experience true 21st-century living within the Le Conde BKK1 condominium project and save up to $52,000 during the event. Be sure to register on the event website (click here). See you on September 5!
For any concerns and questions, you may contact Century 21 Apex: 
0962121010 / 061555075