Knight Frank's latest Cambodia Real Estate Highlights report released today says "the first nine months of 2015 investments in the real estate and construction sector had a combined worth of USD 1,752 million compared with USD 1,540 million during the corresponding period of 2014, equating to an annual increase of 13.8 percent," with the top five investing countries being Korea, China, Japan, Britain and Malaysia.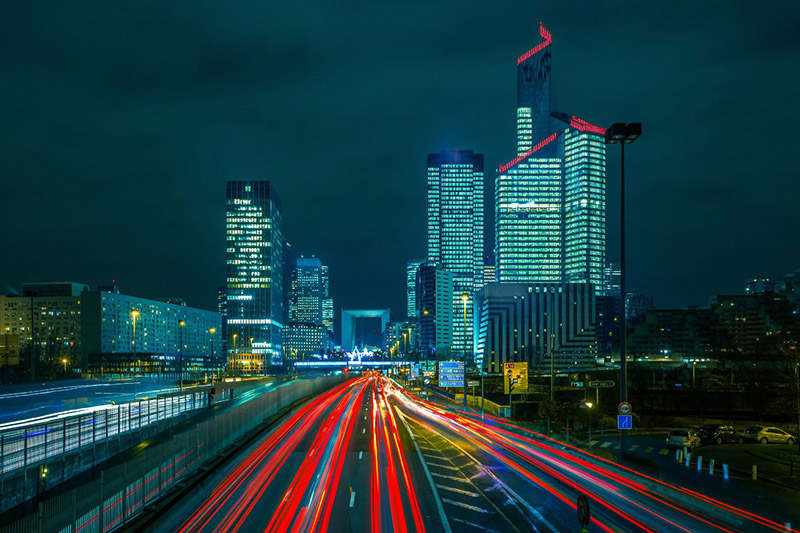 Here are some key highlights from the report with their forecasts for 2016 and beyond:
Phnom Penh office sector
Whilst Grade C office spaces continue to dominate the supply in the capital, upcoming developments such as the East Commercial Centre (ECC), The Gateway and Diamond Twin Tower will increase supply of Grade A and Grade B office areas in the near future.
V-Trust Tower's opening added 15,000 square metres of net lettable area of 284,448 square metres in the second half of 2015 to the Grade B office supply pool. Formerly known as GT Tower, V-Trust Tower has attracted multinational tenants such as Bosch, Japan Tobacco International, Admiral Markets, CIMB Bank and Phnom Penh Securities. ACLEDA Tower also opened in 2015 adding further to Grade B supply and is expected to be largely owner-occupied.
Other notable projects such as The Peak, The Gateway, Diamond Twin Tower and the ECC, along with Exchange Square, are also expected to significantly increase the office supply of prime office space in Phnom Penh. Still under construction are Emerald Tower, City Tower Asia and Maybank's headquarters on Norodom Boulevard.
While occupancy for Grade A office remains low below 30 percent, Grade B and Grade C offices remain steady with occupancies of above 84 percent and 94 percent, respectively.
Current asking rents for prime office space ranged from USD 19- 38 per square metre, while the average rental price across all office grades was recorded at USD 18.43 per square metre per month throughout 2015.
Knight Frank predicts that completions of a few large projects from 2017 onwards such as Olympia City, a large mixed-use development due for completion by 2019, will result in downward pressure on rental prices for Grade A and Grade B offices.
A sturdy supply of office spaces keeps the sector free from oversupply issues. Although Cambodia's recent ASEAN integration does not appear to have had any noticeable impact on demand, a new online business registration system, recently introduced by the government this year is expected to boost registration of new companies by reducing processing time significantly from 87 days to less than 6 hours, which could have a positive influence on the office sector in the longer term.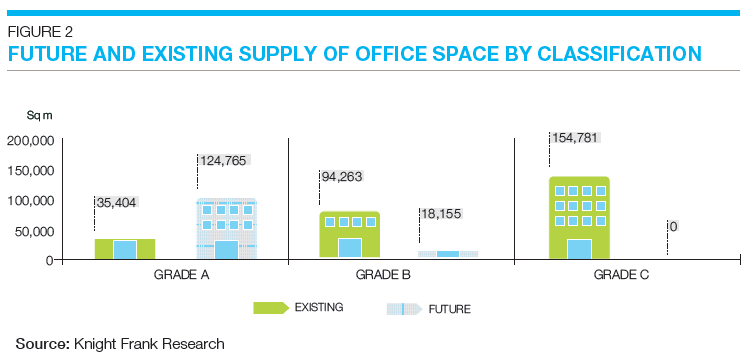 Phnom Penh Retail Sector
"Rental and occupancies within the retail sector remained relatively stable in the second half of 2015," notes the report, with the availability of stock estimated at 134,154 square metres, including 62,040 square metres classified as prime space.
The latter part of 2015 saw the announcement of Aeon group's second mall in Phnom Penh, as well as Orkidé The Royal Condominium's launch, which will include two levels of retail podium. Both are set for completion in Sen Sok district.
No new completions are expected until at least 2017, with additional retail space of 273,938 square metres expected by 2019 thus increasing the supply by 204 percent.
Aeropod, Parkson City Centre, and Aeon Mall 2 account for the bulk of the future supply in the retail segment. The total number of retail malls is expected to increase from 10 to 27 within the next four years, inclusive of standalone malls as well as retail podiums.
The much anticipated Parkson City Centre and Naga 2, due to be completed in 2017, as well as the Exchange Square, are all currently in various stages of construction and are expected to add 92,900 square metres to the retail stock.
Aeropod, a 7-storey mall component of the mixed-use development operated by the Lion Group located across from the Phnom Penh international airport, is expected to be completed by 2018.
Knight Frank estimates that the future supply of retail space in Phnom Penh will consist of 93 percent prime net leasable area and 7 percent secondary leasable areas.
Average occupancies for prime grade retail malls have remained stable at above 95 percent throughout last year, with Aeon mall maintaining full occupancy throughout last year despite undergoing at least 15 turnovers with more affordable brands replacing the high-end brands
since its initial opening. Rental prices remained stable for the second half of 2015, with no significant movements in demand.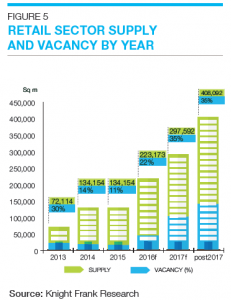 Phnom Penh Hotel Sector
With the entrance of several new airline carriers and an increasing number of routes operating both domestically and internationally, the aviation industry in Cambodia is developing in a positive direction. Additionally, improvements to infrastructure between the major tourist hubs of Siem Reap, Phnom Penh and Sihanoukville, bolsters significant medium to long term potential in the tourism sector.
According to the latest Knight Frank report, "Increasing scheduled flights from destinations within Asia has led to growing demand for hotel assets, particularly in the coastal region of Sihanoukville".
The hotel market is evolving along with these trends. Although there is an abundant array of guest houses and boutique hotels available, there is currently a gap in the market for internationally branded, four star, business hotels which is particularly lacking in Phnom Penh.
In addition, there are currently only three internationally branded, five star hotels operating in Phnom Penh, which includes the Sokha Hotel who opened its doors last year.  The five star Rosewood Hotel within the top floors of Vattanac Capital Tower is set to open later this year and as well as a further 1,000 keys due to launch at Phnom Penh's only casino, Nagaworld.
Two recently launched development projects, The Bay and The Peak, both being undertaken on a joint venture between Cambodian and Singaporean developers, have announced an agreement with both the Okura Prestige and Shangri-La groups, signaling the entry of two more internationally branded five star luxury hotels, however, these are not due for completion until after 2018.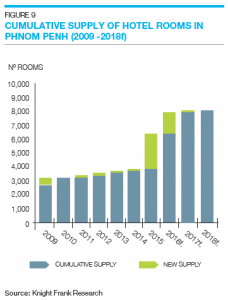 RESIDENTIAL OVERVIEW
Phnom Penh serviced apartment sector
Popular amongst expats, serviced apartments are largely similar to condominiums in terms of the facilities they offer such as security, pools and gyms, but also provide additional services such as housekeeping similar to that of hotels. Nearly half of existing serviced apartments are located in Chamkarmon and recent developments include Skyline, Silvertown Metropolitan and Maline apartments.
There are currently 3,535 serviced apartment units in Phnom Penh, with 1,832 units expected to become available by 2018 increasing the supply by 52 percent within the next two years, comprising mainly small and mid-sized projects.
The average rental prices in high-end developments ranged from USD 1,194 – USD 3,233 per month, with the higher rates applying to centrally located buildings. When compared to rental rates in first quarter of 2015, the lower range showed an 18 percent increase while the upper range decreased by almost the same amount.
The report predicts that based on current occupancy rates, indications show that the supply of serviced apartments is still higher than the demand, with no expectations of a significant demand growth in the short to medium-term. However the Knight Frank report notes "While there is no threat of oversupply in the serviced apartment sector, occupancy and rental prices are sure to be impacted by the sudden rise in condominium units within the next few years."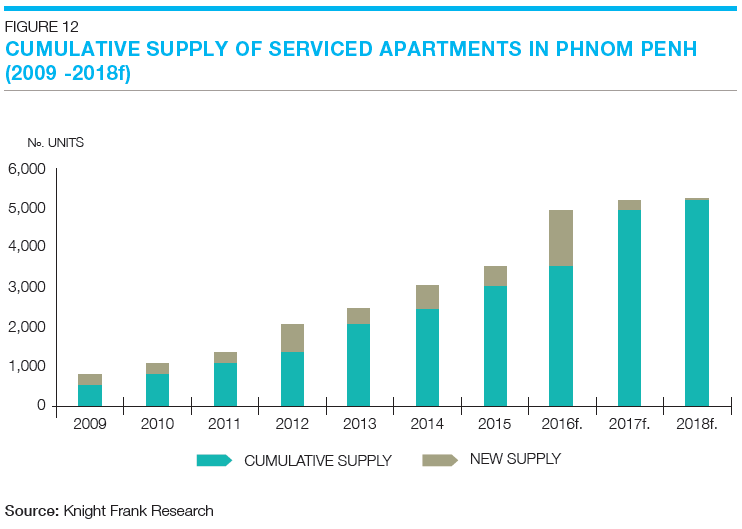 Phnom Penh Condominium sector
Between 2009 and 2010, the first generation of low-to-mid-rise condominiums entered the Phnom Penh market with a total of 732 condominium units for sale. These developments have a practical focus with basic designs, facilities and management services. Thirteen additional condominium projects have been completed since, bringing the total to 2,836 units by the end of 2015.
Existing condominiums in Phnom Penh fall within the high-end or the mid-tier classifications, which are categorised according to their selling price, which reflects all other attributes of the development such as location, accessibility, design, management standards and overall quality. Fourteen of the existing condominiums in Phnom Penh fall under the mid-tier category, which comprises 82 percent of the total existing units in Phnom Penh, with 56 more developments scheduled for completion by 2020.
Assuming that all future projects are completed as scheduled, the future stock is expected to increase by 641 percent over the next four years. The Knight Frank report states that "the majority of launched projects have focused their marketing outside of Cambodia due to higher investor interest overseas," with the main buyers of residential units coming from Taiwan, China, Singapore, Japan and Malaysia. However, more and more developers are building for the lower mid-tier sector, which has attracted more local buyers.
Selling prices continue on an upward trend and have reached levels above USD 5,000 per square metre in high end penthouse-style condominiums.
Looking ahead,  there is a threat of oversupply in the near future with the majority of units in most developments still expected to be sold to overseas investors in the short-term. Stricter building regulations largely determined by the city master plan and its enforcement may also influence future growth levels in the sector.