Realestate.com.kh is extremely proud to be working together with Hong Leong Bank of Cambodia to make your dreams of owning a home a reality. We want to help all Cambodian's leverage their finances effectively to improve their life, and the life of their families, today!
Through this unique partnership, we want to help all Cambodian's manage their finances effectively to afford the things most important in their lives, ensuring sustained prosperity for businesses, households and the families within - and help you spend less time worrying about money, and more time enjoying your life.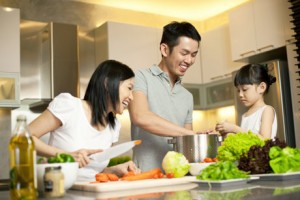 Hong Leong Bank (Cambodia) Plc. or HLBCAM is a wholly owned subsidiary of Hong Leong Bank Berhad – one of the leading banks in Malaysia.
HLBCAM further cements Hong Leong Bank's legacy of meeting the evolving needs of customers by offering a broad range of banking and specialized financial services in Cambodia. Relating to their home loan product range, HLBCAM has a 20 year home loan and home investment loan, a 10 year home equity loan and a 10 year commercial mortgage loan all allowing you to borrow up to 70% of market value.

Living up to the Group's tagline of "Reaching Out to You", the Bank reaches out to its customers in Cambodia through its inaugural head office branch and Priority Banking lounge, strategically located in the heart of the city and 4 other supporting branches throughout the busy Phnom Penh districts.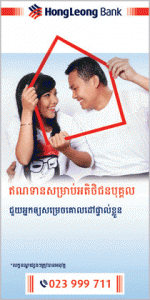 Hong Leong's vision in Cambodia is to become Cambodia's 'preferred' financial services provider among the leading banks, and our mission is to partner with our targeted business community. Hong Leong strives to help create better value as we fulfill our customers' financial needs with the highest level of integrity and professionalism, where our highly capable people make the difference. A standout feature of Realestate.com.kh is being able to
apply for a home loan directly
– and you can even use our
clever home loan calculators
to work out how much you will likely need to loan, based on the price of the property you are considering. Once you know the value of your dream house or commercial property, with Realestate.com.kh you can
apply for a loan
directly to Hong Leong with the click of your mouse. This process makes getting a home loan easier than ever before – all from the comfort of your home, office and even from your mobile phone!
Find out more today
about how you can finance your dream home with Hong Leong and Realestate.com.kh, Cambodia's home of real estate.