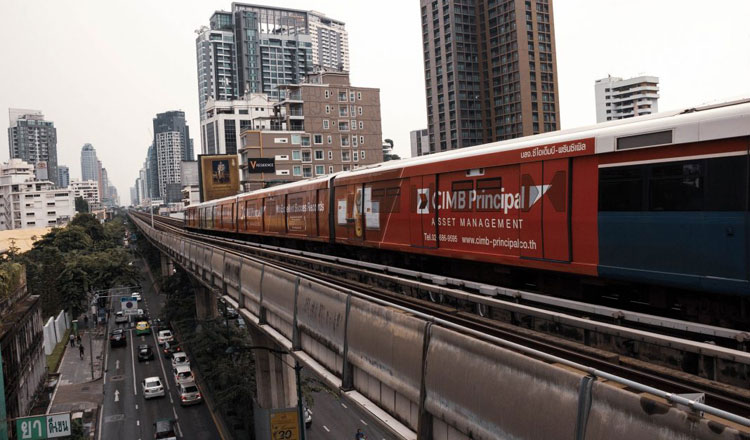 The BTS SkyTrain in Bangkok is an example of a mass transit system running through a city's busiest areas. Photo from Property News.
The feasibility study of the Monorail Way and Subway project for Phnom Penh has been completed, according to Sun Chanthol, the Minister of Public Works and Transport. In the report to Say Chhum, the President of the Senate, the MPWT Minister shared the achievements and progress of the Ministry with the rest of the government ministers.
Minister Sun Chanthol additionally reported that the MWPT cooperated with the Japan International Cooperation Agency (JICA) to plan the development of the Electronic Data Interchange (EDI) Port project, the upgrades to the Phnom Penh Autonomous Port, and the development of a mass railway transport system.
The absence of a mass transport system remains a much-needed development sector in light of Phnom Penh's rapid city growth and expanding middle class. While a growing road traffic volume may indicate increasing economic activity, there are drawbacks such as increased travel time, fuel costs, and environmental damage.
While technical specifications of the proposed city train have not yet been unveiled, it was noted that the train and railways will be using materials to reduce noise coming from the train - a factor that will affect the living standards of residents nearby the tracks and stations. The cost of this recently proposed train is reportedly lower than those previously considered.
There has been no report on the possible train route as of writing. It is worth noting, however, both residential and commercial properties nearby mass transport projects see a significant increase in value given the nature of mass transport systems making it easier for commuters to go to the busiest areas of a city like Phnom Penh.

Article by: