Tbong Khmum Province, Cambodia - The construction project of National Road No. 21C reaches 37% completion as of late June 2022. The new road is being constructed with a total length of 114.62 kilometres starting from km 154 + 700 on National Road 7 in Sralop Commune, Tbong Khmum Province and is being complete at khm 30 + 400, National Road 71 in Svay Teap Commune, Chamkar Leu District, Kampong Cham Province.
A delegation of the Ministry of Public Works and Transport (MPWT), including HE Senior Minister Sun Chanthol, visited the construction project last Jun 20, 2022 to inspect and monitor the progress of National Road 71C, reported to be built to the tune of $130 million.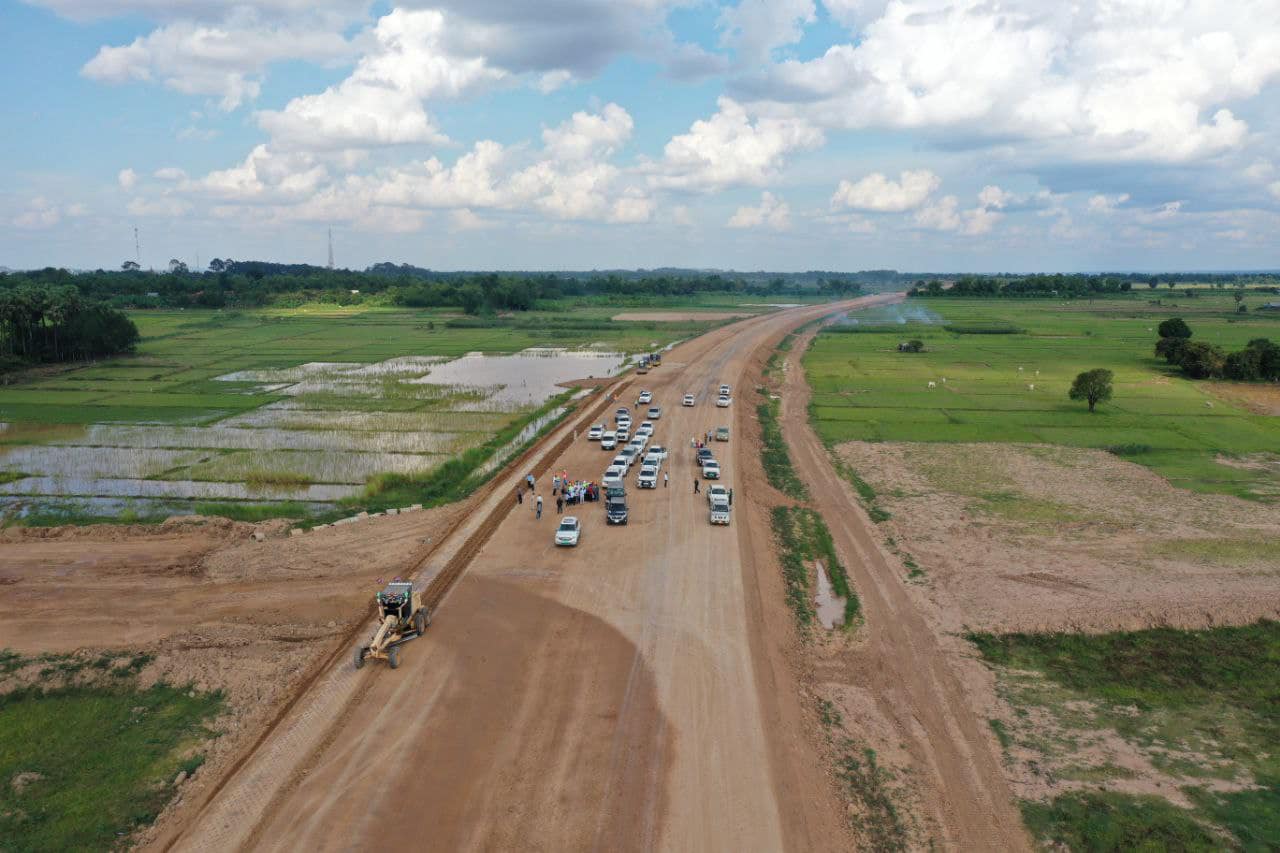 The National Road 71C is expected to create a new economic corridor in the Kingdom's Northeastern regions by October 2024. Photo from the MPWT.
The technical inspection delegation's purpose is to determine whether the road is being built to specifications, monitor work by the contractors, and check on the overall progress of the new national road. The MPWT often conducts technical inspections on major infrastructure projects around the country.
HE Sun Chanthol, the Minister of Public Works and Transport, addressed the media during their visit to the site. He went over topics such as the geographical situation surrounding the road, efforts to raise the road to avoid flood during Cambodia's rainy seasons, construction of bridges and digging canals and drainage systems to ensure the road's longevity.
The Senior Minister reminded the construction workers and ancillary staff to ensure the quality of the road, as well as keeping the peace so as not to disturb residents living near where the road passes.
National Road 71C is one of the latest projects by the Royal Government to create another economic artery, this time in the country's Northeastern regions. The National Road 71C is expected to make transportation and logistics easier for industries in this region of Cambodia, particularly agricultural, industrial and tourism. Quality roads such as National Road 71C allow for faster transportation resulting in lower costs, especially with interregional trades with Cambodia's neighbours.
According to authorities, the National Road 71C will take 42 months to complete. With a target completion date of of October 2024, the national road is being built by Seang Construction Company with technical supervision from Guangzhou Wanan Technical Consulting Co.,