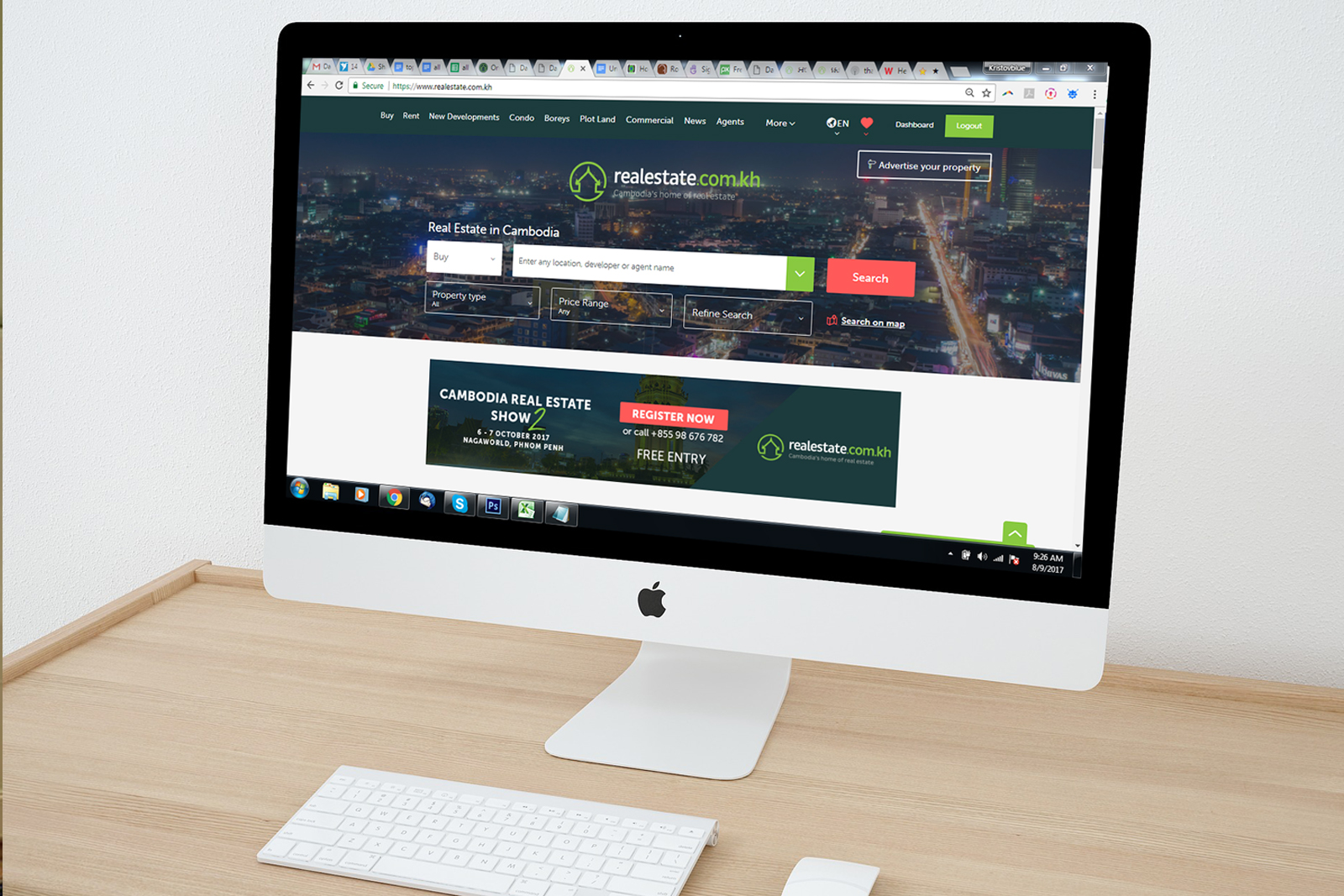 Most people's attention span lasts between 5 and 10 seconds… For those involved in marketing, and especially digital marketing, this means that you need to work extremely efficiently if you want to engage the right customers at the right place and the right time, and share with them a message that they will actually take on board.
Because online marketing is our full time job here at Realestate.com.kh, we would like to share a few tips to get the most benefit from your various online marketing channels – and ultimately, sell and rent more property through the internet.
Online marketing with your Social Media Channels: 
No longer are the ultimate goals of social media likes, follows, and shares. Nowadays, social media marketing is a direct source of sales and represents great and highly affordable opportunities for marketers of all kinds.
Of course, it is no secret that online companies like Facebook, Twitter, Pinterest and Instagram have developed their services to support company branding and sales. By simple testing, you can soon find our which social channels deliver you the best rate of conversions, click throughs and brand awareness.
However, if you are situated in Cambodia, it is a safe bet that Facebook will come out number one - as the majority of the country's 3.4 Million strong social media users taking first and foremost to Facebook. Surprisingly, some locals still understand Facebook and the Internet as a conjoined concept. 
Online marketing with Search Engine Optimization (SEO): 
SEO is the least understood type of online marketing – but can be the most expensive and, for many online businesses, the most important. Basically, your company website is as useful as it is visited. If nobody can find your website, it is as useful as a 50 foot billboard behind a wall. SEO can be divided by on-page and offsite SEO.
On-page relates to developing the navigation of your website so that all content is easily available to visitors. Offsite SEO is like casting a net – developing your offsite SEO will mean more people searching on leading search engines, such as google.com and its international network of sites, will find your site in their search results, and before they find your competitors…
Be patient when developing your SEO as results will not come overnight.
Remember, once again, there is no avoiding the need for content.  If you want a bigger audience to visit your website, and improve your website's organic SEO, content is key – now, more than ever. Clear, engaging and consistent content is the key to growing your SEO sustainably. New search algorithms demand that top ranking pages must provide the user with content that engages them, and is unique and well referenced.
If your post is about buying real estate in Chamkarmon, for example, it needs to be genuinely useful to your readers if it is ever going to rank well in SEO. The days are over when you can simply load articles with keywords and expect search results. Further, your keyword selection is crucial for a successful SEO strategy. You must clearly target your strategy to bid for the search key words most likely to bring revenue to your business.
Don't waste any time or money trying to win key words that will never convert. Also be wary about your competition.  If you see that another website has dominated certain key words for a long time, your chances of beating them are much lower, and will require far more effort in regards to content creation. Look for the low hanging fruit first, and the key words that will convert. 
Online marketing with Paid Ads: 
Whether you are considering implementing search, display, or social ads into your online marketing strategy, always pay attention to conversion tracking and testing first and foremost. Otherwise, you are swinging in the dark! By using conversion tracking for paid advertising initiatives, you can immediately gauge which ads and keywords bring revenue with the highest return on your investment. Test and optimize all elements of the campaign until your success metrics start to show growth. The same rule applies whether you are interested in branding or conversions. Keep in mind; you will incur additional creative costs during this process if you want to do it right. It is important that you ensure your content and other visual media is in line with your audience, marketing strategy, and company image.
Online marketing with your own Website: 
Your company website is home sweet home, no matter what business you are – but, remember, your website must reflect your underlying objectives if you want it to be successful. 
Of course, the layout and functionality will be totally different depending on the online marketing objectives. Your website might exist purely for branding purposes, in which case focus on the presentation. But if you intend to sell directly through your website as an ecommerce application, your design must focus on functionality and smoothly facilitating the sale, and after-sale support.
Regardless of the intent of your website, it is crucial that it is easy to navigate, and the content is relevant and engaging to visitors. 
Success metrics are always at hand to advise of the development of your website, whether it be considering generic goals such as overall revenue and conversions - or more specific analysis, for example building offsite referrals from social channels, or considering the best demographic targeting for your website.
If you want a bigger audience to visit your website, the sole answer is content. Clear, engaging and consistent content is the only way to grow your website sustainably. Remember that longer term trends and analytics must be well-considered during any development of your website. A website is not like a short term marketing drive. Your website is here to stay for the life of your business. This means any changes you make should consider the present, but always look to the future. 
Online marketing with your Email Database: 
Business people and individuals can receive hundreds of emails every week. Because of this flow of info, if your email online marketing is stale it will quite-simply fail because those emails will never see the light of day. Nearly all email database marketing has the same objectives: increasing click-through rates to your company websites; and reducing the number of contacts choosing to unsubscribe from your communications.
Thus, to improve on returns from email online marketing, make sure you keep a clean and organized database – this will allow you to build trust with recipients and recognized email addresses. Increase your open rate with inviting email titles, and always test innovation. Throw in new elements such as video, interactive features and try to maintain a personal touch for your database members.
If you're still not convinced, check out an article we made to tell you how online marketing can help you test ideas quickly!