Fourteen years had passed since the Royal Railway in Cambodia ceased operations for passenger services between Phnom Penh and Sihanoukville due to deteriorating facilities and financial losses, only to resurface onto the radar once more when the company reopened in 2013 for freight services.
The railway however has reentered the public consciousness again lately having announced earlier this year that they would be holding a grand reopening and resuming its passenger services between Phnom Penh and Sihanoukville during the Khmer New Year.
Now, a few months has passed and reports regarding the new passenger services have been largely positive.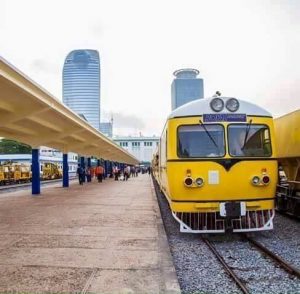 Why Now?
Though operations for this route only stated last April, the actual rehabilitation program has been underway for years now, with the ADB and the AusAID funding the restoration and the upgrades, the government of Cambodia having outsourced the operations of the railway back in 2009 for an exclusive concession that would last 30 years for Toll Royal Railway. The project's estimated cost at that time, two years ago, reached up to $143 million.
And while the south line from Phnom Penh to the beach town of Sihanoukville has already been completed, other projects under that funding such as the northern line connecting to Thailand at the Poipet border is also nearing completion. Here the tracks at Poipet are expected to connect the Kingdom of Cambodia to Thailand by rail by the end of 2017 - in order to improve both tourism and trade between the two countries, and raise Poipet's capabilities as a logistics and trade hub.
An Inexpensive Alternative for Travellers and Commuters:
More expensive than taking a regular bus at $4 and just a bit cheaper than an air-conditioned van at $12, an advantage of
riding a train removes the element of traffic
from the equation, slashing out an hour or two than it normally would to reach Takeo, Kampot, Kep, and Sihanoukville. It also costs less than a regular flight which can cost up to $140.
Given the current traffic situation on the national roads 3 and 4 toward Sihanoukville, generally busy with trucks moving freight to and from the Sihanoukville port, the railway offers a comparatively safe alternative to road travel.
According to an article released by The Guardian last June, a one-way ticket between Phnom Penh and Sihanoukville will only cost $7, while a $6 ticket will get you from the capital city to Kampot. These prices do not seem to have changed as of yet.
Capacity:
Five carriages have been restored and reupholstered to accommodate around 300 people. Two of these are air-conditioned carriages that can accommodate up to 170 people will run under the "blue line;" the other two carriages, which can accommodate 130 people, have fans built into them and will run under the "yellow line". The last carriage is intended for travelers who may require a more privacy. The air-conditioned cars will travel towards Sihanoukville during odd days and return on even days, while the carriages fitted with fans will run on a schedule opposite to that.
Running on a Schedule:
According to the Royal Railway website, train operation runs every weekend, even on public holidays. They have also set up an office in Phnom Penh in the hopes of increasing sales for all destinations. Their office, Central Railway Station, Sangkat Sras Chork, Daun Penh, Phnom Penh, is open from 8:00am to 4:30pm on weekdays and 6:00am to 12:00 noon every weekend.
For more information on train departure, arrival, pricing, and booking, you can contact Royal Railway at 078 888 582 or 078 888 583 or send them a message through their contact form.
Learn more about transportation services in Cambodia in our in-depth
location profiles
!