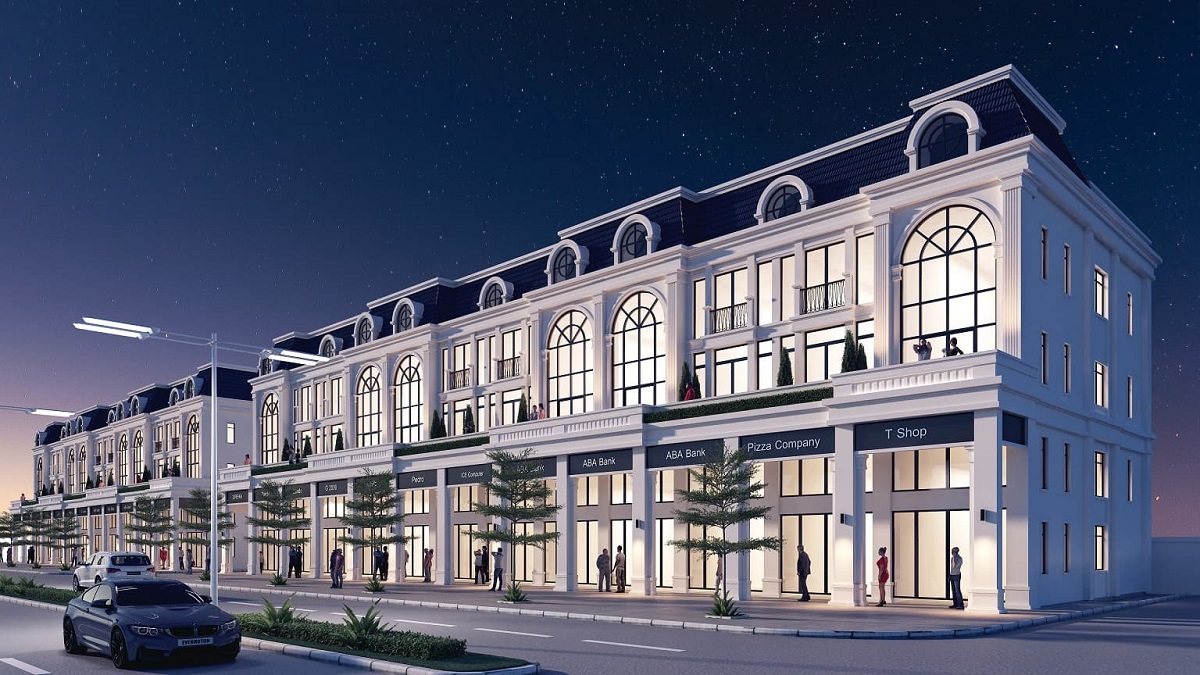 Borey Lorn City is a new gated community development in Phnom Penh city, located along a wide-open National Road 3 in Por Sen Chey. Supplied.
The outbreak of COVID-19 shifted the status quo of Phnom Penh's real estate market. The fears of infection and the subsequent restriction on international travel lead to previous market speculations up in the air. One real estate sector, however, remains anchored on the land beneath it.
Landed properties in Phnom Penh, more popularly known as boreys, are a collection of pre-made/designed houses within a gated community. According to Knight Frank Cambodia, the end of 2019 saw the addition of 4,654 units from 11 recently completed boreys. This led to Phnom Penh's year-end stock standing at almost 56,000 units spread across 142 developments - a 21% increase from the previous year. The addition of more than a dozen new projects launched in H2 2019 is expected to add further 2,675 units upon their respective completion dates.
Knight Frank also indicates that if all on-going projects are finished as scheduled, Phnom Penh could see an additional 20,000 residential units added to its borey portfolio by the end of 2022. This will bring Phnom Penh's borey stock at an estimated 76,405 units.
This influx of new residential units are categorised as Mid-tier developments (64%) whilst the remaining is divided between Affordable (28%) and High-end (8%).
At the end of 2019, Knight Frank indicated that approximately 52% of the landed housing supply are flat houses whilst link houses comprise 14% followed by twin villas with 13%, shop houses with 11%, and villas with 11%. Generally, flat houses remained the more popular and sought-after type of landed house, commanding a higher sales rate as compared to the other types.
CONFIDENCE DRIVEN BY LOCAL DEMAND
Despite the recent disruption from the headwinds including the partial withdrawal of EBA preferential trade arrangements with the EU, the Covid-19 outbreak, and external geopolitical and economic uncertainty, Borey developers' confidence remains strong, according to CBRE Cambodia's Q1 2020 market report.
The key to this assessment is the launch of more than a dozen projects between September 2019 and March 2020. Project launches by Cambodia's leading real estate developers such as Chip Mong Land and Borey Peng Houth Group also indicate confidence within the country's real estate future - now mainly driven by local demand.
According to a report by the Khmer Times, the lack of foreign investment has forced developers to search for a new market. And with the absence of the usual clientele, the spotlight has shifted to the local Cambodian market, and about what they want from real estate developers.
For example, the high-end condominiums in the capital, which include gyms, rooftop infinity pools, five-star restaurants, movie theatres, kindergartens, and mini-marts, have seen a recent drop in price by up to 50 percent. The continuous lack of foreign investment in recent months has opened up the market for more domestic investment at much more attractive rates.
The Borey market itself is seeing the same interest as Cambodians value land as a safe store of wealth. And as COVID-19 drags on, locals are more convinced that a tangible form of security, particularly in landed properties, is more important now than ever.

Article by: