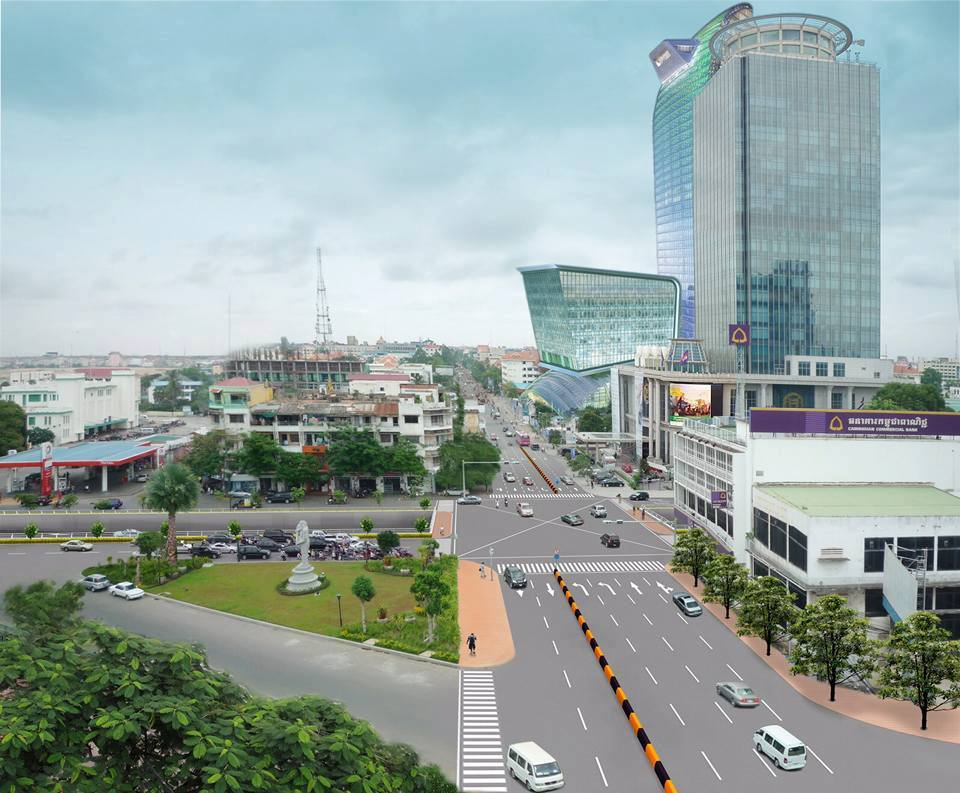 To cope with the city's expansion and rapid growth in vehicles, more infrastructure projects are expected to be completed in Phnom Penh before 2020.
At the grand opening of the 5-January Overpass (Techno Overpass), Prime Minister Samdech Hun Sen approved several more projects for the capital. After acknowledging the ongoing congestion at the Kbal Thnal Sky Bridge, construction will start soon on an additional curved overpass and underground road near the existing bridge. The US$10 million project will see an 810 metre overpass and a 606 metre underground built by the Overseas Cambodian Investment Corporation (OCIC). This is a great boost for Phnom Penh infrastructure!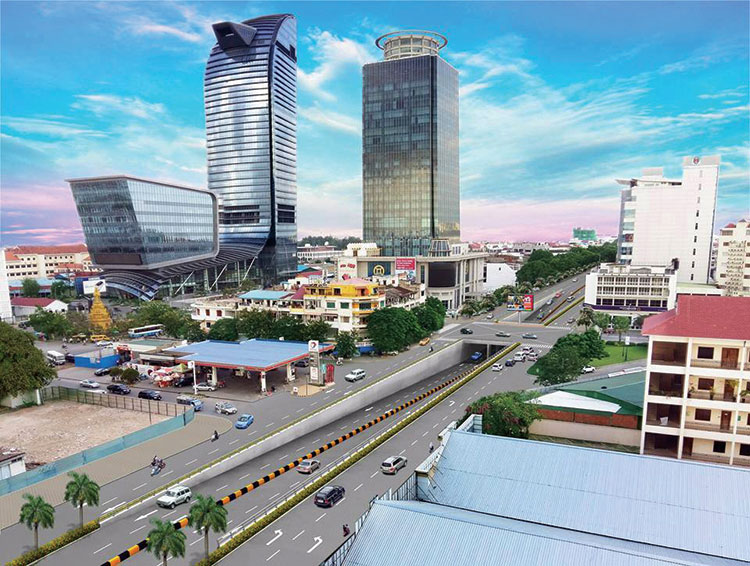 An underpass at the junction of Russian Federation Blvd and Preah Monivong Blvd (PKC stop) will also be constructed by OCIC to ease traffic in the vicinity. The plan features a 340 metre long, 15 metre wide road running through a 5 metre high tunnel. Following a successful soil analysis conducted on January 8, construction will commence later this year.
Another overpass will be erected at the congested intersection between Russian Federation Blvd and Hanoi Street reflecting the significance of Russian Federation Blvd as the main artery connecting the city centre and the airport. The bridge is to be 611 metre long and 16.5 metres wide and will be built by Chinese Shanghai Construction and financed by the Chinese government.
Phnom Penh will see also its first elevated expressway that will stretch 13km above the existing rail line connecting Preah Monivong Blvd and the international airport. The toll road will help ensure air passengers do not miss their flights due to congestion. While City Hall previously announced that the project is being developed by a Chinese investor, it appears that OCIC is also negotiating with City Hall to win the bid for this project. 
Muhibbah Engineering (Cambodia) Ltd has also claimed to have won the bid to build a $200-million expressway connecting Phnom Penh's downtown to National Road 4 and the capital's airport. Stretching over 14km, the 24 metre wide, 4 lane highway will also run parallel with the current rail track that connects Toul Kork Roundabout to National Road 4. The Phnom Penh infrastructure project will commence soon once compensation to affected households has been completed this year.
A 220km highway linking Phnom Penh and Ho Chi Minh City worth around US$2.2 billion proposed by the Japanese International Cooperation Agency (JICA) has also been announced with completion hoped for by 2030.
The capital will also see construction of a second ring road that will run 16.67km across two lanes from Russian Federation Blvd to National Road 2 across the districts of Dangkor, Sen Sok, Meanchey heading south to Takmao town, another boost for Phnom Penh infrastructure. The road will be built by Chinese Shanghai Construction via Chinese government financing. Built with 20-cm thick concrete it will be 23 metres wide with a 1.5 metre drainage system on both sides. The exact starting and completion dates for all these projects are not yet known.
While the government is pinning its hopes on more infrastructure solving congestion, urban planning expert Dr. Van Vat told the Phnom Penh Post that infrastructure projects alone can't mitigate the jams.  "To avoid this problem, we need to have a detailed plan for each district as to which roads need to be expanded in the next five or ten years, and which roads will have overpasses," he stressed, adding that, "If we don't do that, the congestion issue will continue." Dr. Vat also requested the government to limit vehicle imports and design and implement appropriate traffic light systems.