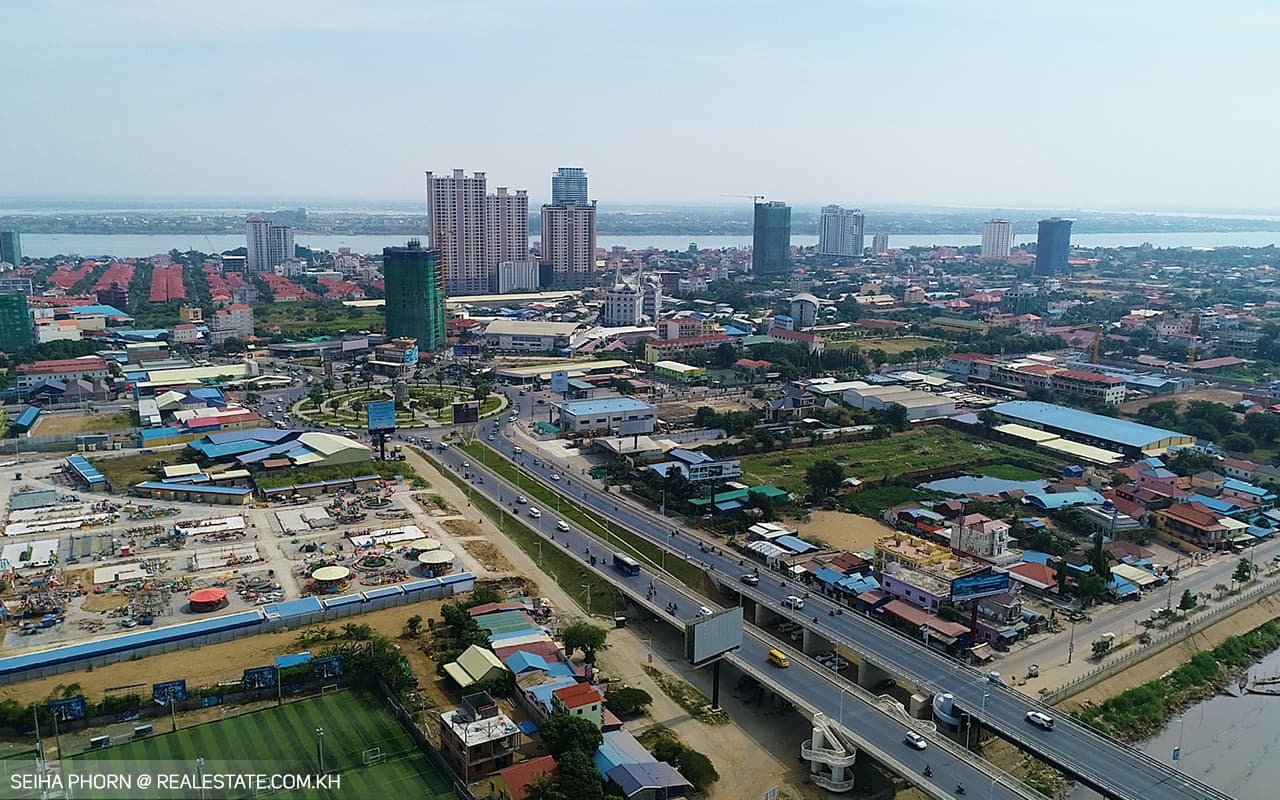 Chroy Changvar district is home to many modern property developments in Phnom Penh. Supplied.
The year 2020 has been a tumultuous year for Phnom Penh's property market. The city's rental market, in particular, faced challenges with the dwindling number of tourists and expatriate renters compared to previous years. And while the market itself is gaining its footing amid COVID-19, it is yet to see the same level of activity prior to the pandemic.
Key highlights of Phnom Penh rental market update:
Phnom Penh rental market saw downward pressure from the recent COVID-19 cases
5 Phnom Penh districts see up to 11% lower median rental prices by year-end 2020
Sen Sok district offers the lowest residential median rental price as of December 2020
Prices displayed on Market Trends are median rental prices found across Phnom Penh and are designed as a guide to navigate price ranges. Realestate.com.kh is advising interested buyers to visit the condominiums for rent in Phnom Penh page for the specific rates of projects they may be interested in.
The new round of scares stemming from the November 28 incident put additional pressure on Phnom Penh's property market. Rental prices recorded in December 2020 logged 5 districts seeing as much as 11% lower median prices.
Chroy Changvar and Chbar Ampov saw double-digit changes of 11% and 10%, respectively. As of December 2020, the median rental price in Chroy Changvar is recorded at $600 while Chbar Ampov median rental price is recorded at $675.
Median rental prices for Por Sen Chey, 7 Makara, and Sen Sok, similarly saw downward pressures. The Por Sen Chey district faced a 9% decrease in median rental price down to $600 while the more central district of 7 Makara only saw a 7% decrease, resulting in a median rental price of $650.
Sen Sok district, an area primed for urban development, experienced a downward pressure of 8% with its median rental price recorded at $550. It is worth noting Sen Sok opened in 2020 with a median rental price of around $1,000. Prices in this district saw significant adjustments as COVID-19 persisted alongside the announcement of new affordable projects in the area.
Sen Sok offers the lowest median rental price for condominiums in Phnom Penh as of December 2020.
Phnom Penh's property market is still under pressure from comparatively lower market activity. The November 28 incident, while officially contained, serves as a reminder that without a working vaccine, any prospect of recovery is still susceptible to disruptions. Fortunately, stakeholders in Phnom Penh's property market have learned to observe basic quarantine measures required to curb further infections until a cure becomes available.

Article by: