According to a recent Cambodia Daily report, Cambodians passing rights to property from relatives won't need to pay property registration tax - as according to a Government announcement at the CPP party's party congress on Sunday.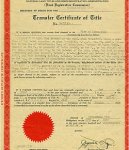 Transferring property is generally taxed at 4% of the properties value, including other minor property registration fees.
Learn more about the title transfer process here. 
Yet, according to the new directive, spouses, parents and children, will no longer require this tax, and has been said to be effective already. The same will apply to grandparents and grandchildren.
Stay tuned to
realestate.com.kh news
for more on this topic of property registration as the situation clarifies.
Learn more about property registration, Cambodian land titles, strata title transfers and foreign ownership regulation on Realestate.com.kh today!