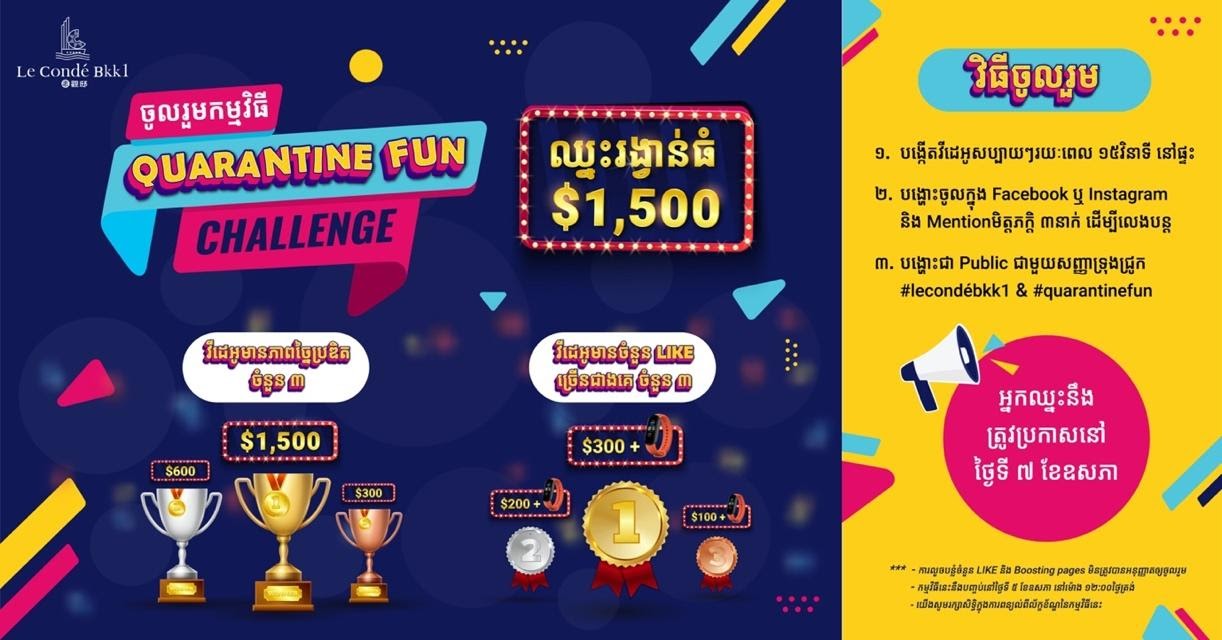 Quarantine Fun Challenge is a fun and rewarding online challenge that was initiated by Le Condé BKK1 project to entertain people during this lockdown period by making a fun video of your quarantine time.
To support the Government during this lockdown, Le Condé BKK1 initiated this online challenge and now it is valid until 5th May 2021 to join and the winners will be announced on 7th May 2021.
Le Condé BKK1 understands that it is a very tough moment for everyone. Taking this opportunity, Le Condé BKK1 would like to encourage people to stay alert with a strong mentality while doing quarantine, however, they still can have fun by joining this challenge at home. What's even more interesting, many big prizes for the winners, the biggest prize is $1,500 cash for the winner with the most creative video.
Right after the announcement, quickly hundreds of participants made videos to join our challenge sharing their quarantine fun day, showing that quarantine is not boring at all but we still can have some fun too. We have noticed some famous idols also joined our challenges like HRH Princess Norodom Pongsoriya and our handsome YouTuber Heng Visal.

Many of the challenge participants expressed their positive feedback on this online challenge that this is a brilliant idea; while people stuck at home, they are easily getting bored and not very productive, however this challenge is very entertaining, interestingly a lot of big prizes. They also shared it with their friends and relatives to join.
Le Condé BKK1 is a high-class residential condo project situated in a great location - central of Boeung Keng Kang 1 with revolutionary amenities. In the market, it's very well-recognized because it's the first smart home project in Cambodia. All these remarkable factors made Le Condé BKK1 the top sale and outstanding project thus far.