Best prices ever seen in Cambodia Real Estate, Friday the 12th of June, 4 hours only
Realestate.com.kh is proud to announce the launch of the first ever Online Black Friday Property Sale, which will take place on Friday the 12th of June from 4:00 pm-8:00 pm (Cambodian time). The Black Friday Property Sale will be the biggest online sales event in Cambodian history, where property hunters can buy their dream home at the best discounted prices ever seen.
Realestate.com.kh Black Friday Property Sale
DATE: June 12, 2020
TIME: 4:00: - 8:00 GMT+7 (4 HOURS ONLY)
Biggest discounts from Cambodia's leading developers
100% free to register
$500 Fully Refundable Reservation Fee on the day to reserve the discounted price
For a limited time only, property hunters can grab the best deals of the year from Cambodia's top developers. Buyers must pre-register to the event here and use an affiliate code when registering. Realestate.com.kh and its partners will send valuable information to pre-registered attendees in the lead up to the event and provide a guide as to which properties will be available and what some of the best discounts are that will be offered during the 4 hours. However, full details of all discounts and properties will not be revealed until the online event opens.
Once the event launches at 4:00 on Friday the 12th of June buyers will be able to find their favorite property and reserve the discount by paying a fully refundable deposit of $500 USD on the day. Buyers who reserve a unit during the 4 hours will then be provided a minimum of 14 days to choose the actual unit with the developer, discuss terms and sign a sales and purchase agreement. If in any case, the buyer does not follow through with their purchase they will be fully refunded their $500 reservation fee.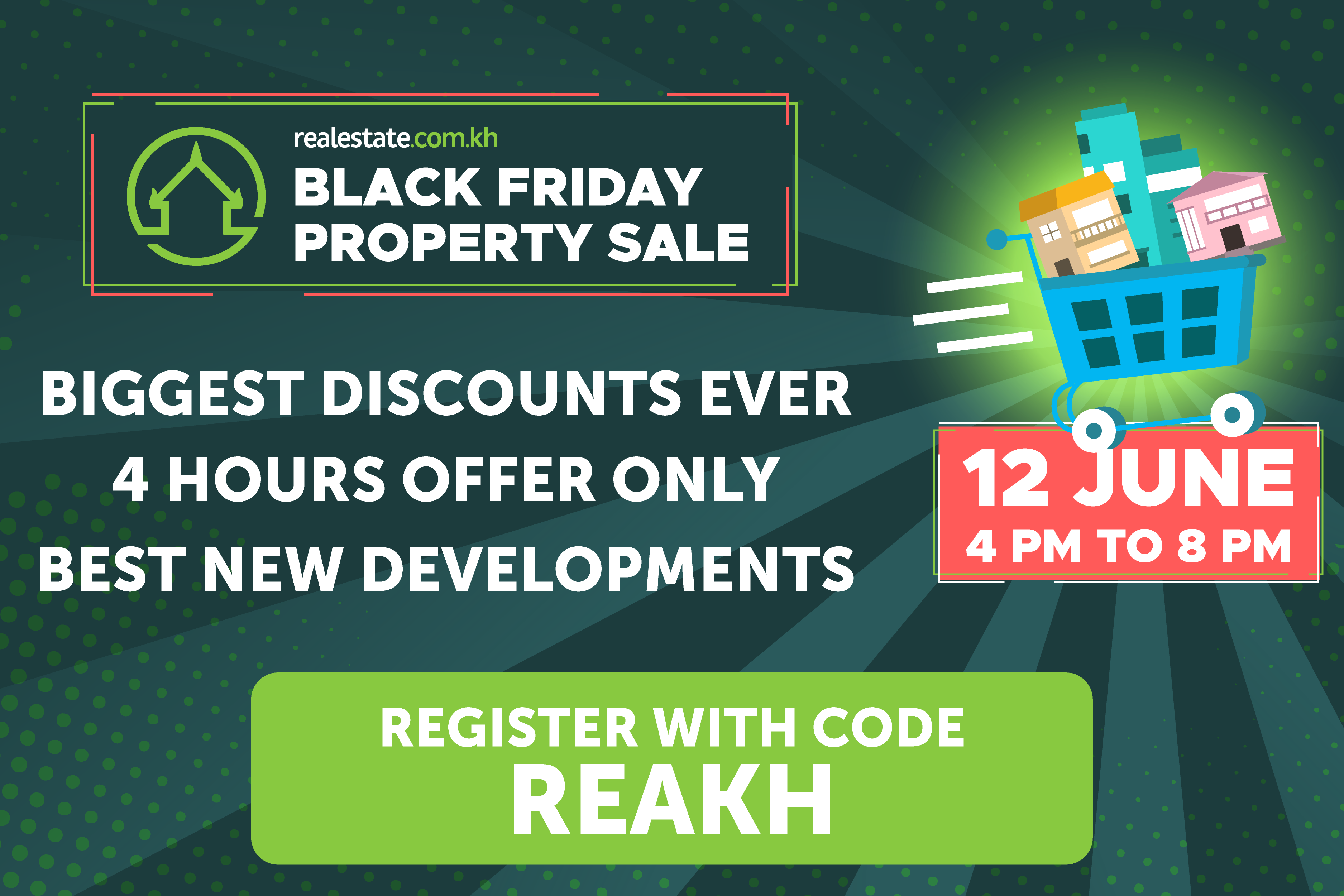 Lessons from previous economic downturns indicate that property prices dip and eventually bounce back; presenting a small window where buyers are able to acquire properties at significantly more attractive prices. Realestate.comkh's Black Friday Property Sale seeks to deliver that opportunity to local buyers and international investors in the Kingdom of Cambodia.
Realestate.com.kh will be working with Cambodia's hottest and most popular developments in the market as well as all the leading real estate agents and agencies with the intention of reaching as many buyers as possible both locally and internationally.
Due to current quarantines and restrictions, conventional offline means of marketing property is severely hampered - making it especially difficult to reach target markets. The Black Friday Property Sale is an online event where developers can reach their audience and acquire buyers even during these times. Interested developers are encouraged to reach out to Realestate.com.kh urgently.
Given the opportunities for great deals, Realestate.com.kh is inviting the leading real estate agencies, media platforms and other real estate related businesses to join as affiliates. Joining our affiliate network will allow our partners to benefit from every successful deal made via their database and website traffic. Interested parties may apply to become an affiliate through our affiliate managers.
Realestate.com.kh has been at the forefront of connecting buyers, developers, and agents and contributing to Cambodia's real estate market growth since 2009. The Black Friday Property Sale objective is to pursue this growth despite the necessary quarantines through continued online marketing efforts.
Some of Cambodia's leading real estate agencies, media platforms, and other related businesses have already signed up as affiliates to bring the exclusive discounts to their own databases and online traffic including Cambodia Properties Limited, Juwai IQI Cambodia, Yi Fung Real Estate, Knight Frank Cambodia, Coldwell Banker, Rentex, Skylead, Century21 Dream Property, Khmer Times, BizKhmer, Panasia Life, Tnaot News and more! 
If you are a developer and want more information about this event please contact:
Nin Kang
+855 78 637 323
+855 93 552 305
nin.kang@realestate.com.kh
Soun Sumey
+855 77 241 285
mey.soun@realestate.com.kh
If you are a real estate agency, media platform, bank or related business and want to join as an affiliate please contact:
Chen Huyhong
+855 98 526 671
cheng.huyhong@realestate.com.kh
Trixia General
+855 17 870 064
trixia.general@realestate.com.kh
Alexander Sing
+855 15 583420
+61 434 644 957 (WhatsApp)
Alex.sing@realestate.com.kh
Sun Rattanak
+855 17 884 161
rattanak.sun@realestate.com.kh
Article by: