Realestate.com.kh has recently launched two new features that are now available across the website platform and mobile application to create a more stress-free property search for its customers and users.
Realestate.com.kh provides both online and offline marketing services in the real estate industry. To remain the top property-focused marketing company; it is one of the company's main priorities to continually innovate and provide its users with the best experience when it comes to property search.
Realestate.com.kh's mobile app is available on both iOS and Android.
Two new market-leading features
The two new features recently added to the Realestate.com.kh's mobile app and website platform are "Direct Chat" and "Home Finder". It is the latest effort by Realestate.com.kh to improve user experience via modern technology.
Mr Tom O'Sullivan, CEO of Realestate.com.kh, said, "We are so excited about these two new features. I believe they will bring the experience of property search in Cambodia to the next level. It is our priority to bring the best products and services to our clients and property seekers."
Direct Chat
Direct Chat is a new function that allows users to chat and start a conversation directly with the agent selling the property right on the website or the app itself. It works just like WhatsApp. You can either sign up as an individual user seeking for your new home or a real estate agent to engage with property seekers instantly.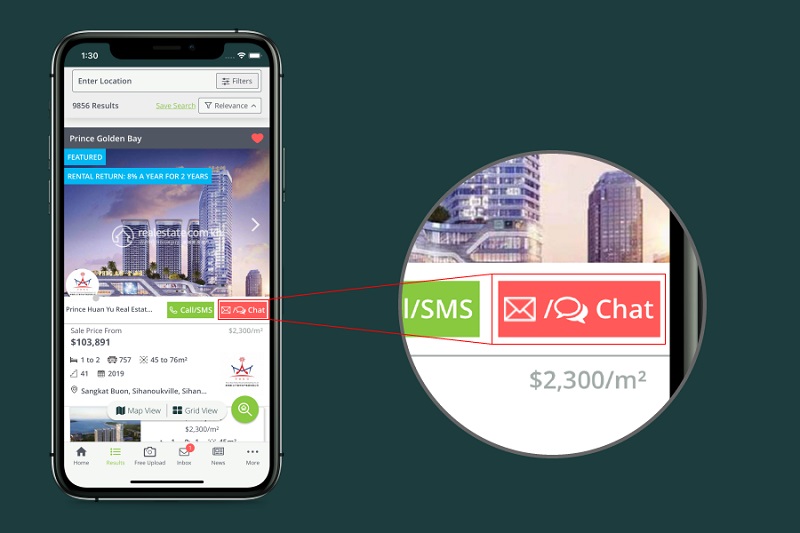 For example, if you are a property seeker looking for a condo unit, a landed house commonly known as borey or office space. You now can chat directly to the agents whose listings interested you the most. You can find out exactly what you want to know about that property instantly. The agent, in turn, can reply to you directly. You don't have to call or send an email anymore. Better yet, the Direct Chat feature also allows you to send pictures, files and property listings to your potential clients. This is all possible within just one or two clicks.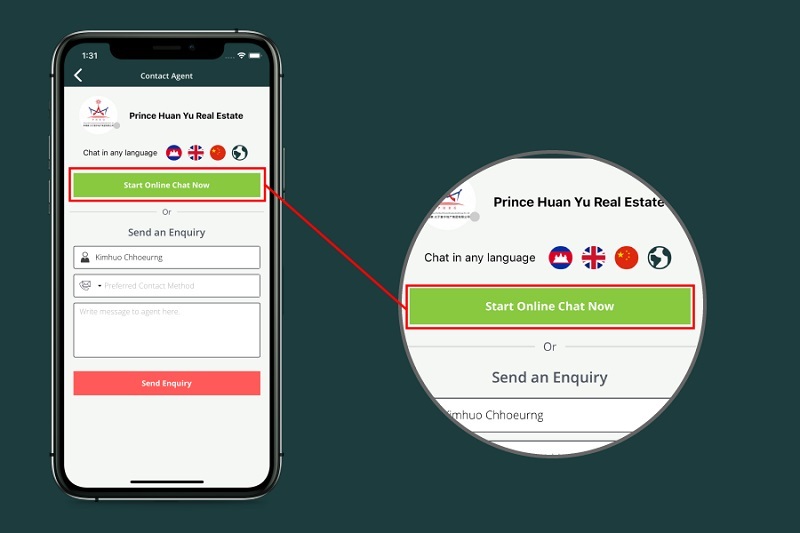 On top of that, Direct Chat has other useful functions that enable you to communicate better. On the top of your screen, you can see the status of the person whether she or he is online or offline. If your receiver has read your message, two ticks appeared on the left side next to your text.
Another cool function is auto-translation, which works just like WeChat If you are worried about the language barrier; don't sweat it. Direct Chat's auto-translation mode got you covered. It allows you to generate auto-translations between Khmer, English and Chinese.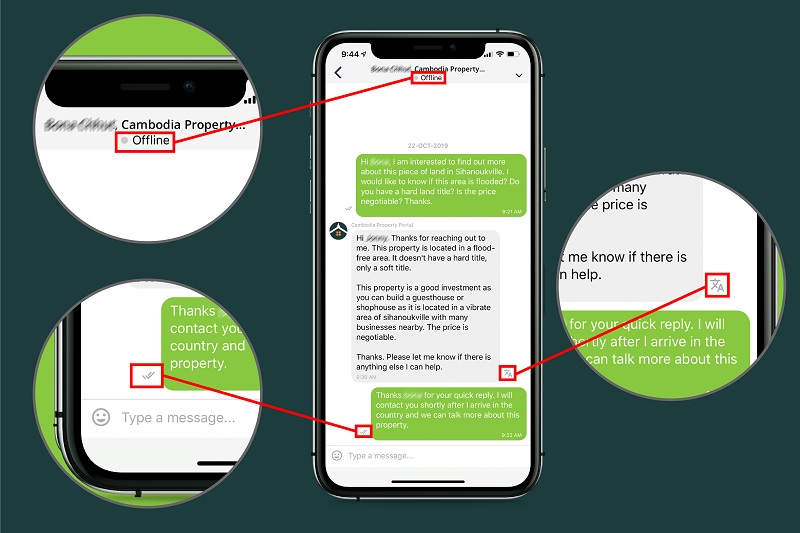 Home Finder
The Home Finder tool is located in the bottom right-hand side corner on your desktop or the homepage of the app.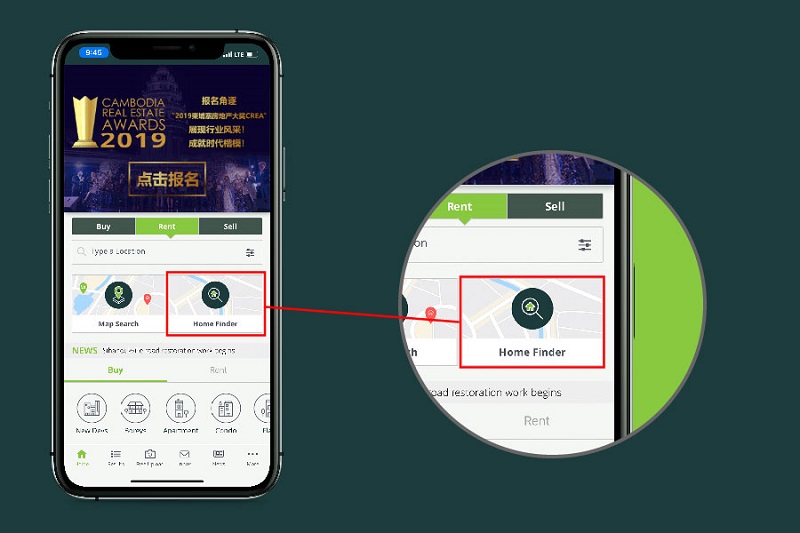 It allows property seekers to fill in their specific requirements. Once finished, property seekers will be referred to the leading agents that meet the requirements.
It takes the hassle away from property seekers when looking for the most trusted agents in the market, and assure that they get to view the latest available properties.
To ensure that the platform remains user-friendly, it allows only the first three agents to take the opportunity. The opportunity will disappear once three agents respond to it. It helps users to not having to deal with many agents contacting them later to sell or rent their properties.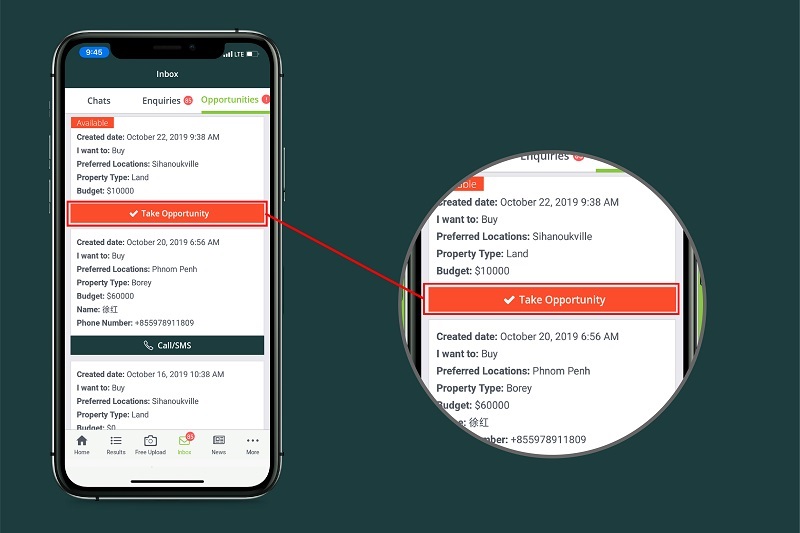 Why should you download Realestate.com.kh's mobile app?
Realestate.com.kh mobile app is a practical and convenient tool for property search in Cambodia. Users can search for any types of properties available in Cambodia for free either for rent or buy and with over 15,000 properties listed on Realestate.com.kh. It's more than any other app, so there is no need to go anywhere else. Everything can be done from the palm of your hand, on the leading property app in Cambodia.
Download the app now on iOS or Android
Realestate.com.kh is proud to bring back Cambodia's biggest Property & Lifestyle Market Expo which will be held on 7th and 8th August at Koh Pich Exhibition Center.
Booth sales and sponsorships for Home & Lifestyle Expo 2020 are open. 
For more information, please contact:  
Nin Kang (Khmer/Chinese)
+855 78 637 323
+855 93 552 305
nin.kang@realestate.com.kh
Tyler Stuart (English)
+855 12 599 699
+855 81 599 669
tyler.stuart@realestate.com.kh

Article by: