Now that 2015 has come to an end, Realestate.com.kh would like to start 2016 with a recap of the Kingdom of Wonder and its burgeoning real estate sector. 
No wonder real estate is booming...
The economy is growing rapidly: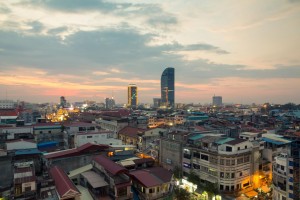 Cambodia's economic growth over the last 10 years has been some of the fastest and most-consistent in the Southeast Asian region, recording an average GDP growth of 7.0% per year since 2010. In 2015, this rate dropped very slightly to 6.9%. Cambodia has a total population of 15.4 million, and Phnom Penh, Cambodia's capital city and economic hub with a population of around 2.5 million, in 2015 was second only to Laos in Southeast Asia for the fastest rate of urban spatial extension, as indicated by the World Bank. One of Cambodia's key secrets to success in its economic growth has been creating an attractive environment for foreign investment, and this remains a key driver. In 2015, Cambodia received over $4B in foreign direct investment (FDI) and has a permanent expat population of over 78,000. Realestate.com.kh suggest that Cambodia is becoming a magnet for FDI due to the abundance of low-cost labour, rapid urbanisation, an increasing middle-class consumer market, low barriers to entry for foreign businesses, relative proficiency in english language, attractive tax incentives and import/export duty exemptions, continually improving logistics networks, and an economy backed by the US dollar. Furthermore, with the solidification of ASEAN, Cambodia is well located, surrounded by strong regional economies who are increasingly outsourcing low and mid-level skilled manufacturing operations to the Kingdom. These new industrial opportunities are lessening the economy's reliance on the garment industry, and offering low-wage workers more opportunities for career and skills growth. Cambodians are also entering the global community en-masse through technology - namely through dramatic increases in internet penetration throughout the population. In 2015, Cambodia had over 5 million internet users, a third of the population. Since 2010, foreigners have also been allowed to own apartments and condominium units in Cambodia - but not land, and, accordingly, not the first floor of buildings. While foreign ownership of land in still unconstitutional, land can be easily held by foreigners on long leases that are renewable, and through majority locally-owned companies incorporated in Cambodia. These structures are arguably safer than comparative legal schemes in other Southeast Asian states in which foreign land ownership is formally prohibited.
Phnom Penh Overview: 
Phnom Penh is the capital of Cambodia, situated at the confluence of three rivers, the Mekong, the Bassac and the Tonle Sap. The Phnom Penh metropolitan area is home to about 2.5 million permanent residents. Phnom Penh is Cambodia's economic centre as it accounts for the largest portion of the Cambodian economy. High economic growth rates in recent years have triggered a real estate boom in Phnom Penh and construction is taking place across the city, with a plethora of new hotels, restaurants, bars, and high rise residential and commercial buildings springing up around the city. Industrial zones at the edge of the city have also expanded continuously in recent years, along with huge growth in the "borey" sector throughout the suburbs of Phnom Penh, "borey" essentially meaning gated community residential developments with self-serving infrastructure. These types of properties are extremely popular with local buyers and offer various housing types. Most of these properties are being bought off-plan. The Phnom Penh Master Plan 2035, supposedly nearing completion by the government this year, seeks to dictate the urban planning for the expansion of the city and construct new infrastructure to accommodate the growing population. Until now, the city has had no zoning regulations of note nor identifiable urban development planning. According to Realestate.com.kh research, flats located in central Phnom Penh cost around $3000 USD p/m2, as averaged across the prime residential areas. Rents can range from $9 – $14 p/m2 per month, depending on location and quality. Villas are generally more expensive than flats, at around $3,500 to $4,500 p/m2. Rental prices for villas typically range from as low as around $6p/m2 to $27p/m2. Low-to-middle range apartment developments, targeting the local market, average $200 to $500 a month rental per unit in the central areas of Phnom Penh City. The high-end, serviced and luxury condo market is priced considerably higher than this – but these prices vary greatly across developments depending on scale, location and quality. Beoung Keng Kang, Chamkarmon, represents the highest priced district in Phnom Penh with price for land reaching 6000p/m2 in some parts. Previously, home villas were a popular option for families wishing to live in Chamkarmon generally, however, many of these villas have now either been demolished and the land sold for development, or converted into boutique hotels or restaurants. High-end condo developments and hotels are changing the area dramatically at present. However, growing congestion and a lack of parking in and around the city centre is increasingly causing problems for inner-city Phnom Penh residents. Other upcoming Phnom Penh residential property areas include the west and south of the city generally. The peninsular of Chroy Changvar is also seeing huge development from foreign and local developers, and here height restrictions on new buildings are largely unlimited. These locations are very close to central Phnom Penh yet land prices remain considerably lower.
Real Estate Trends: 
Presently, prime and mid-level office space across Phnom Penh is rising dramatically, with a variety of new highrise projects beginning to be released into the market, or slated for completion in the coming years. These new office complexes are often coming at the cost of knocking down villas, flats and other older real estate. Grade B and C are proving most popular, as Grade A office space is beyond the budget of most local firms. Phnom Penh commercial property options are only set to boom in the upcoming future, especially with the rise of ASEAN and the AEC. Another trend is in regards to the advent of high quality shopping centers and malls. Cambodia's first international shopping mall opened its doors in June 2014: Aeon Mall. Aeon has since seen high demand for store space from both international and local retailers. A new breed of international franchisers who have for many years ignored the Cambodian market and refused to enter it, see the attractiveness of occupying slots in complexes such as Aeon Mall as it reflects international standards of retail space and retail space management. The new mall has convinced some of these franchisers that opportunities exist and that there are viable spaces for them to locate their brand. Parkson Mall on Russian Boulevard is the next of its kind to open in Phnom Penh, and is currently under construction. Aeon 2 is also in the pipeline. TK Avenue is another well known, well-established and modern shopping plaza and cinema complex, located in Toul Kork. The condominium market in Phnom Penh continues to expand, with early investors in centrally located developments enjoying appreciation of up to 30% from off-plan purchases. High-end condominium development looks set to continue in prime residential locations, with developers also looking to offer luxury projects outside of traditional residential districts. While the condo market was originally dominated by foreign investors, Khmer buyers are beginning to demand condos, predominantly for investment purposes and rental returns. This has led to a trend of local developers offering lower-range condo development projects to the market, and these types of developments range of $30-60,000 per unit off-plan and are being bought primarily by local buyers. Domestic demand is a key element of a successful condominium project for any developer in Cambodia, due to foreign ownership of an individual building (strata law) being restricted by law to 70%. Another trend we will see more of in 2016 are mixed-development complexes, including condo, office space and retail. Realestate.com.kh suggests that the reason for this is that developers are aware of a potential oversupply in the pure-condo market in 2018-19 and are thus hedging thier bets with mixed development offerings. Increasing investment from Singaporean, Japanese, Korean, Hong Kong and Chinese residents continues to grow in Cambodia, and the comparatively high yield guaranteed by many developers is still attracting overseas purchasers who see positive chances for appreciation in Cambodian developments compared to their slowing home markets. Thus far developers in Cambodia have focussed on the highend market, and to some extend the upper middle class, as these two markets represent the lowest hanging fruit. Still, suggests Realestate.com.kh, a massive demand exists for quality, affordable housing development in Cambodia suited to the needs of the lower-middle class and lowest income earners, especially in expanding urban centers. Without any proposed government intervention in the market for this demand, this appears to offer a great opportunity to developers able to cater to this large demographic.
Sihanoukville Rising: 
As property prices in Phnom Penh continue to push upwards, many investors are quickly being priced out of these first-tier markets, as are many developers seeking land for their next project. Sihanoukville in particular stands out as an exciting investment destination worth serious consideration. Home to the Kingdom's only deep-water port, Sihanoukville is the capital of the province of the same name and is home to a fast-growing population of approximately 300,000. Many of Sihanoukville's residents are there for the port or its associated export-focused manufacturing. The city is Cambodia's second-largest manufacturing base after Phnom Penh, with most of its output consisting of garments and shoes. The government plans to transform this area into an entire Special Economic Zone (SEZ) and is currently dredging the port to support larger freight vessels. Large reserves of oil off the coast of Sihanoukville has also been prospected, and plans are being made for its extraction in the coming years. In 2015, the average percentage of growth year-on-year was around 15-25 percent for land located in the city centre of Sihanoukville, according to Realestate.com.kh research. But along the seaside road and main commercial roads, prices have rose dramatically in recent years - in some places between 40-50 percent compared to prices 2013-14. Sihanoukville offers opportunities for cheap land to be developed into resorts, offices, guest houses, hotels or apartments. As investment capital continues to flow into the region, in particular from the Chinese, the region is also seeing the beginning of a high-end condominium market, with various grand scale projects already underway. Read more great Cambodian real estate news, insights, property reviews and analysis on
realestate.com.kh/news
today. Also check us out on
Facebook
.
Check out more great info-graphics, from Realestate.com.kh:
Prime Development Land Price Growth Tops ASEAN