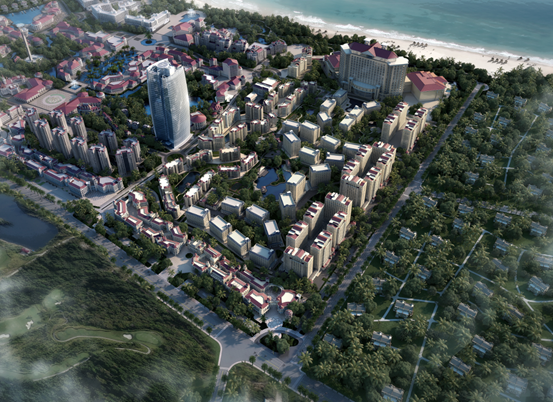 On November 27, more than 100 media outlets in Cambodia and China turned the spotlight toward Dara Sakor of the Long Bay Resort Town on the west coast of the Kingdom. The move will see an upgraded tourism plan and has resulted in admiration from Chinese investors.
China's One Belt, One Road policy is being carried out within several of Cambodia's special economic zones (SEZs). Meanwhile, Dara Sakor becomes the first section of the 360 square kilometre SEZ in Koh Kong, the culmination of a decade of progress and Chinese investment. After launching on the global stage and hosting a groundbreaking ceremony, Dara Sakor will set its sights on creating a world-famous tourist resort.
Temi Town
Also touted by the team behind Dara Sakor was the sweeping Temi Town project of Koh Kong province. The massive undertaking, which is set to include everything from resorts to airports, was shown as a prime example of the group's dedication to the One Belt, One road plan.
Union Group Urban Development Group Co., Ltd's chief marketing officer said that the project shows that relations and cooperation between Cambodia have never been stronger.
One Belt, One Road brings global recognition
At 5pm on November 27, the ground was officially broken for the Dara Sakor Long Bay Resort Town project. This is the first project of the Dara Sakor Special Economic Zone and is a direct result of both the China-Cambodia Economic Cooperation Model and the One Belt, One Road policy. It is also the highest-profile cultural tourism project in Cambodia.
Seeing the value of the project, it has been looked on favourably by the Cambodian government and national leaders. Development plans for the Dara Sakor Tourism Resort Special Zone even stretch all the way back to 2008. After 10 years of infrastructure construction, the project is now being introduced to both global media and investors. Leaders from Cambodia, Zhengheng Development Company and partners from more than 100 Chinese and Cambodian media outlets were invited to the event.
Holiday destination and industrial area

Triumphant music began at 5:30pm and the groundbreaking was underwar. The head of Zhengheng Development and other stakeholders delivered speeches and presented the blueprints for 360 square kilometres of Sea Empire and 200 hectares of world-class travel and holiday destinations to all the guests.
Dara Sakor's Long Bay is located at the core of the Dara Sakor Special Economic Zone. The project covers a total area of 200 hectares, surrounded by mountains and the sea. It hosts 1.9 kilometres of coastline, standing as a hub of tourism, and integrating financial capital, holiday resources, overseas resources, IP, services, smart cities, cultural travel and much more.
It will create a new destination for world-class travel and vacation by creating smart industry parks, commercial style neighbourhoods, core areas of cultural travel, sea view apartments, villa resorts, yacht marina resorts, coastal leisure resorts and quiet sea bathing areas.
Dara Sakor's Long Bay started as a 55-hectare industrial park, which is an exclusive smart park. The development team, who has visited dozens of cities, deeply understood the industry rules, and analysed the main points of the industry, focusing on top security and support.
As a starting point, Dara Sakor's Long Bay plans to construct a 5A office building on the coast, a hardcover delivery condominium, a gourmet restaurant, a commercial block and a sports venue. Everything will feature triple security measures to ensure a relaxed, safe and long-term operation for all enterprises in the park. The project will be based on digitalisation and modern technology and will bring work to 80,000 industry and tourism personnel within five years.
Investors already signing up
On-site guests reported high investment enthusiasm for the project. After the meeting, under the witness of the Cambodian national leaders, Zhengheng Development Company and many Chinese and Cambodian journalists, a grand signing ceremony for investors entering the park was held.
Dara Sakor-Long Bay launch ceremony was a great success, marking a successful step of China's One Belt, One Road project in Cambodia. This is not only the development model of Zhengheng Development Company but also of the Chinese government.
This exciting step will push global economic cooperation and tourism development in the country. Indeed worldwide attention is already growing rapidly.
More information contact:carina.cai@realestate.com.kh  (+855) 012 426 538
Find out more about new developments in Cambodia at Realestate.com.kh