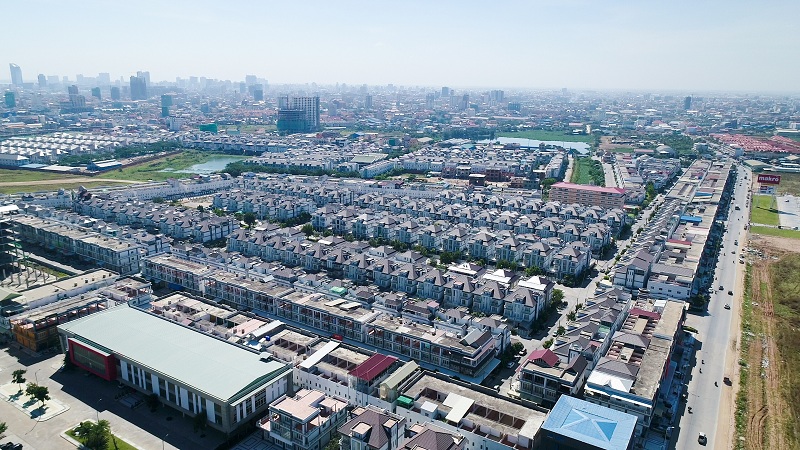 The real estate market in Phnom Penh is experiencing a shift toward more affordable residences. This comes reported via CBRE's quarterly marketview, which breaks down residential, commercial and retail space in the city.
New to this report is an analysis of the landed property market, known locally as boreys. These gated community are extremely popular among Cambodian families and cover a wide range of market segments. See what boreys look like by browsing boreys for sale in Cambodia on our site. 
Meanwhile, a report on the second half of 2018, released by Knight Frank Cambodia, also touched on the growth in popularity of the borey market. This document noted that borey developers are moving to include more lifestyle amenities such as pools and gyms in the communities they create.
Condos come online
Noting the general shift in the condominium market, James Hewson, research and consultancy manager at CBRE, noted that three condo projects were completed in Q1, bringing over 1,000 units to the market.
However, he noted that five more projects were officially launched since the start of the year, 76% of which are positioned in the affordable segment.
Indeed, Knight Frank Cambodia's report also indicated a move away from high-tier properties.
"Although supply still outpaces demand for condominiums, the rapid urbanisation rate in Phnom Penh is pushing prices for landed homes beyond the affordability level for the middle class population," the report reads.
Brand new to boreys
The latest report from CBRE was its first to dive into the borey market. This market has been wildly successful for local buyers both because of affordability, land ownership and financing options.
CBRE's data showed that a majority of borey developments are in Sen Sok district. Other major areas for these projects include Russey Keo, Meanchey and Chbar Ampov. 
Additionally, the document forecasts that Chroy Changvar will become a new hotspot for boreys over the next three years.
The paper also broke down the average prices of various types of housing within boreys. It stated that, on average:
Flathouses and linkhouses are selling for just over $100,000
Shophouses are going for just over $200,000
Twin villas are selling for around $260,000
Villas, which includes single villas all the way through to queen villas, are averaging almost $800,000. However they span a huge range from around $400,000 to over $2 million
According to Kinkesa Kim, senior analyst at CBRE:
"We're expecting an increasing supply of affordable borey in the coming years, especially from local developers. A majority of them are offering houses at below $60,000 per unit. These affordable borey projects are growing particularly in Por Sen Chey, Dangkor and Mean Chey District."
No slump in sight
The doom and gloom on everyone's minds at the end of 2018 has seemed to pass. Though there are still lasting fears of price correction in the condo market, it seems that developers are taking the hint and shifting their focus.
Instead of courting only international investors, it seems that more and more are aiming toward the local market. 
Find CBRE's report here and Knight Frank's here. Or check out the exclusive interviews that Realestate.com.kh did with CBRE earlier this year here.
If you found useful information in these reports you'll love our Investment Guide 2019. It runs through nearly every topic and every sector in Cambodia.