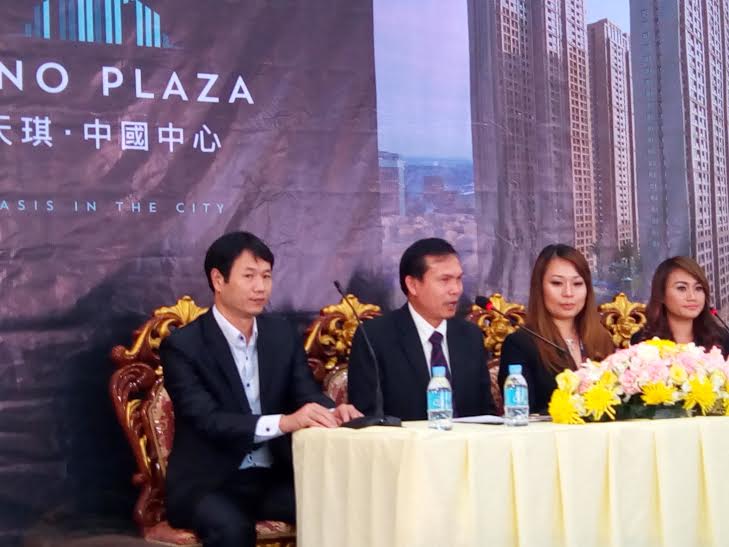 Sino Plaza held a press conference at their showroom in Phnom Penh Friday last week, July 29, 2016, to announce their official launch for bookings.
Sino Plaza's 4 towers will rise to a height of 45-storeys each, located in the south of Phnom Penh city near Beoung Trabek Plaza, Sangkat Beoung Trabek, Phnom Penh.
The project started construction in early 2015, and now all foundations are complete, with around $15 million already invested into the construction work. The total project of Sino Plaza is worth more than $200 million and will be entirely finished, ready for occupancy, in 2018.
This project is a venture of Cambodian Natural Lucky Real Estate Development Co. Ltd, wholly owned by CYTS (China Youth Travel Services) from Hong Kong and China.
According to Oknha Cheng Kheng, executive chairman of CPL, exclusive sales partner of Sino Plaza in partnership with Huttons CPL, "Sino Plaza is actually one of the most sustainable developments in Phnom Penh now. The number of units provides economies of scale for maintaining a development with the most-extensive onsite facilities. The Office Tower will ensure that commute time to work is minimized. Meanwhile, the completeness of the retail mall is unique: with International SPA, Gold Center, Supermarket, International  KTV and restaurants serving cuisine from around the world."
"Considering the convenience, completeness and the high potential appreciation from rental yield and capital, Sino Plaza will be the most desirable development for at least the next five years or more."
Oknha Kheng continues to say that, "This is the first ever development in Cambodia that the developer is adopting the foreign method of CSR (Corporate Social Responsibility), allocating a certain percentage of units at a very special price for the Local Cambodians only. Encouraging the locals to strive for a better lifestyle at an achievable budget is a very clever approach. This is the developer's way of giving back to Cambodian society. The whole tower is actually priced slightly lower than market rate to ensure the affordability for Cambodian with end-user financing and the development ultimately will not be a ghost-town."
Chhoeung Sotheara, head of sales for the project Sino Plaza at CPL, said that "this area is a matured neighborhood with amenities and conveniences nearby, surrounded by embassies and government departments. Yet it is only five minutes away from BKK1 where most international schools and eateries are located. The potential for capital appreciation is very high here."
Contact today to find out more.