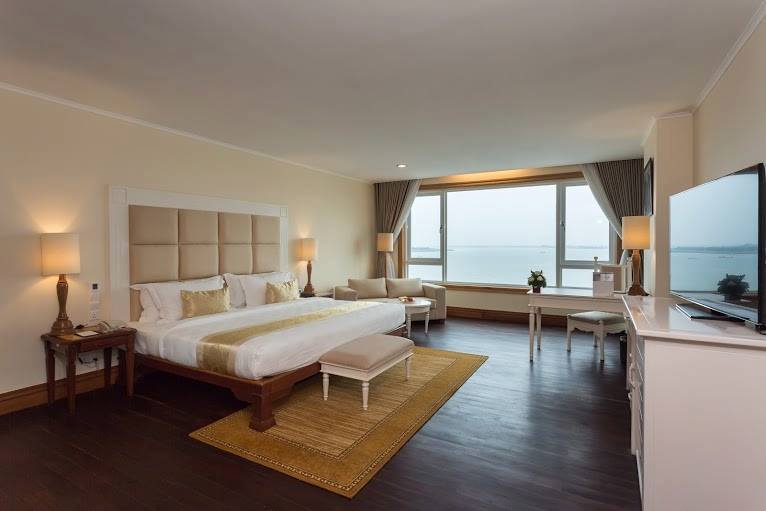 Cambodia is fast becoming a world-leading destination for tourists who want to experience a new frontier on the global tourism stage. And why not? Cambodia has a rich and diverse cultural history; it is full of natural wonders and untouched beaches; and as the Kingdom's economy grows, Cambodia is offering travelers more and more luxury options to make their stay even more special. In fact, according to TripAdvisor.com's "Travelers Choice Awards 2015"Cambodia was the 2nd most popular tourism destination in the world.
As of 2016, Cambodia has about 500 hotels of note, but only around 30 of these hotels have 100 or more rooms - and just six or seven of these venues offer international standards of hospitality services and execution. In this domain, the SOKHA Group is leading the way across the nation... SOKHA Group has a wealth of experience in tourism and hospitality in Cambodia, with their network of 5 star offerings across the Kingdom: Sokha Beach Resort – Sihanouk Ville; Sokha Angkor Resort - Siem Reap; Thansor Bokor Highland Resort – Kampot; Sokha Phnom Penh Hotel & Residence - Chroy Changvar Peninsular, Phnom Penh and Sokha Siem Reap Resort & Convention that going to open in mid of September 2016. Sokha Phnom Penh Hotel & Residence is the premier luxury residential experience in Cambodia's Capital city. Whether you want to stay 2 days or 2 years, by selecting Sokha, you are guaranteed the best that Cambodia has to offer every day. Sokha Phnom Penh Hotel & Residence, which completed construction in 2015, consists of 18 floors with 549 units of hotel rooms and 195 units of residential suites (service apartments). Rising high above the shores of the Mekong and Bassac rivers, Sokha Phnom Penh Hotel & Residence is host to the most prestigious luxury living standard, events, business conferences or expos, and a popular choice for fine dining among the local elite.
Sokha Phnom Penh Hotel & Residence offers unmatched views of the Mekong River and famous Royal Palace, and a quality of environment impossible to find in the popular inner-city districts. For those who are looking for working stays at the Sokha Phnom Penh Hotel & Residence, you are just minutes from the central business district of the city. Other perks for business guests include a meeting room for international conferences, high speed internet access and taxi services to and from the central city. All 195 residential units have classy polished timber floors and all amenities for your convenience included. The Bassac Suites (52 sqm/560 sqf) are exclusively designed as studio suites, fit for a quiet and relaxing stay. The Tonle Sap Suite (90 sqm/969 sqf) is a 1 bedroom suite with additional space, combining comfort, privacy and a place to call home. The Mekong Suite (104 sqm/1,119 sqf) has 2 bedrooms with highly customized and graceful furniture included, a premium choice of luxury living for both family and long stay business travelers. The suites feature distinctive, breathtaking views of the Great Mekong, Tonle Sap and panoramic view of Phnom Penh. Like swimming? At Sokha Phnom Penh Hotel & Residence you can get your fitness fix, with a huge 1,650 sqm/17,760 sqf outdoor swimming pool. Residents are able to access to gym, the luxurious healthy spa, steam, sauna, and jacuzzi. A comfort package is also available for residents with complimentary electricity and huge underground parking lots. Each room is connected with wireless internet access, fully furnished with full-sized fridge, washing/drying machine, modern kitchen full-equipped appliances, and multi-channel 47 inch LCD TV at the separate living room and dining area.

Residents can also get complimentary usage of the hotel Business Centre at the lobby and the BBQ Pavilion Space on Surkea Rooftop (Open Space for Dining /Party /Landscape Deck). And enjoy the international restaurants that serves food from around the world (Chinese, Japanese, Asian, Western, Italian…). Like to party after work? The Wave Club on 19th Floor and Stardust Karaoke below the hotel is ready for you, any time from noon. With 5 star hospitality service, round-the-clock security surveillance, 24 hours room service, housekeeping, linen (bedding and toweling) and daily shuttle bus service from the hotel to Aeon Shopping Mall, guests are able to relax and enjoy with their stay while the Sokha staff take care of almost everything. Of course, the concierge services are ready to help with any need you might have, day or night.