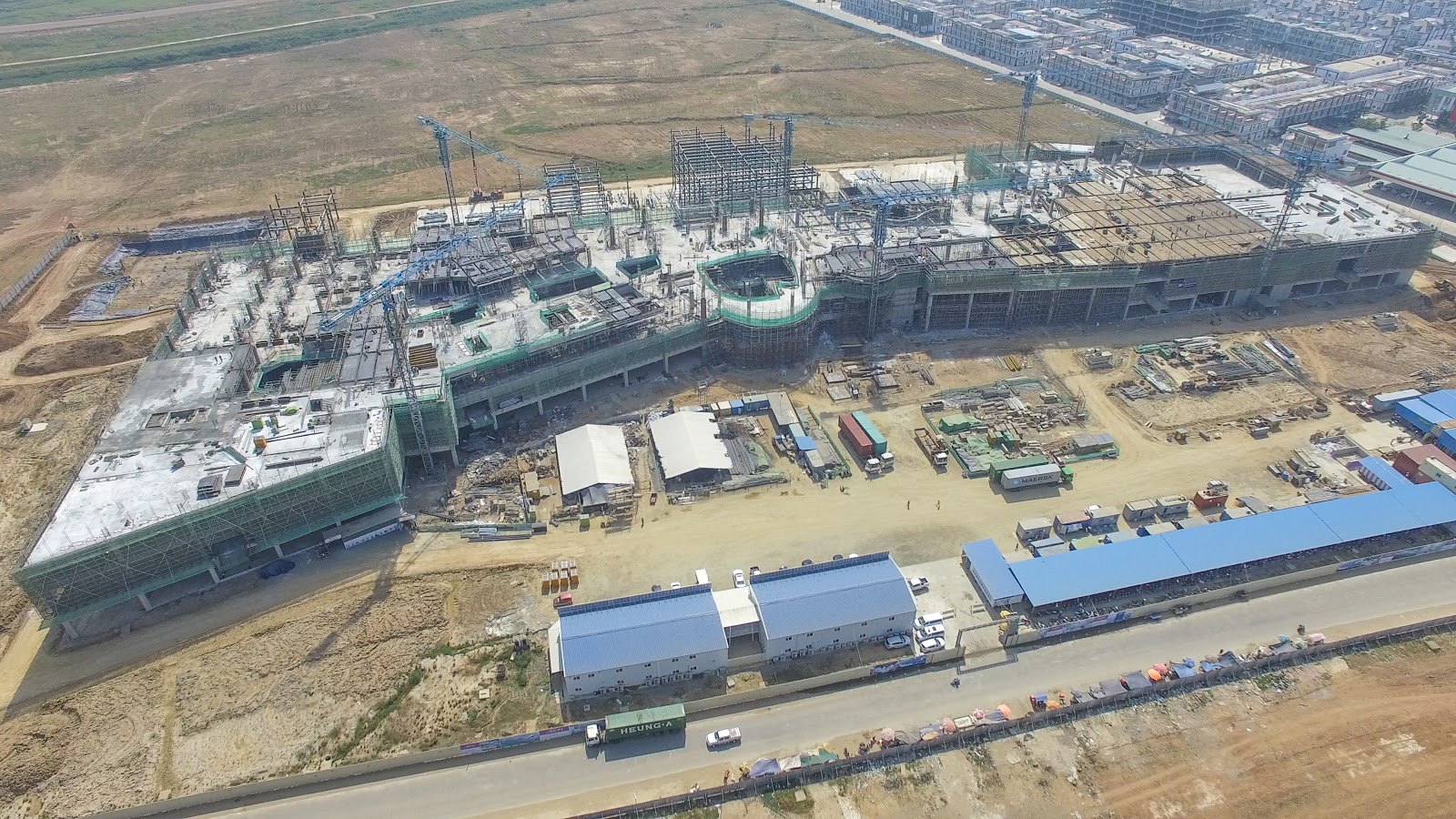 SOMA Construction and Development Co., Ltd is a subsidiary of SOMA Group Co., Ltd and is now working as one of subcontractors under supervision from main contractor,  HYUNDAI Engineering (Cambodia) Co., Ltd. for the reinforced concrete works Zone A of the AEON Mall 2 -- covering 4/10 of the entire project area.
And just recently, SOMA Construction and Development has also been awarded the contract phase 2 related to decoration work, which is the masonry and plastering works at zone B.  Getting more projects and gaining strong confidence from the market is not easy and definitely does not happen by accident.
In fact,  the company is strictly studied about prequalification on both technical and financial capacities before invitation to tender from headquarters of Hyundai and the AEON Mall.,
What are the key factors of SOMA Construction and Development Co., Ltd. that HYUNDAI Engineering came to trust?
Major achievements of SOMA Construction and Development: the company has completed a range of projects and is now doing construction, design, project management for both national and international clients such as Phnom Penh International Airport, Niroth Water Production Facilities  from French main contractor ,Vinci Construction Grands Projets, Lumiere Hotel from Singapore, The Heritage Walk, which is the biggestmall in Siem Reap province, and one18 Residences, acondominium which has 25 residential stories and 5 levels of basement designed with mechanized car park from Singaporean clients.
Human Resources: The company has skilled and highly committed human resources with various areas of expertise and capabilities. This is a significant advantage to ensure the completion of projects on time and with high quality. In order to strengthen the knowledge of their employees, the company has brought an advanced technology called BIM (Building Information Modeling), which is one of the leading programs for engineering and design work. The company also hired professional coaches from Singapore, to train and master the skills of their employees.
Focus on Quality and safety: Quality is the greatest selling point of any product or service. However, when it comes to construction, quality becomes the key since it affects people's way of living. For this reason, SOMA Construction and Development has paid attention to both national and international technical standards to ensure 100% safety and quality of their constructions. By scanning and evaluating in advance any risks allows them to take measures to prevent accidents and other factors that might affect the quality of work. They strictly implement and adhere to the decree and announcements of the Ministry of Environment and the Ministry of Land Management, Urban Planning and Construction. They have safety, security, and quality control systems to ensure the accuracy during work execution. This is also in order to push sustainable development and up-to-date safety and quality management systems. The company's engineers monitor and educate workers regarding safety, hygiene and quality of working performance. In addition, the company also offers free accommodation, electricity and water, safety equipment, and health insurance to their workers. Lastly, the labor fee is paid​regularly to all workers.
It's good to note that SOMA Construction & Development Co., Ltd. offers general construction services for office buildings, hotels, factories, schools, shopping malls, and airports. The company also offers architectural design, MEP, structure,  and project management services. Although, SOMA Construction & Development has been in the construction sector for approximately 7 years, the company has already performed over 50 construction and design projects and employed almost one thousand employees including workers and technicians.
If you want to contact SOMA Construction & Development Co., Ltd. Please call (+855)99 777 243 or Email: info@smcd.com.kh or go through their website: www.smcd-construction.com.kh
For up to date news and information, visit our news section at Realestate.com.kh now.