The first annual Real Estate Market & Outlook Conference 2016 (REMOC2016) was held this April at the Phnom Penh Hotel, with a host of the local and regional real estate industry leaders giving their outlooks on the state of the Cambodian real estate market.
Realestate.com.kh caught up with James Padden, Commercial Agency Manager at CBRE Cambodia at REMOC 2016 to get his 2 cents on the state of the current and future Cambodian property market prospects and to learn about strata title office space in Cambodia: 
What makes you optimistic and what worries you about the Cambodian real estate market?
CBRE are optimistic about the office market. Exchange Square is due for completion in Q4 16 and has seen strong interest locally and regionally highlighting growing demand for grade A space in Phnom Penh. Increasingly we are seeing interest from companies in office space in secondary cities such as Sihanoukville, Battambang and Siem Reap highlighting that Cambodia is not all about Phnom Penh but these provincial cities are seeing strong economic growth in their own right.
I think there is a need for caution regarding the residential market and we are yet to see strong domestic owner/occupier demand that is required for condominiums to really drive the market forwards. Existing investment is predominantly by overseas investors looking for capital growth. This market will be driven long term by Cambodian occupiers and this has been slowly changing but is yet to become a clear segment of demand.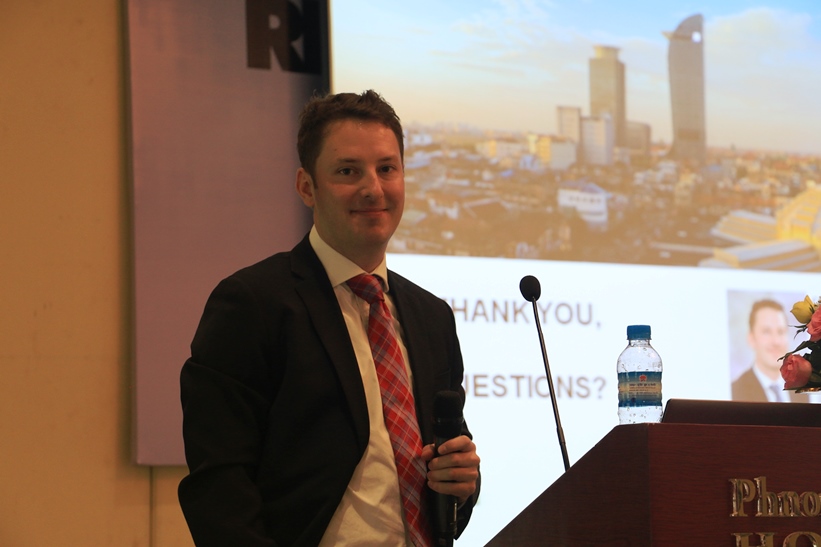 What significant changes are you anticipating for the Cambodian real estate market over the next year?
We have seen the announcement of strata title office space in Cambodia for the first time in 2014 and this is a welcome trend with this asset being a popular investment in other markets such as Hong Kong and Bangkok. There will be further segmentation of the office market as Exchange Square adds to grade A office stock. High prices and limited availability of land in prime, central areas is likely to continue the trend for development in secondary locations such as Sen Sok and Chroy Changvar.
Strata title office space in Cambodia is a good step forward for the investor market. I think we will also see continued development and investment activity in provincial cities such as Sihanoukville, Battambang and Siem Reap. Overall we expect 2016 to be a year of a lot of activity driven by Cambodia's continued strong economic growth and further bolstered by the movement towards ASEAN integration as there is continued intra-ASEAN investment and regional expansion of businesses out of their home markets.