Due to cheap labor, social and political stability, and incentive policies to attract FDI - especially in the construction industry from the Government -Cambodia has become a choice target for foreign property investors.
Besides financial institutions, textile, and other manufacturing industries, the real estate market in Cambodia now is a lucrative market for property investors. Investors view Cambodia as an emerging country with a large potential economy. Within the next three to five years, it will develop its infrastructure beyond recognition; transportation, roads, energy and water together with financial institutions.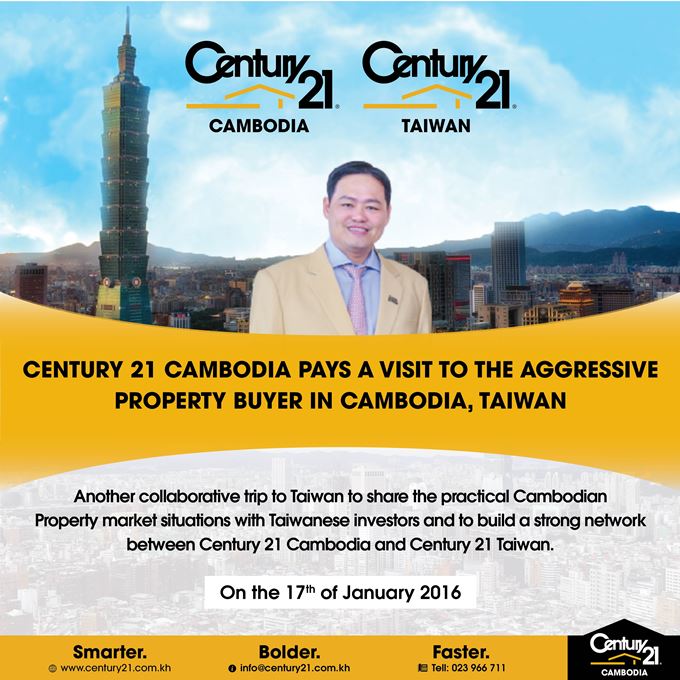 The Cambodian real estate market is massively shared by the Asian region states such as the Chinese, Taiwanese, Japanese, Korean, and Singaporeans. Taiwanese however has become the top buyer in most major condominium projects in Phnom Penh such as Baily, Suncity Bassac and many more.
As the local property market in Taiwan is slowing down, the number of real estate sales agencies in Taiwan is increasing hugely. Sales agency offices are also shifting their current operations toward Cambodian based real estate investments, according to The China Post. This new focus offers the Cambodian real estate market a chance to grow and extend the market to such regional property investors, as Cambodian property offers reasonable prices for these types of buyers.  
As a result, Century 21 Cambodia is organizing another collaborative trip to Taiwan on the 17th of January 2016 to share the practical Cambodia market situation with Taiwanese property investors and to build a strong network between Century 21 Cambodia and Century 21 Taiwan.
Check out Century 21's listings on realestate.com.kh today!