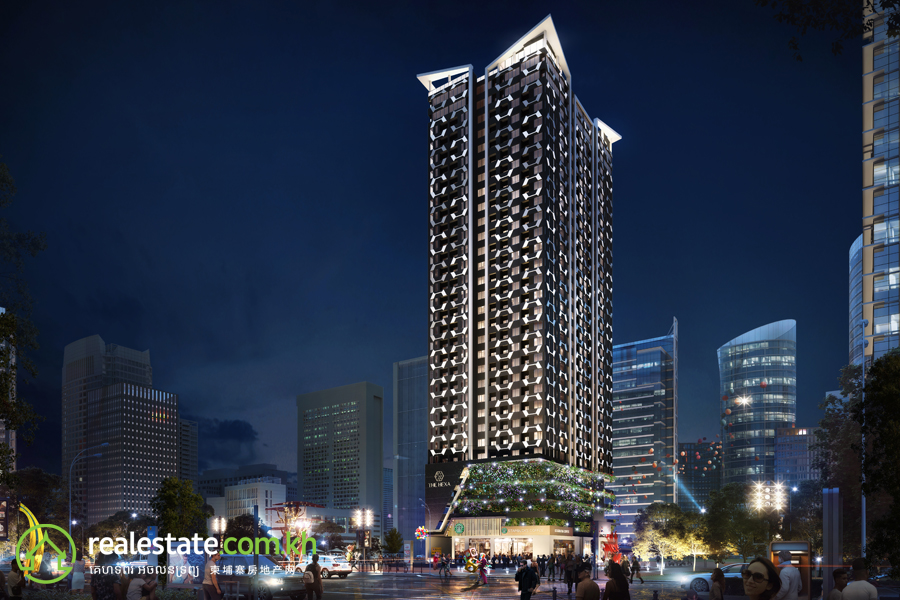 Russey Keo, a promising suburban district at the northern part of Phnom Penh, holds plenty of opportunities for land development alongside up-and-coming districts such as Chroy Changvar to the east, and Sen Sok and Toul Kork to the west, and south-west, respectively.
Roads in the area are well connected by major roads such as Preah Sisowath Quay which leads to the tourist hotspot of Riverside and the Cambodia-China Friendship leading to the fast-developing area of Chroy Changvar, among many others. Small rivers and museums are also present in Russey Keo, giving it a small touch of Cambodia's inherent natural beauty and cultural richness.
The SJS Group, a joint venture between Taiwanese and Cambodian businessmen launched a 31-storey condominium in this area - The Hexa Condo, to meet the increasing demand of Phnom Penh residents for a simple yet high-quality residential property in the new decade.
The Hexa was developed by SJS Group, a Taiwan-based developer with more than 20 years of development experience. Its series high-quality properties range from boutique to luxury developments spread throughout Taichung City in Taiwan. The developer's popularity is well-known among Taiwan's real estate market as SJS Group consistently boasts 100% sales.. The SJS1 Borey, the first project they developed in Cambodia, became a hit and quickly sold 100% of its units.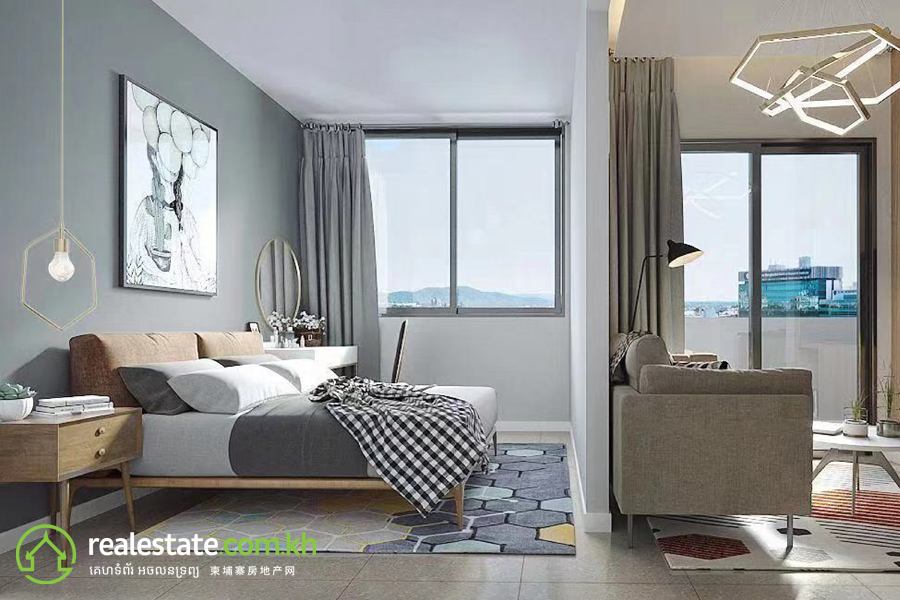 The Hexa Residences is located in Russey Keo and borders the northwestern part of Toul Kork. Its location allows residents to enjoy the advantages of Russey Keo's lower property prices and at the same time, enjoy the many commercial offerings in Toul Kork and Sen Sok. The Hexa is part of SJS Group's development philosophy of developing top-level buildings on land of good value.
SJS Group's team of experienced architects designed The Hexa with both aesthetics and function in mind will little-to-no compromise. Their work developed The Hexa into an attractive home as popular as the prime developments in more developed areas like Toul Kork.
Alongside its residential options, The Hexa features a cluster of office spaces, available for companies looking for a reasonably priced foothold in Cambodia's growing economy.
The Hexa meets the increasing demand for high quality and comfortable residences while maximizing cost-effectiveness. It offers permanent ownership of these properties starting at $40,000 that include a variety of property services.
A life of dreams fulfilled at The Hexa
The residence sits on an area of 1,578 sqm and boasts 576 apartments, parking spaces on 1st to 4th floor, and office spaces occupying the 29th and 30th floor.
Variety of apartments range from one to three bedrooms, and between 30 to 64 sqm of net area. The ground floor serves as a lobby, with a feature of Brainstorm co-work space that breeds creativity and fosters the potential of tenants working there. Other services include a concierge and property management.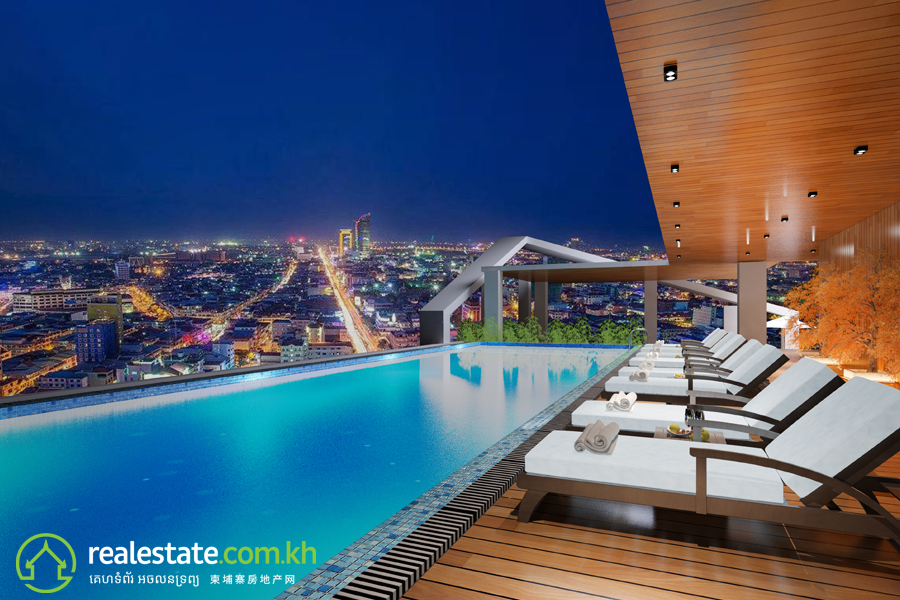 Amenities such as a gym, swimming pool, and romantic sky bar atop the building are exclusive for residents to enjoy. It's easy to envision a cozy and energetic lifestyle at Hexa Condo.
The residents can also enjoy personalized home services, maintenance and security, vehicle check-in, private secretaries, rental and accounting, letters and messages, laundry, and even breakfast as part of living in The Hexa.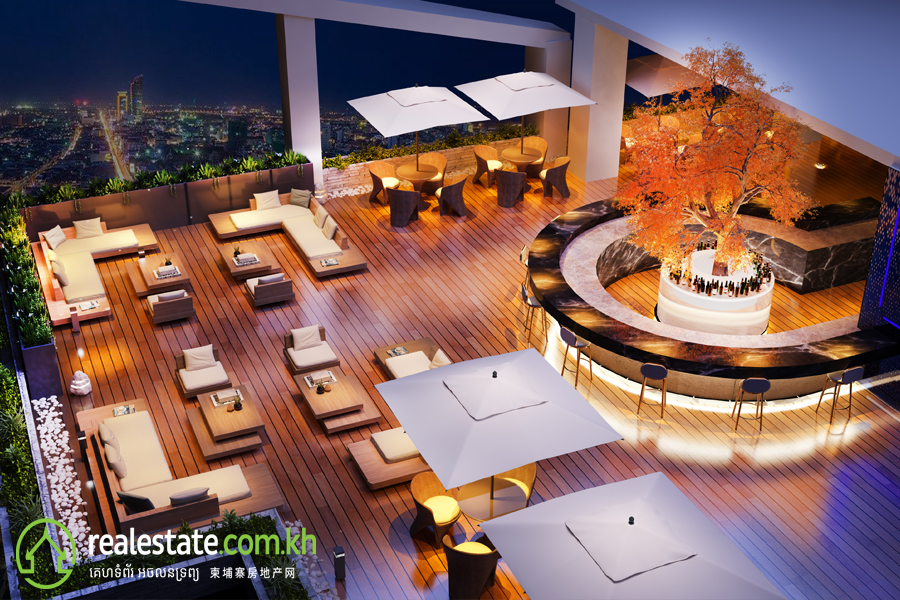 Various public facilities provide both richness and convenience to one's daily routine
The city centre of Phnom Penh is just a 10-minute drive from The Hexa.☞ Take your time in exploring the city, you can also choose the city bus, take the No. 7 bus, and you can reach all areas along Road 271.
There are plentiful retail businesses in the neighbourhood, and Toul Sangke Hospital and many other clinics located on 103rd Street.
On top of that, many schools are nearby, including Golden Gate International School, Western International School, Beijing International School, Paññāsāstra International School, and Paññāsāstra University of Cambodia.
 Multiple routes from The Hexa connect to TK Avenue, Oriental Culture Square, Eden Garden commercial area, Makro, Mega Mall.
 Local and international food can be found within a healthy proximity of The Hexa, and of course, Starbucks, Koi, Brown, Amazon, Chatime and other well-known brands of coffee and tea are not absent in the nearby neighbourhood.
City Golf Course is nearby for golfer-residents.
Besides more than a hundred private clinics, there are also advanced medical services available at Victoria International Hospital and Calmette Hospital around.
Delivering confidence through the pursuit of quality
During its over 20 years of development, SJS Construction & Development adheres to the policy of selective landholding and maximizing value of property. Setting a series of strict bars for construction to steel developments against earthquakes and typhoons, SJS has always worked with Taiwan-certified Class A builders to offer the safest buildings, of which buyers' interests are assured, and residents can live with sound peace of mind.
SJS Group's team of professionals will handle everything post-purchase that matters, including escrow, rent, and resale for overseas owners.
According to the latest Toul Kor's rental rates, one-bedroom rent starts from about $350 per month; and $600+ or $850+ per month for a two-bedroom or three-bedroom apartment. Therefore, the annual return on investment of Hexa Condo can be expected to reach 9%. More enticingly, Hexa Condo is reasonably priced at a lower threshold.
Take a close-up view at the Hexa Condo project, which will likely become one of the most successful projects of SJS Group.
Hexa condo payment terms
Full Payment: Deposit of $1,000, sign in 1 week with 30% down payment, 70% paid in 1 month.
Install Payment of 3 years: Deposit of $1,000, sign in 1 week with 30% down payment, 70% instalments from 2nd to 36th month.
One bedroom, size 35.31 sqm
At this time, this is the low-start unit type which price ranges from $48,000 to $54,000. It is located by the atrium and has a simple but well-organized layout with full furnishing. It is more suitable for an investment on a short-term rent like hotel rooms. Based on the management and services provided by the developer, home investment with this one-bedroom is hassle-free.
One bedroom, Premium, size 37.71 sqm
This typical one-bedroom unit type is well-designed, stylish, and elegant. The living and resting area is well balanced and undisturbed. It also has a balcony open to a nice view, where you can welcome the cool morning breeze while enjoying a healthy dose of sunlight. The bedroom also has an outreach area to bathe below the sun or enjoy a read or chill-out.
Two-bedroom, net area from 39.01 to 53.8 sqm
This is a two-bedroom unit with an ensuite bathroom. The interior design is stylish and elegant, with living and resting areas laid out in a good balance and undisturbed, and a balcony as well. It is a smaller yet lovely family space.
Three-bedroom, two-bathroom, net area of 63.93 sqm
This is the unique type of three-bedroom unit at Hexa Condo with double bathrooms. It dots on a corner of each floor, so that it has two open balconies beside its living room and comes with a bigger bedroom. The compact layout effectively utilizes space and creates a perfect combination of simplicity and comfort.
Office space
Office spaces can be found on the 29th and 30th floor with 17 types of units with net areas ranging from 35 to 86 sqm. State-of-the-art design with different sizes and other inclusions will fit the needs of different kinds of businesses either large or small.

Realestate.com.kh is proud to bring back Cambodia's biggest Property & Lifestyle Market Expo which will be held on 7th and 8th August at Koh Pich Exhibition Center.
Booth sales and sponsorships for Home & Lifestyle Expo 2020 are open. 
For more information, please contact:  
Nin Kang (Khmer/Chinese)
+855 78 637 323
+855 93 552 305
nin.kang@realestate.com.kh
Tyler Stuart (English)
+855 12 599 699
+855 81 599 669
tyler.stuart@realestate.com.kh