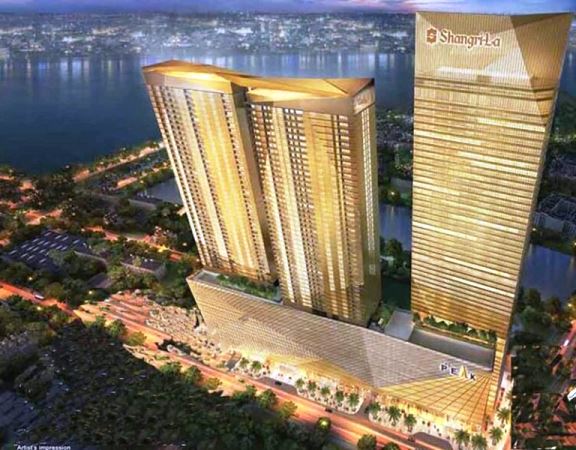 Cambodia's most outstanding mixed-use development is soon to overlook the Mekong River with three 55-storey buildings, set for completion in 2020. The two towers of The Peak will be reserved for residential uses, while the third commercial tower will be the home of 20-storeys of the world-renown Shangri-La hotel, with 35-storeys of Grade A office space below it.
With the upcoming ASEAN Economic Community, increasingly international corporations are entering the Cambodian market, and high grade office space and luxury residential units are rising in demand every month. Over 50% of registered companies in the Kingdom are majority foreign owned, and this trend is set to continue as Cambodia rises as an interconnected manufacturing, resource, agriculture and logistics hub for regional firms looking to expand, outsource or diversify. With an additional 5-storeys of prime retail space, The Peak also caters to Cambodia's rising middle class, who are proving to have a taste for shopping and international brands.
The developer is the renowned Oxley-WorldBridge Cambodia, a joint venture between Singaporean-based Oxley Holdings and WorldBridge Land Cambodia, which first launched in Cambodia in 2013. Oxley-Worldbridge's The Peak is the second major residential development undertaken by the conglomerate.
The Bridge, the joint venture's first Phnom Penh project, marked a turning point for the entire Cambodian's property sphere. With the release of The Bridge, the world took notice of the Cambodian market, the huge project bringing a new standard of construction and architectural flare to the capital.
The Bridge, coming online in 2018, has now sold 96% of the projects 762 apartment units and 71% of 963 SoHo units. The Peak is perfectly located minutes walk from Phnom Penh's largest AEON Mall, Nagaworld 1 & upcoming Nagaworld 2, and just 2 minutes drive to Business Convention Centres on Diamond Island. And of course, the 5-Star Shangri-La Hotel will be right next door.