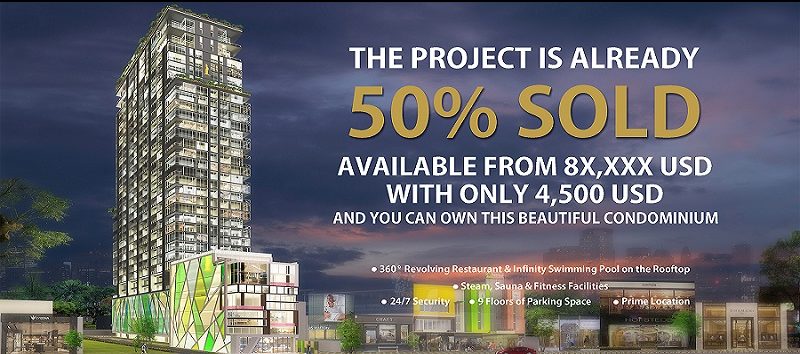 In the process of selecting residential properties, more so than the price, it is important to make sure that it will provide the best standards of living with high quality construction materials to make it ripe for long-term appreciation and future resale or rental value.
It is also helpful to consider living with your family in a home that has good environment, and is comfortable and modern. This is what The Penthouse Residence is offering in the heart Phnom Penh. It is an upcoming world-class condominium project that will suit the needs of people who are looking for a more modern flare in their lives.
The Penthouse Residence is strategically located in the most desired residential area of Phnom Penh, the capital city of Cambodia. It is the majestic and luxurious condominium project that stands along Sothearos Boulevard, right in front of landmark establishments such as Aeon Mall and the five-star Sofitel Phnom Penh Phukeethra Hotel, and close to many other useful institutions such as embassies and international schools. In addition, this 36-floor tower (about 130m high) is also located close to the Chaktomuk riverside and the fast developing district of Koh Pich (Diamond Island).
The developers and contractors have been working hard day and night since the groundbreaking last March 12th, 2016, to ensure that The Penthouse Residence is built according to the highest standards, especially in its foundation work. In a span of just 4 months, the pile boring and foundation work are almost completed. And with the construction going at this rate, it is safe to assume that this project will be finished even before the proposed deadline at the end of 2018.
The Penthouse Residence will not only be built with highest quality, lavish decorations, and the safe environment in mind, it will also be built in partnership with many other well recognized construction suppliers includes CPAC by SCG Thailand.
The interior designs will be done by Sangiorgio from Italy; the bathroom equipment will be supplied by world class brands such as Grohe and Hafele from Germany, Cotto from Thailand, ToTo from Japan as well as American Standards, which will provide nothing but the best functional and long-lasting products. This helps ensure the project's safety and build the trust of our customers, now and in the future.
According to Mr. Imsouchivy Suos, the assistant project director of The Penthouse Residence, "The Penthouse Residence will offer both great quality and value in real estate market. The project has sold over 50 percent of the units already and has been one of the best-selling condominium projects in Phnom Penh so far due to its prime location, best quality, and reasonable price. We expect to increase our sales to over 70 percent by the end of the year. At the moment, we also offer 5 percent discount and an iPhone 6s for those who decide to book our condominium unit today. Guaranteed Returns of Renting (GRR) will also be offered at 6 percent per year or 18 percent for first 3 years."
For more information please check out the full listing on realestate.com.kh today!