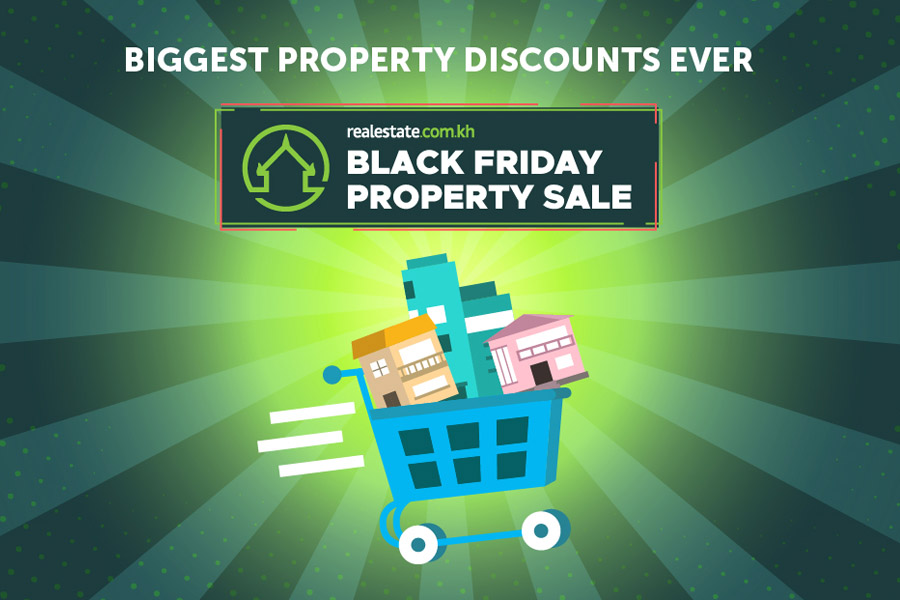 The Black Friday Property Sale is the biggest real estate event coming to prospecting homeowners and investors in Cambodia. With the best deals being exclusively offered in the event, Realestate.com.kh is making it easy for you to register and get your dream home at the best price possible!
Simply follow these 3 easy steps and register TODAY so you're ready for the Black Friday Property Sale happening on June 12, 2020 from 4:00pm to 8:00pm GMT+7.
Step 1: Go to the registration site
The official registration URL for the Black Friday Property sale is: https://propertysale.realestate.com.kh/
Once you get to the site, fill out all the required information. It's important you fill these out so developers know how to contact you and for us to properly assist you if needed.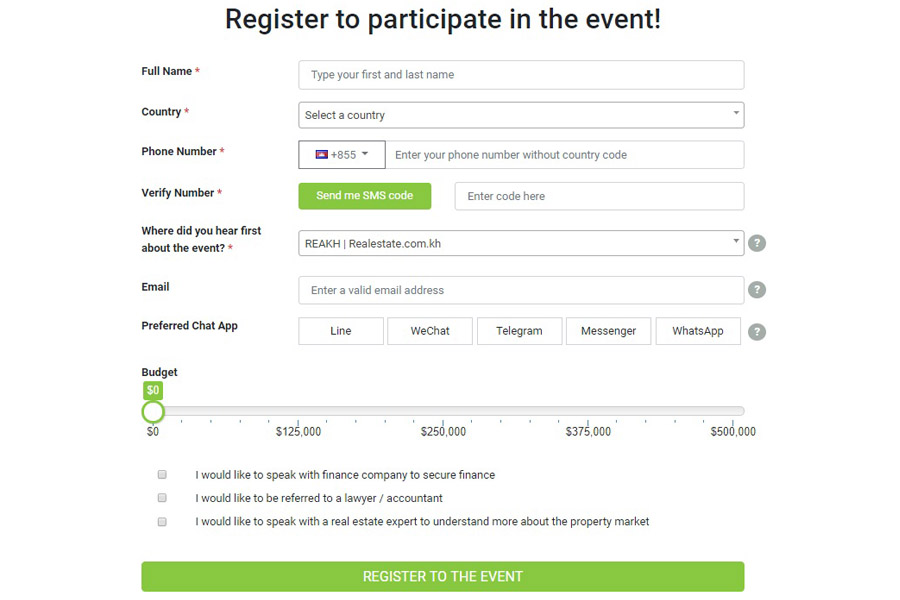 Step 2: Get SMS Code
Upon filling out all the required fields, you'll need to click the "Send me SMS" for our system to send a code to your registered mobile number.
Input the code sent to your phone and you're just one step away from completing the registration!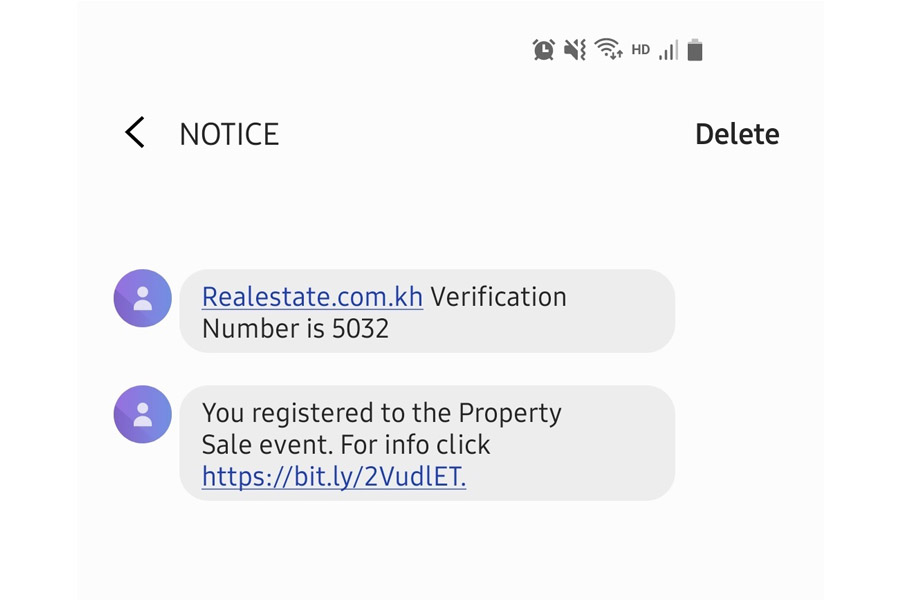 Step 3: Confirm all your information and click register!
We suggest reviewing your inputted information. Once that's done, click on the "Register to the event" button at the bottom of the registration page. And you're done! Congratulations, you're now registered for the Black Friday Property Sale!
You'll get another SMS from us confirming your registration and a link to a PDF containing more information about the Black Friday Property Sale.
All these steps can be complete in under 3 minutes! If you have family, friends, or know anyone who is looking to buy their dream home, now is the time to buy property and get the best deals during Realestate.com.kh's Black Friday Property Sale.
Congratulations on registering, see you at the online event!

If you are a developer and want more information about this event please contact:
Nin Kang
+855 78 637 323
+855 93 552 305
nin.kang@realestate.com.kh
Soun Sumey
+855 77 241 285
mey.soun@realestate.com.kh
If you are a real estate agency, media platform, bank or related business and want to join as an affiliate please contact:
Chen Huyhong
+855 98 526 671
cheng.huyhong@realestate.com.kh
Trixia General
+855 17 870 064
trixia.general@realestate.com.kh
Alexander Sing
+855 15 583420
+61 434 644 957 (WhatsApp)
Alex.sing@realestate.com.kh
Sun Rattanak
+855 17 884 161
rattanak.sun@realestate.com.kh
Article by: