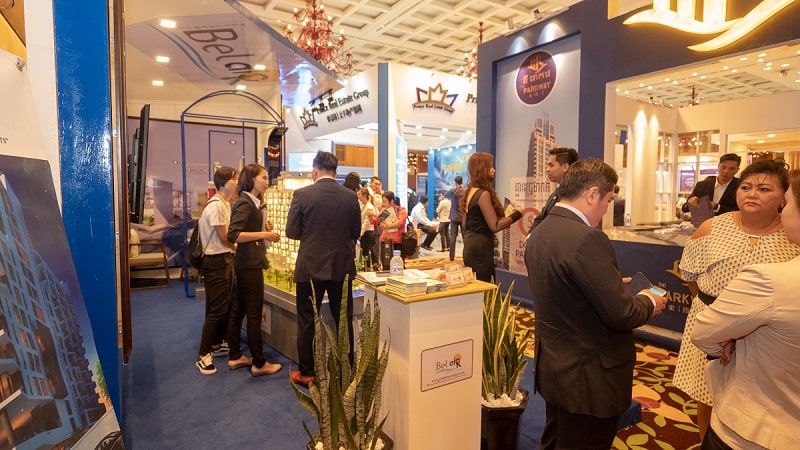 Cambodia's most popular real estate website has announced yet another property expo at Phnom Penh's NagaWorld complex
The Realestate.com.kh Expo 2019, set for October 4 and 5 at the NagaWorld Resort, is the fifth major expo put on in the Kingdom by Realestate.com.kh. Over $100 million in property has been sold at past events, with around $30 million changing hands at last year's event alone.
This year's event is set to be sponsored by international logistics giant ZTO Express.
All the biggest names in boreys, condos, land, law, agencies, construction, architecture and home decor will be on hand. It will be the most important real estate event the country has ever seen.
Also joining the event are Aru-Me Metal Co., Ltd., Baoli Mansion, Bel Air, C-Herald Property Service, CPZY Development, Creed (Zelkova), HuaYe Real Estate Investment Limited, HYO International, KH Land, La Vista One, MAA Architecture & Design, Morgan EnMaison, Morgan The Pure Bay, Morgan Tower, New Landmark, Pafillia Property Developers, Prince Huan Yu Real Estate (Cambodia) Group, Prince JinJia Real Estate (Cambodia) Group, Prince Real Estate (Cambodia) Group, R&F, TCC, Toul Kork Lane, Unicom SciencePlastic (Cambodia) Co., Ltd, Urban Village, Victory Bay and Yi Fung Real Estate.
Benefits of joining Realestate.com.kh Expo 2019
The Realestate.com.kh Expo will bring in thousands of local and international property buyers. Most importantly, these people will be ready to buy now. 
In addition to this amazing pool of buyers, exhibitors can also expect to rack up hundreds of sales leads that will continue to pay off as the year unfolds. 
Branding is another key reason businesses are joining the show. Exhibitors will become known as leaders in the local property market. Indeed, the show will bring the chance to network with all the biggest names in every corner of the sector. 
Media outlets sign on to promote the event
Marketing the huge event has already to pick up speed. Realestate.com.kh has signed up the biggest names to help spread the word about the once-in-a-lifetime show.
Chinese heavyweights 58.com and Fang.com are set to attract thousands of international investors to the show. Meanwhile, local media partners will pull in hundreds of expats and Cambodians in the country who are shopping for real estate. Names include Property Area Asia, Fresh News Asia, EuroCham, Biz Khmer, Thmey Thmey, Business Cambodia, The Cambodia China Times, Forward Asia, Khmer Times, Nice TV, Gold Zone Media, Grep Tech, B2B Cambodia, Angkor Today, CTN, Khmer Load and My TV.
But space is limited at this spectacular event. If you or your company is interested in sponsorship, booth space or advertising with the event, contact Realestate.com.kh now!
Nin Kang (Chinese/Khmer)
+855 78 637 323 / +855 93 552 305
Tyler Stuart (English)
tyler.stuart@realestate.com.kh
+855 12/81 599 669 
Or, for more details visit the Realestate.com.kh Expo 2019 homepage!