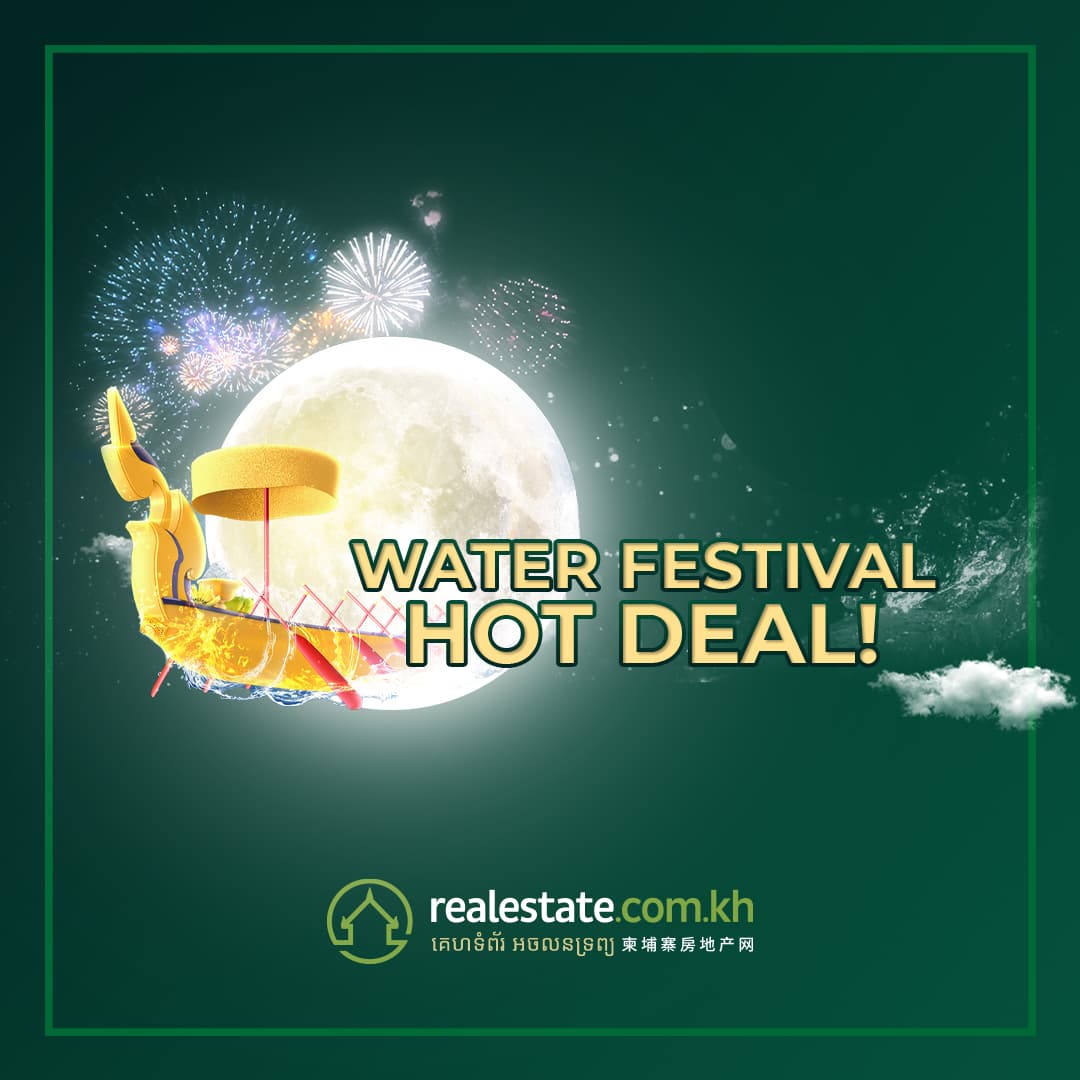 The Cambodian Water Festival is a celebration of renewal and bounty symbolized by the end of the monsoon season. If anything, the recent news of the country reopening clears the cloudy skies much the economy has been under for the past 2 years.
To celebrate this season of renewal, Realestate.com.kh has compiled time-limited promotions offered by new developments in Cambodia!
WorldBridge Sport Village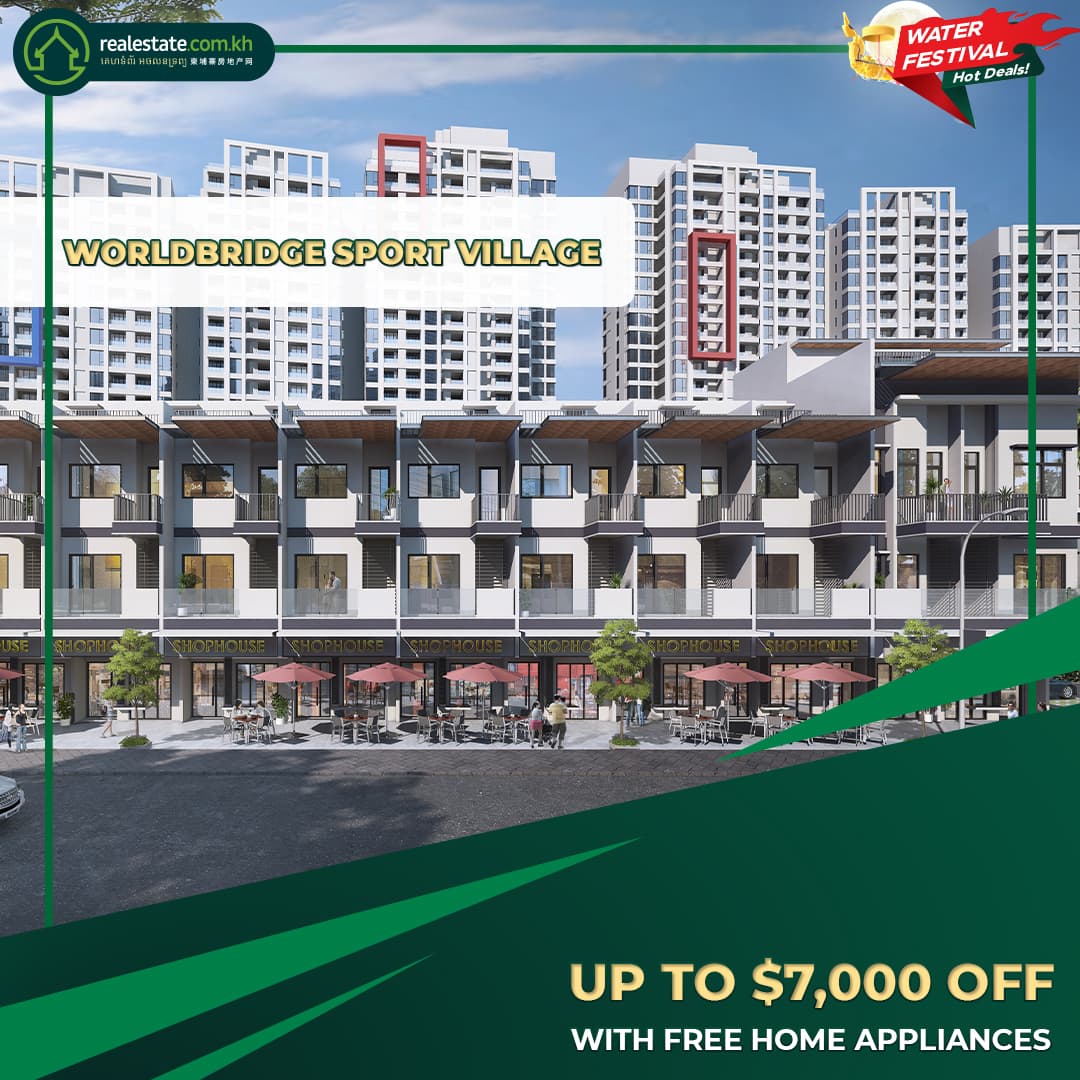 WorldBridge Sport Village is a new development in Chroy Changvar. It will be the first-ever sports village in Cambodia, offering a healthy and active lifestyle for future residents! The opening of the WorldBridge Sport Village will be alongside the upcoming SEA Games 2023 and the ASEAN Para Games 2023.
Special Offer:
Get an instant discount from $2500 - $4000 for all types of Condos
Get an instant discount from $5000 - $7000 for Row Houses, Town Houses and Semi-D Villas
Up to 60 months installments with 0% interest
Up to 8% discount for landed properties and up to 10% discount for condos (based on payment terms)
Free Home Equipment: Air-conditioner, Lower Kitchen Cabinet, Shower Set, Kitchen Hood, Electric Hob, etc…
PARC 21 Residence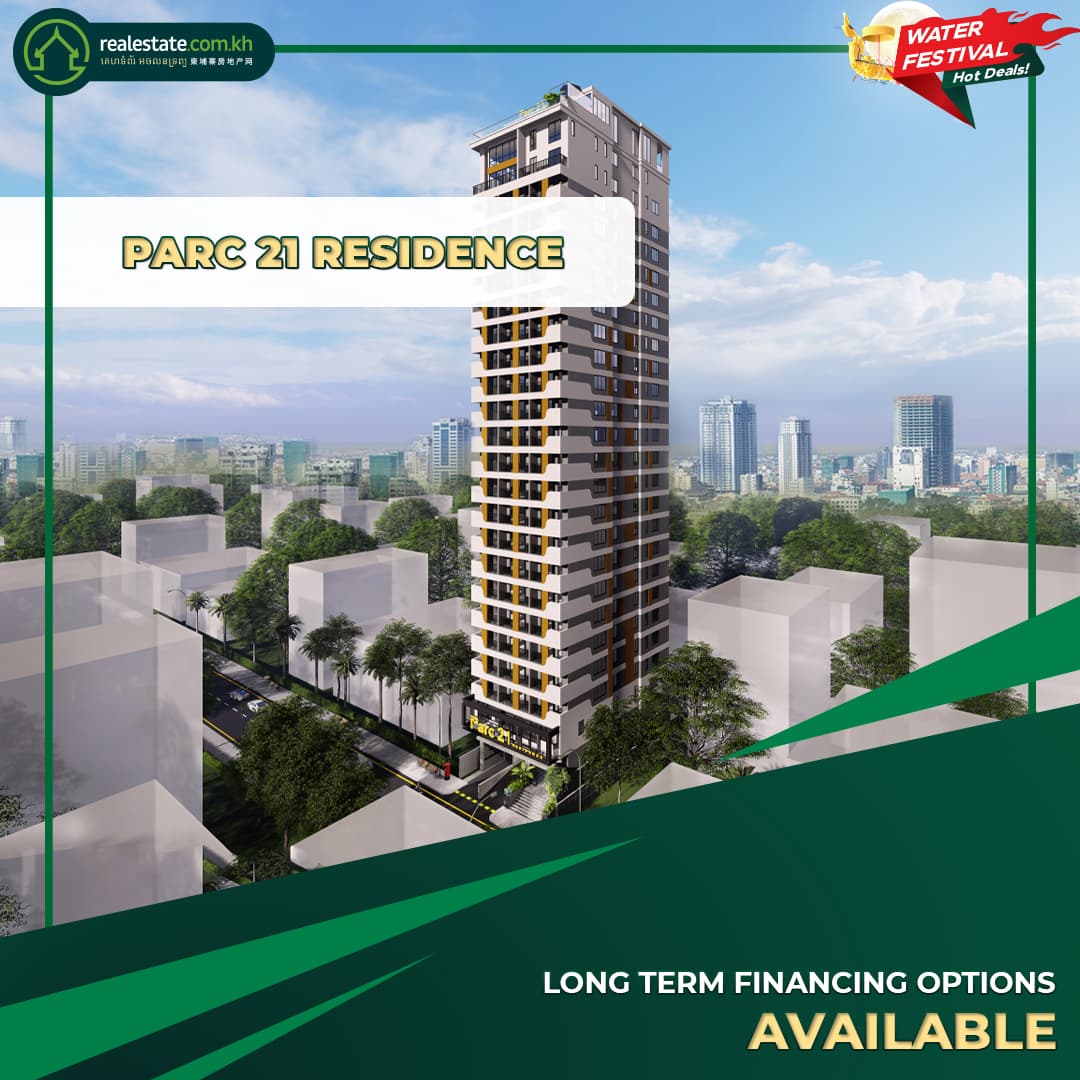 The PARC 21 Residence is a brand new residential development rising in Chamkarmon. The Singaporean-designed project took Phnom Penh's property market by storm back in mid-2021 for its great location, on-schedule construction, and overall value proposition for both local and international buyers. The project recently celebrated topping out back in September 2021. The project is set for handover in June 2022.
Special Offer:
Long-term payment plans up to 10-years
Low-interest rate for applicable loans
Olympia City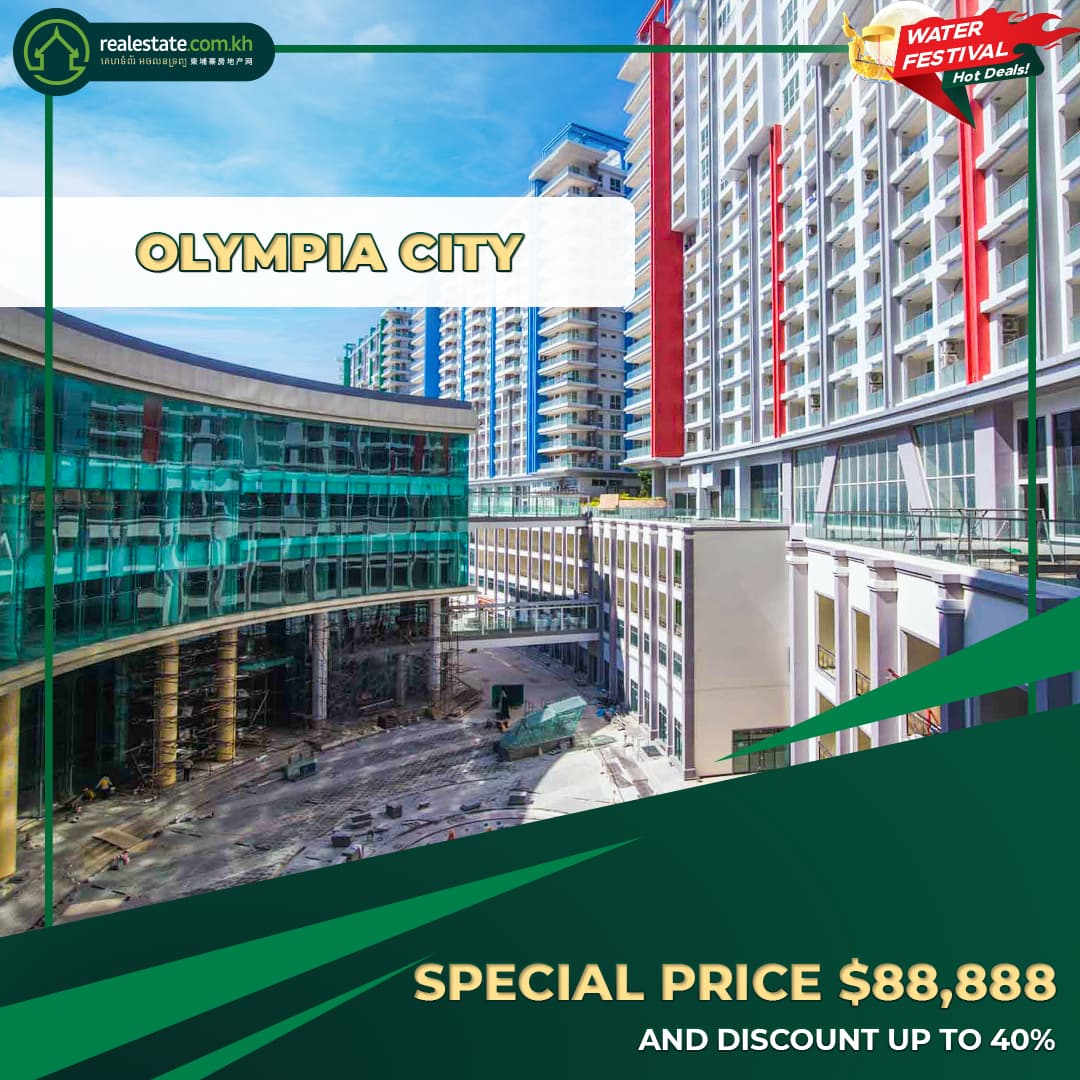 Olympia City is a completed development in the central district of 7 Makara. Olympia City is well-known for its strategic location at the intersection of major roads and nearby the Olympia Mall. It is adjacent to the National Olympia Stadium - a popular destination for city-dwellers looking for a place to stretch.
Special offer:
Special price $88,888 ONLY (only 2 units available)
Discount up to 40% (for other units)
Vue Aston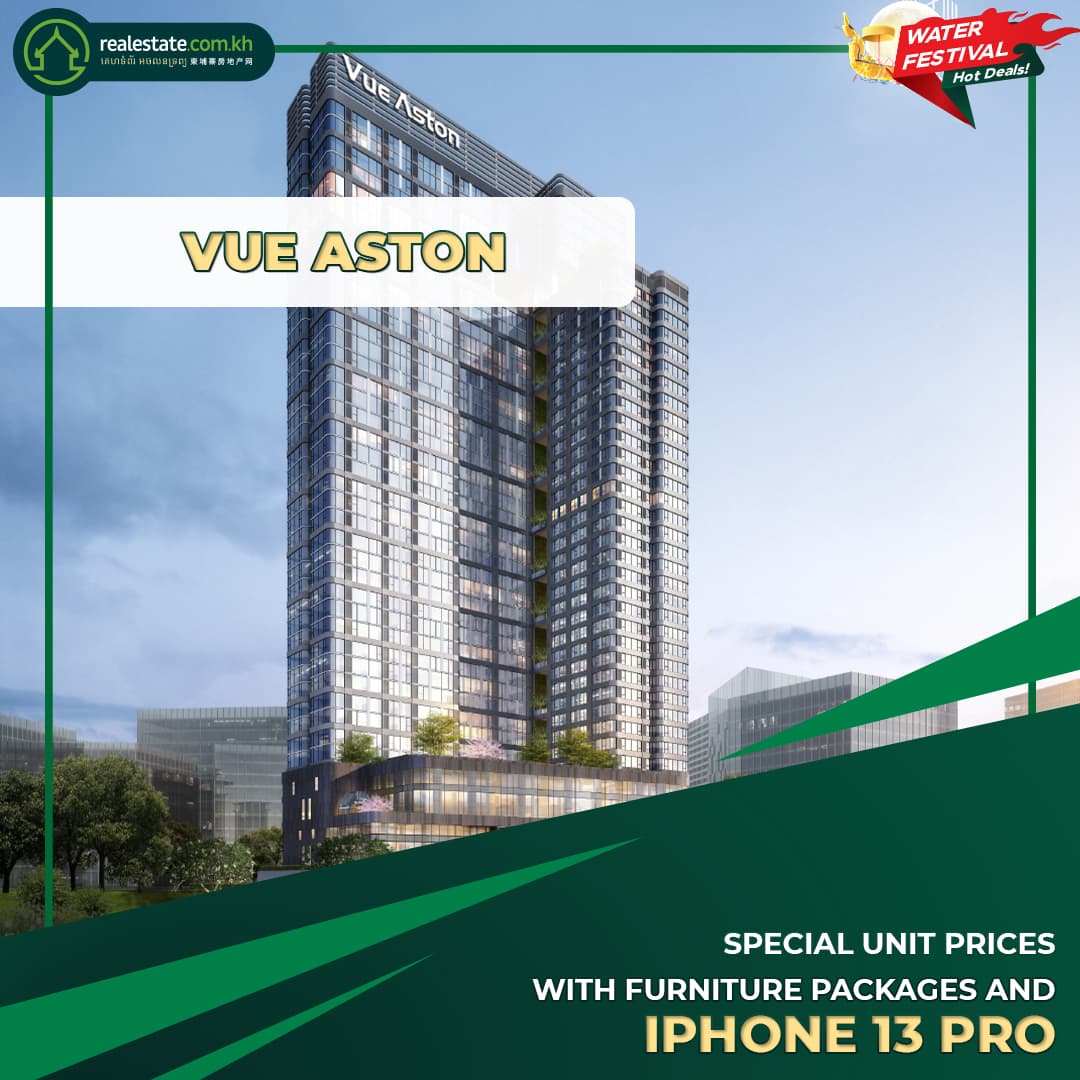 Vue Aston is a new waterfront development rising in Chbar Ampov. The Vue Aston is one of the most anticipated projects in the district as it is expected to attract affluent residents and investors. Additionally, it is adjacent to the upcoming multi-billion-dollar satellite city development by OCIC and sits comfortably near the new bridge directly connecting Diamond Island and Chbar Ampov. Vue Aston is expected to complete sometime in 2023.
Special offer:
Special price for 9 selected units, starting from $97,260
FREE furniture and electrical appliances package
FREE iPhone 13Pro 128 GB for 30% down payment
Residence H Sen Sok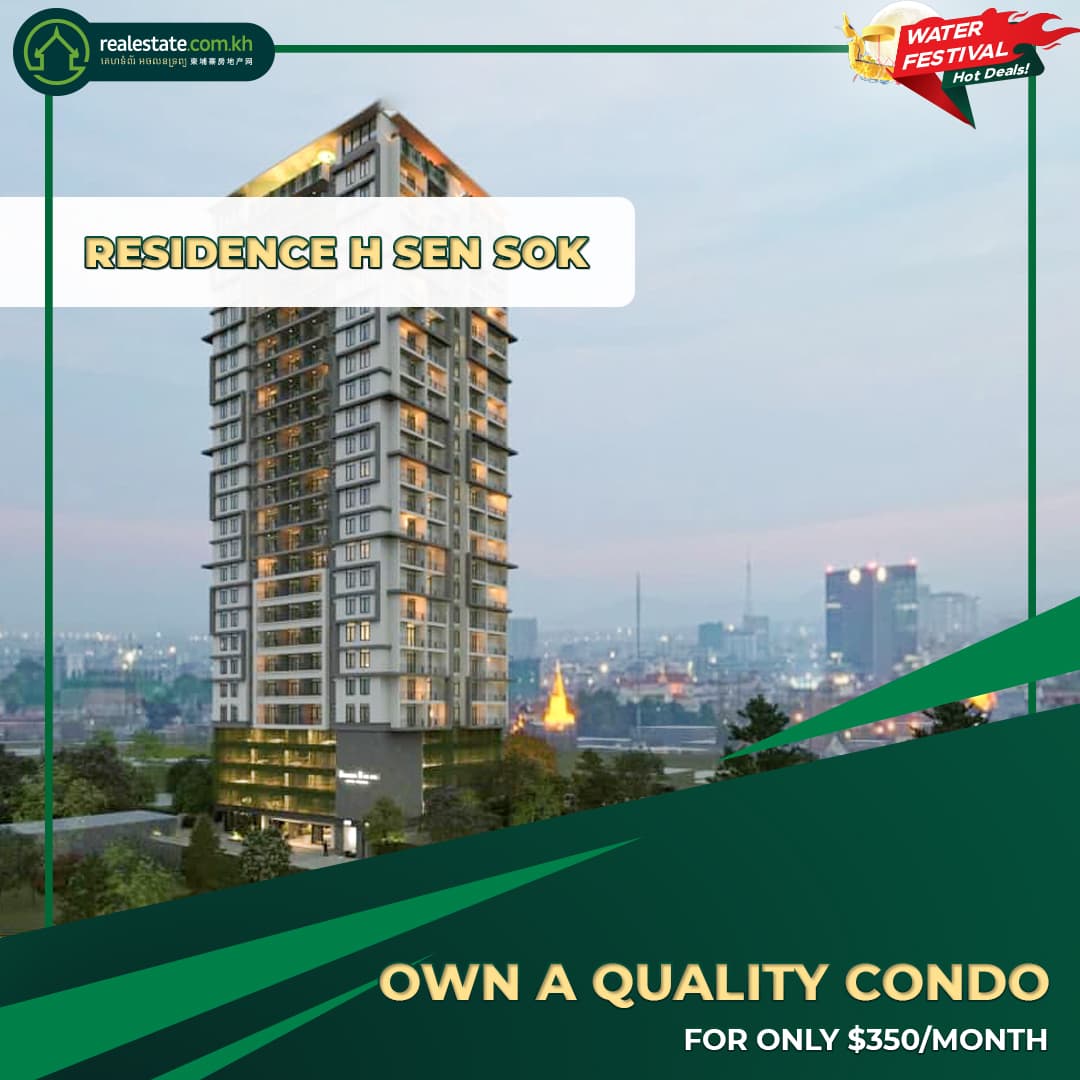 The Residence H is a condominium project with 28 storeys launched by Residence H Cambodia. The building is set to be a standout building in Phnom Penh's fastest developing district of Sen Sok.
Special offer:
5% discount
Installment payment with 0% interest during the construction period
Pay only 350$/per month (1 bedroom)
Free management fee for 1 year
Free parking space for 1 year
Prince Happiness Plaza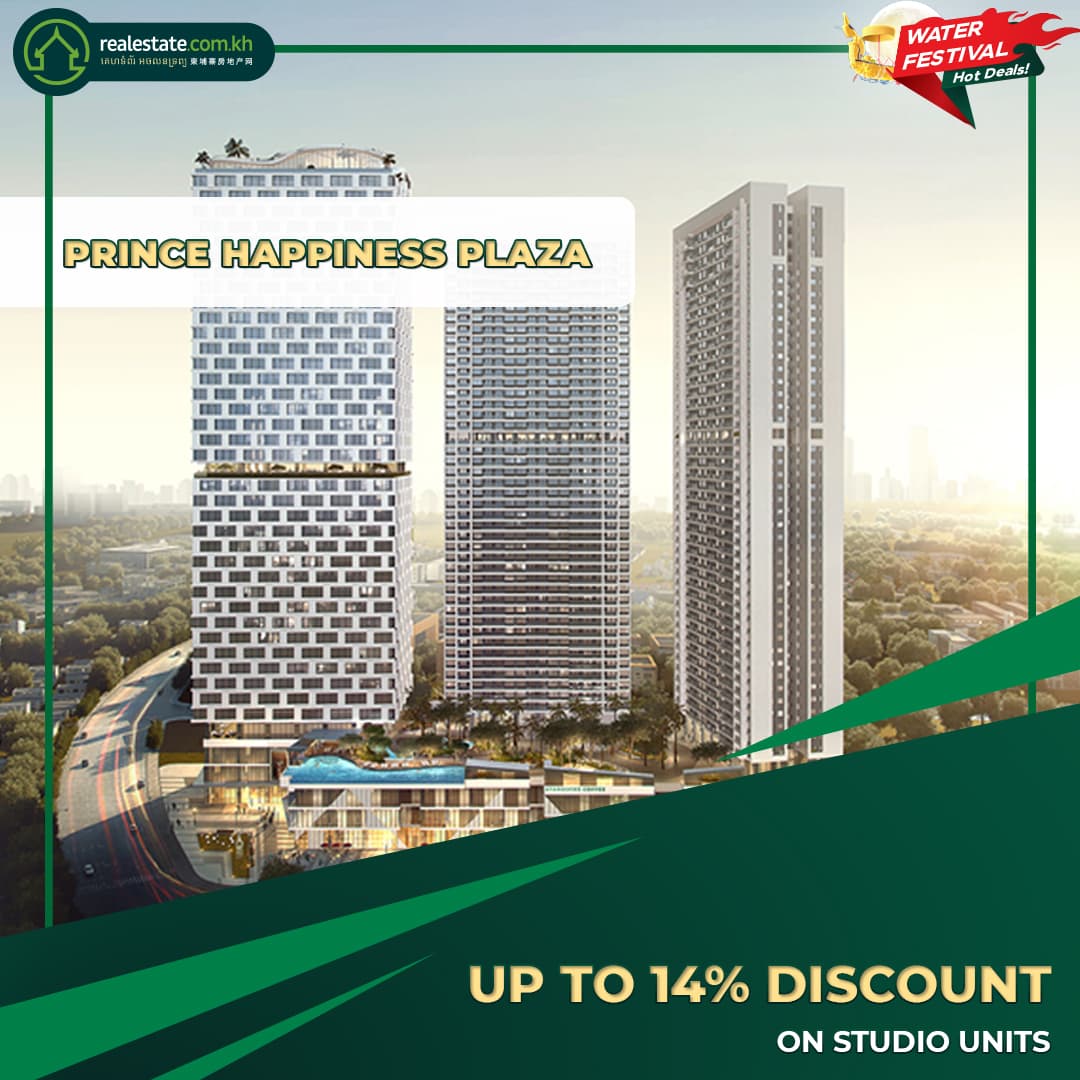 Prince Happiness Plaza is a new development project developed by the same developers of Prince Central Plaza, Prince Modern Plaza Phase 2, and the upcoming Prince Times Plaza. The development is located in Chamkamorn District, a secondary location to the South of Phnom Penh City. The vicinity area is being developed to be a new high-rise residential and commercial zone with a new number of flagship high-rise buildings and infrastructure developments.
Special offer:
14% Discount for STUDIO units
Water Festival promos will be running throughout the holiday season! If you're interested in these offers, let us know by checking the property listings or inquiring below.