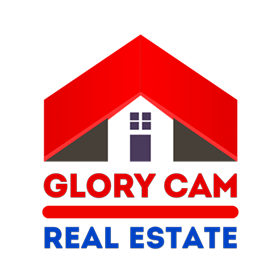 GLORY Real Estate

No. 43, St. NW-21, Sangkat Phnom Penh Thmei, Khan Sen Sok, Phnom Penh, Cambodia. Phnom Penh Thmey Sen Sok 12101 Phnom Penh
GLORY CAM (GC) is Cambodia's premier property services and real estate agency company which specializes in selling, purchasing, leasing, project sales and marketing. We offer a variety of brokerage services and for you take the most advantage of the various services, we offer under our Real Estate Brokerage division we would like to take the opportunity to explain the type of our services.
Purchasing Properties
Are you looking to invest in Cambodia? With GLORY CAM, you can enjoy full-service real estate broker. We have more than 10 years of real estate experience and we can advise on the specific area, rates and the right offer you should make in order to make the right decisions.
Selling Properties
If you have a property that you want to sell to the best buyer or investor, our agent will help you complete the transaction with all ease and faster than your expectation. When selling a property you want to take into consideration many aspects that our experienced team can advise on and get you the most you can make on your property.
Finding the Perfect Tenant
As a property owner, we understand you would surely want nothing but the best for it. GLORY CAM Realty Company makes sure you get the best tenant possible. We make sure to keep the owners and property owners' best interest in mind at all times. In the same respect, we are fair, courteous and honest with all potential tenants, as we understand that their impression of us (as brokers) reflects on the property as a whole. When qualifying a potential tenant we are fair yet firm. We run and review credit, rental and criminal history and contact references. Our goal is to find the highest quality tenants for your property in an effort to enhance your image and bottom line. Therefore, with the help of a real estate brokerage, you can select the perfect long-term quality tenants for your property.
Marketing the Property
Marketing your properties is the most important steps in selling or renting a property. The right marketing and advertisement can make a huge difference in the amount you would get and in the time, it would take to complete the transaction. GLORY CAM real estate brokerage is highly experienced and once your work with us we make sure your property gets the right advertising needed.
Comparative Market Analysis
Buying and Selling of properties require evaluation, including Comparative Market Analysis. This can be done with the assistance of our full-service real estate broker who is familiar with the ins-and-outs of the market. We would provide you with a detailed report that would answer any question you might have regarding possible renting or selling property rates.
Advice for First Time Buyers
First-time buying of a house is one of the first biggest decision one goes through, you do not want to make it lightly. For this reason, experts recommend that you should work together with full-service brokerages to help you make a well-informed and calculated decision.
Low Brokerage Commission
GLORY CAM Realty a full-service brokerage offers a competitive brokerage commission, which means more earnings on your end! Same with the other real estate agents in Cambodia, sales commission fee or real estate service fee for property sold through the company is 3% (three percent) of the agreed sales price.
Foreign, Local and Out of State Investment
Aside from local investments, GLORY CAM, the best full-service broker, can also assist you with foreign, or out of state investments. The assistance of a professional will allow you to be familiar with the regulations that you need to comply with.
Need help?