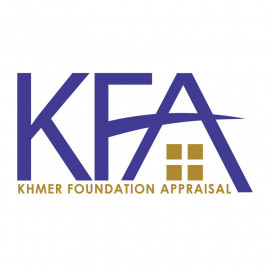 Khmer Foundation Appraisals
Toul Tum Poung 1 Chamkarmon Phnom Penh
About Khmer Foundation Appraisals
Cambodia Real Estate Awards 2019
The Cambodia Real Estate Awards recognises excellence and professionalism in the real estate industry in Cambodia. Realestate.com.kh, the Ministry of Economy and Finance, and the Cambodian Valuers and Estate Agents Association jointly commend all CREA Finalists for their passion, dedication and genuine desire to elevate the industry to global standards. Congratulations!
Cambodia Real Estate Awards 2018

KFA Cambodia have displayed a very high level of competency in all types of valuation and appraisal activities. KFA were seen to have an impressive list of clients which is testament to the quality of their services. Congratulations to Khmer Foundation & Appraisal (KFA), the 2018 Local Valuation Company of the Year.