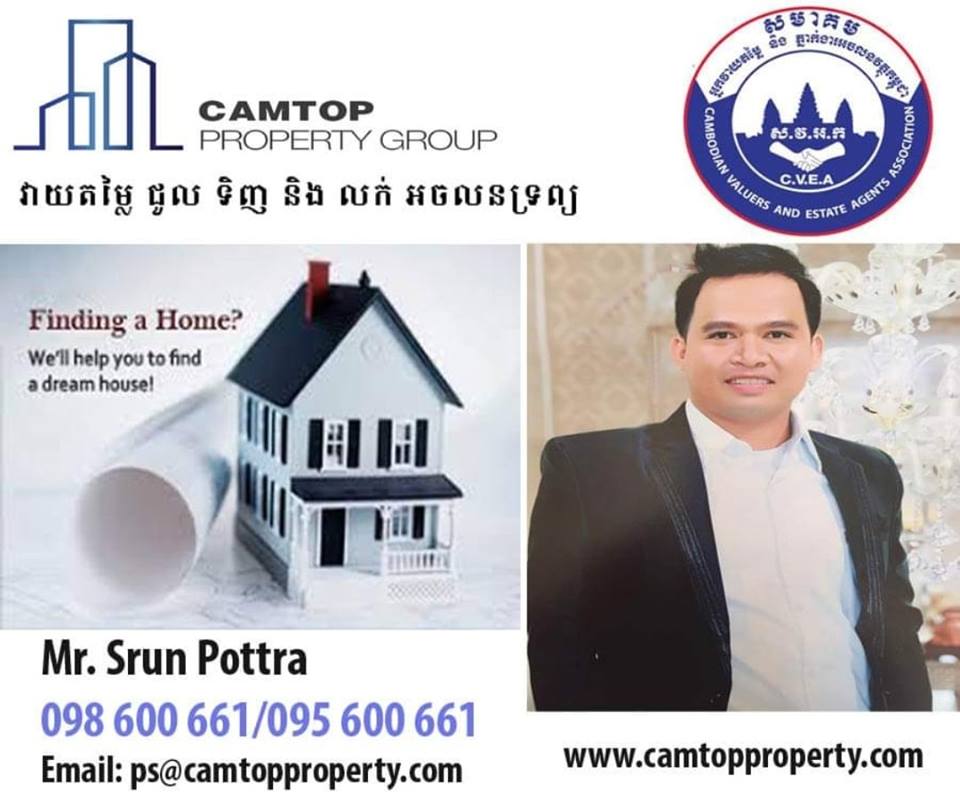 pottra srun

E0/46B 322 BKK 1 Chamkarmon Phnom Penh
Welcome
Camtop Property Group extends a warm welcome to our readers. The main goal of our company is to provide our clients with the very best professional property services.
Camtop Property Group is one of the leading companies in the Cambodian real estate industry, specializing in property rental, sale and valuation.
Our many years of consistent service and high customer satisfaction are recognized by many local and international clients, which include Taiwan Cooperative Bank, Manhattan Special Economic Zone, DK Schoolhouse, TEAV Boutique Hotel, Starbucks, Joma Bakery and Cafe, World Bank and DFDL Legal & Tax.
Our background
Camtop Property Group was founded in November 2011 by a group of professional Singaporean and Cambodian real estate experts.
With their extensive experience in providing high quality real estate services, Camtop Property Group quickly established itself as a leading property agency in Cambodia, who delivered services above and beyond customers' expectations.
The new service integration of Cambodian, Singaporean plus Malaysian knowledge and real estate market best-practices have put us ahead of the curve and have enabled us to maintain our leading position in the Cambodian market.
Our mission
Our mission is to be the number 1 trusted property agency choice in the Cambodian real estate market.
At Camtop Property Group it is the mission of each of us, to satisfy the needs of our clients by offering the highest quality real estate services possible in a friendly, efficient and reliable manner.
We are committed to staying updated with the newest, most accurate and reliable real estate, financial and market information, which have proven time and again to benefit our customers.
Our values
Our team is bound to one word. Integrity. And we apply it to any responsibility that we undertake.
Through the years, we know that innovation can come in all shapes, methods and sizes.
This is why we teach and empower our employees to always strive for improvement. To strive to be better than who you were yesterday and to contribute positively to the people you meet and to your surroundings.
Our team
At Camtop Property Group, we care for our customers' goals. We make them our goals.
Our team has many years of experience in each of our real estate business service lines. For more information on each of our staff and their expertise, please visit this our agents page here.
Property Management *
Cambodian Property Management
With Camtop Property Group, you get more than property management, you get a complete real estate solution.
As your property management professionals, we:
Make your goals our own goals. Property management goes far beyond property performance. We will develop a deep understanding of your vision for each asset and develop solutions to help achieve them in the most efficient and effective way possible.
View your investment through the eyes of an owner. Our property and asset managers work together to become experts in your markets, assets and overall portfolio.
Recognize that an asset's value is linked to occupancy. So we work with our colleagues from all layers of the industry to understand what drives tenant interest and satisfaction and bring those insights back to your properties to attract and retain the highest quality tenants.
To learn more and how we can help you benefit more from your assets, please use our contact form or call us at +855 (0) 81 456 007. We are happy to discuss your requirements and plans.
Property Valuation *
Cambodian Real Estate Valuation
Camtop Property Group is where the real estate owners, investors, bankers and other institutions can find the real market price of their properties. Our valuation team excels in all kinds of property within different zones across the country.
By applying new concepts, techniques, and skills with existing market knowledge, our team guarantees to offer our clients with the most accurate, true-to-market and in-depth valuation reports.
Our valuation expertise include:
Property valuation; land plot, house, building, apartment, condo, warehouse, factory and hotel valuation.
Project valuation
Business valuation
Machinery and equipment valuation
Contact our team of experienced real estate professionals here for an accurate valuation of your property and find out how we can maximize your return on investment.
You can also call us directly on +855 (0) 81 456 007 and let us set up a meeting to discuss your needs and goals.
Property Documentation *
Cambodian Real Estate Documentation
At Camtop Property Group you are guaranteed safe and legal property documentation in Cambodia. Our team consists of people from the Ministry of Land Management, Urban Planning and Construction and local as well as international lawyers.
We also work closely with the Cambodian authorities from local to national level to ensure legal enforcement and rights are safeguarded at all levels.
We understand the complex aspects of documentation needed in property handling from lease agreements, land-use contracts, sales agreement, to tenure or ownership. Our due diligence team is committed in making sure that we have a clear and up-to-date ownership background and history of all the properties we deal with.
Camtop Property Group provides services to help with ownership transfer from soft to soft title, soft to hard title, or from hard to title deed in a thorough, transparent and cost effective process.
Should you need our assistance in any aspects of property documentation, sales, transfer or conversion, please contact us here via our contact form or give us a call at +855 (0) 81 456 007 and we will be happy to guide and advise you in your specific case.
Real Estate Agent: Work with us *
Cambodian Real Estate Agent
Camtop Property Group is always on the lookout for talented, hard-working and motivated people.
Are you interested in working in the Cambodian real estate sector, then get involved with our team and learn more about how to start your career with us.
Open for Cambodian nationals as well as foreigners, please send us your CV and motivated cover letter to our managing director Mr. Sovann Khat at sk@camtopproperty.com.
We look forward to reading about you and we will do our best to process each application as speedily as possibl
Need help?