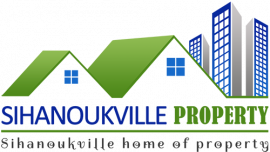 Sihanoukville Property

Serendipity Road, Krong Preah Sihanouk, Cambodia Sangkat Buon Sihanoukville 18000 Sihanoukville
Welcome to Sihanoukville PROPERTY was established in 2013, Sihanoukville Porperty is the best property agent who specialized in real estate service with professional and fully services real agent in Sihanouk Ville of Cambodia. We have a strong network and offering a full range of properties with best services to clients all over the country.
We are proud to say that we have been appointed by several individuals as well as corporations to assist in their property needs. Are you looking to buy or rent an apartment, house, home, land, villa, business, building, bungalow, condo, casino, factory, flat, guesthouse, hotel, office, room, resort, restaurant, shop & warehouse in Sihanoukville Cambodia? We can help you best. Need an apartment for visiting executives? We have more than 1000 properties in Sihanoukville on our hand, If would you like to find good properties in Sihanoukville please call us now we will help you to the right place.
Broker
We're real estate agent in Sihanoukville Cambodia all offer a wide variety of properties for sale & rent. The abundance of rental opportunities may be but with Sihanoukville Property?s guidance you can be sure to find exactly what you need. Our experienced staff will carefully listen to your needs and narrow down the search to meet your expectations. Whether you are looking for a short term lease or a long term rental please feel free to contact Mr Norn Thim sale guy here please contact via 096 323 2425
Best regards,
Sihanoukville Property
Need help?