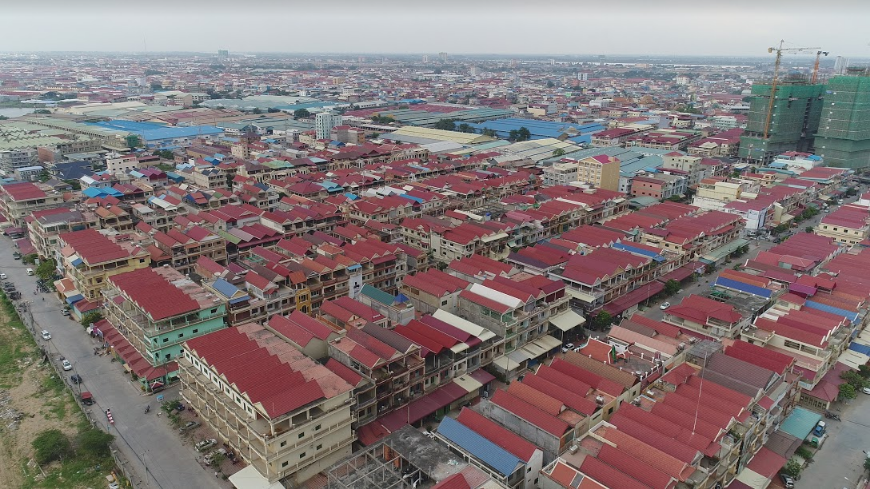 Phnom Penh, Cambodia's capital city, is seeing a rapid population growth with many people from the provinces coming to live in the city.
These people, most of whom belong to the middle to lower class, mainly come to Phnom Penh in search of economic and educational opportunities.

According to the Ministry of Land Management, Urban Planning, and Construction (MLMUPC), Phnom Penh's population is expected to increase to between 4 and 7 million by 2030. Other estimates put Phnom Penh's population at 7.9 million by the same period.
To meet the demands of a booming population, Minister of Land Management Chea Sophara said Cambodia needs to build 1 million more homes by 2030, not to mention a cascade of low-cost rental houses, apartments, etc.
Pich Sovann, Director of Phnom Penh Daily Property, said Phnom Penh's huge population of migrant workers has created a big market for low-cost rentals. Many of these migrants are workers employed in factories, mostly garment factories, in the Phnom Penh area.
A majority of the more than 1,700 factories operating in the Kingdom, which employ close to 1 million people, are located in Phnom Penh and its suburbs.
Drab apartment blocks with scores of rooms for rent can be found around these industrial zones. These rentals are often barely furnished and only contain the most basic of amenities like electric fans to keep out the Phnom Penh heat. These are rented for less than US$100.
"Because they are affordable they are popular with factory workers," Mr Sovann pointed out.
Factory workers earn between US$170 to US$300 a month and allocates US$50 US$80 for rent. It was noted that some of these people even share a single unit with some friends to further minimize the rental cost.
Mr Sovann mentioned that most of these low-cost rentals are found in the Phnom Penh suburbs of Boeung Tumpun, Steung Meanchey, Por Sen Chey, and Chaom Chao. There is also a scattering a low-cost rentals that can be found close to the city center.
Tang Hour, President of Amatak Property Service, noted that low-cost rentals in the outskirts and suburbs of Phnom Penh are also popular with students and staff of companies, restaurants, hotels, and other businesses that earn between US$200 to US$300 per month.
Phnom Penh is home to most of Cambodia's universities and other institutions of higher learning.
Ms Tang took issue of the poor hygiene and security in areas where low-cost rentals are concentrated. "Some locations [outside the central city] need to improve hygiene and security," she stressed.
Soth Virak, CEO of Huttons CPL, agrees that there is a big market for low-cost rentals in Cambodia's capital city.
Noting that a big chunk of the population falls in the under 39 category, he said that many of them go for cheap rental apartments and houses in the meantime while saving to buy their own houses later.
"They opt to rent a cheap house before they can afford their own houses," he said.
Mr Virak added that there are people with bigger salaries who opt for low-cost housing. "There are some out there with average earnings of US$500 per month who rent rooms that fetch for US$100-US$200 per month," he said.
These houses, some of which are located in the center of Phnom Penh, are equipped with the most basic of amenities and are devoid of luxurious ones like refined furniture and furnishings.
Cost of living in Cambodia is very low. The Kingdom has some of the cheapest housing rentals in the world.