It's a common Phnom Penh experience: You're riding your motorbike down the street and you pass a Rolls Royce or a sleek Porsche. But what's the secret to building a fortune in Cambodia? 
There's no single answer to that question. However, one thing is for sure: People in Cambodia are boosting their wealth, providing security to their families and becoming more successful through property ownership.
The Home & Lifestyle Expo 2019 will feature once-in-a-lifetime deals on affordable housing. What's more, tons of experts will be there to deliver seminars for first-time homeowners and aspiring property moguls. Come to Koh Pich Exhibition Center on April 26 and 27 to learn how to go from scooters to SUVs.
Be the first property buyer
Doors open at 10am. The deals will go fast, and the first property buyer of the day gets a free E-Bike! Plus, everyone there will get a chance to meet and take a selfie with the famous DJ Nana. You'll also get to hear from H.E Mr. So Visothy, Undersecretary of State at the Ministry of Tourism.
There will be tons of prizes at the show including Samsung phones, JBL speakers, power banks, t-shirts, free hotel stays, airline tickets and even free home internet for a year.
Let's not forget the discounts you'll get on everything from real estate to cars. Prince Real Estate will be selling units that can be owned for less than $799 per month. R&F Cambodia will be offering a 10% discount on their properties. Nissan will be at the show giving out free coffee and letting you test drive their newest automobiles.
Arakawa Residence, for one, is bringing some of the most affordable options to the show. They will be showing studio units starting from $28,000 and two-bedroom units starting from $56,000.
"Arakawa has invested in the affordable housing sector to provide middle class people affordable homes in the city, close to workplaces and other amenities," said a representative from Arakawa.
Learn from the best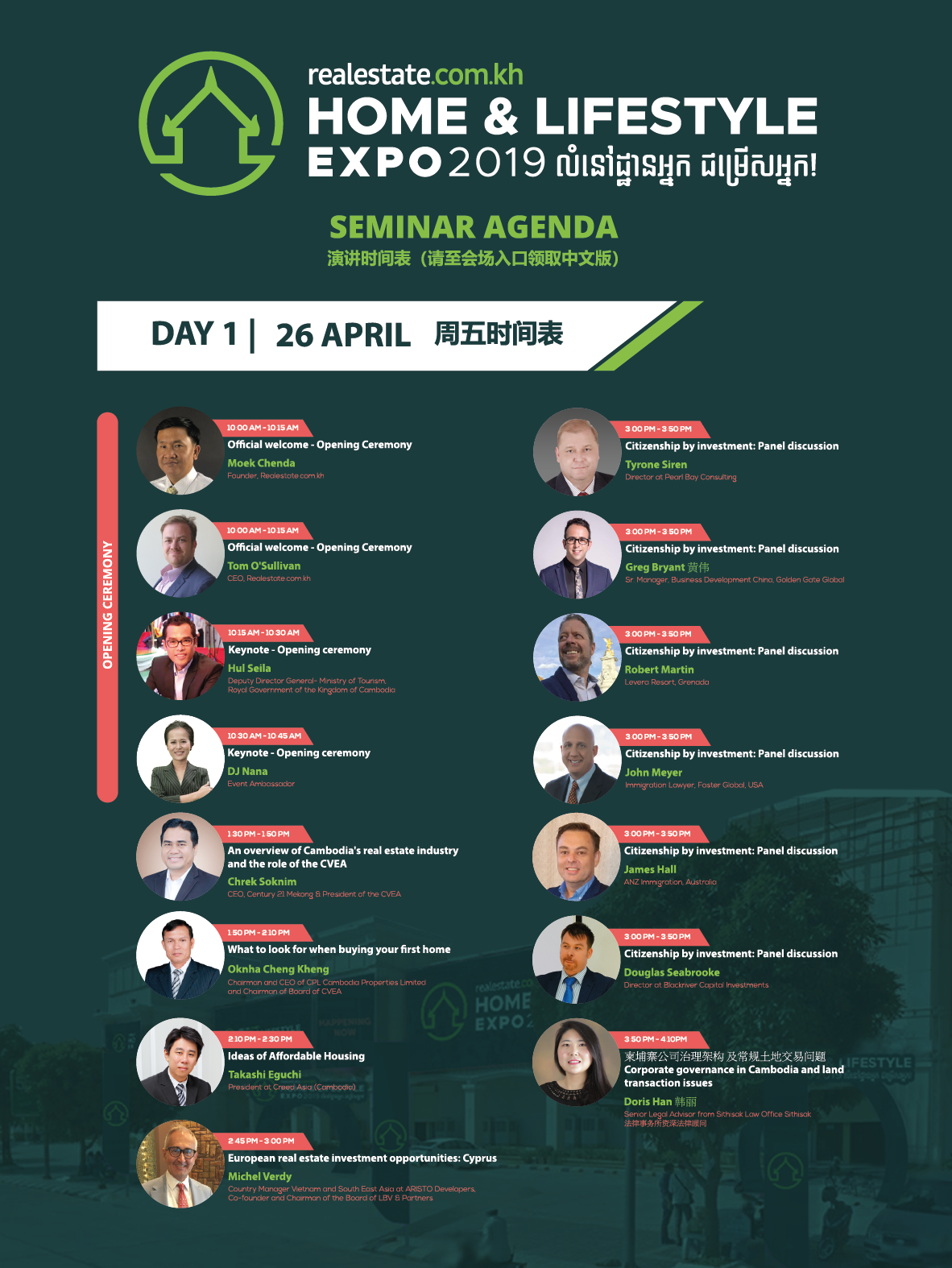 The seminars are sure to be packed, so make sure you come early. Seminars start at 1:30pm. Here's what the schedule looks like on the first day:
CVEA's Chrek Soknim will give an overview of that organisations role in the industry
Oknha Cheng Kheng will then give advice about buying your first home
Then Oknha Sear Rithy will explain how Worldbridge Group is bringing affordable homes to Cambodia
Takashi Eguchi, president of Creed Asia will then elaborate on ideas of affordable housing
After that, the rest of the first day's seminars will focus on foreign investment opportunities. Speakers and panellists include Michel Verdy of Aristo Developers; Tyrone Siren, Director of Pearl Bay Consulting; Greg Bryant, Senior Manager of Business Development China at Golden Gate Global; Robert Martin of Grenada's Levara Resort; John Meyer, an immigration lawyer at Foster Global, USA; James Hall from Australia's ANZ Immigration; Douglas Seabrooke, Director at Blackriver Capital Investments and Doris Han, senior legal advisor from Sithisak Law Office.
Day two's seminars are even more eclectic and informative. Come to Koh Pich on April 27 and learn about Cambodia design trends, education, hospitality, investing and even parenting.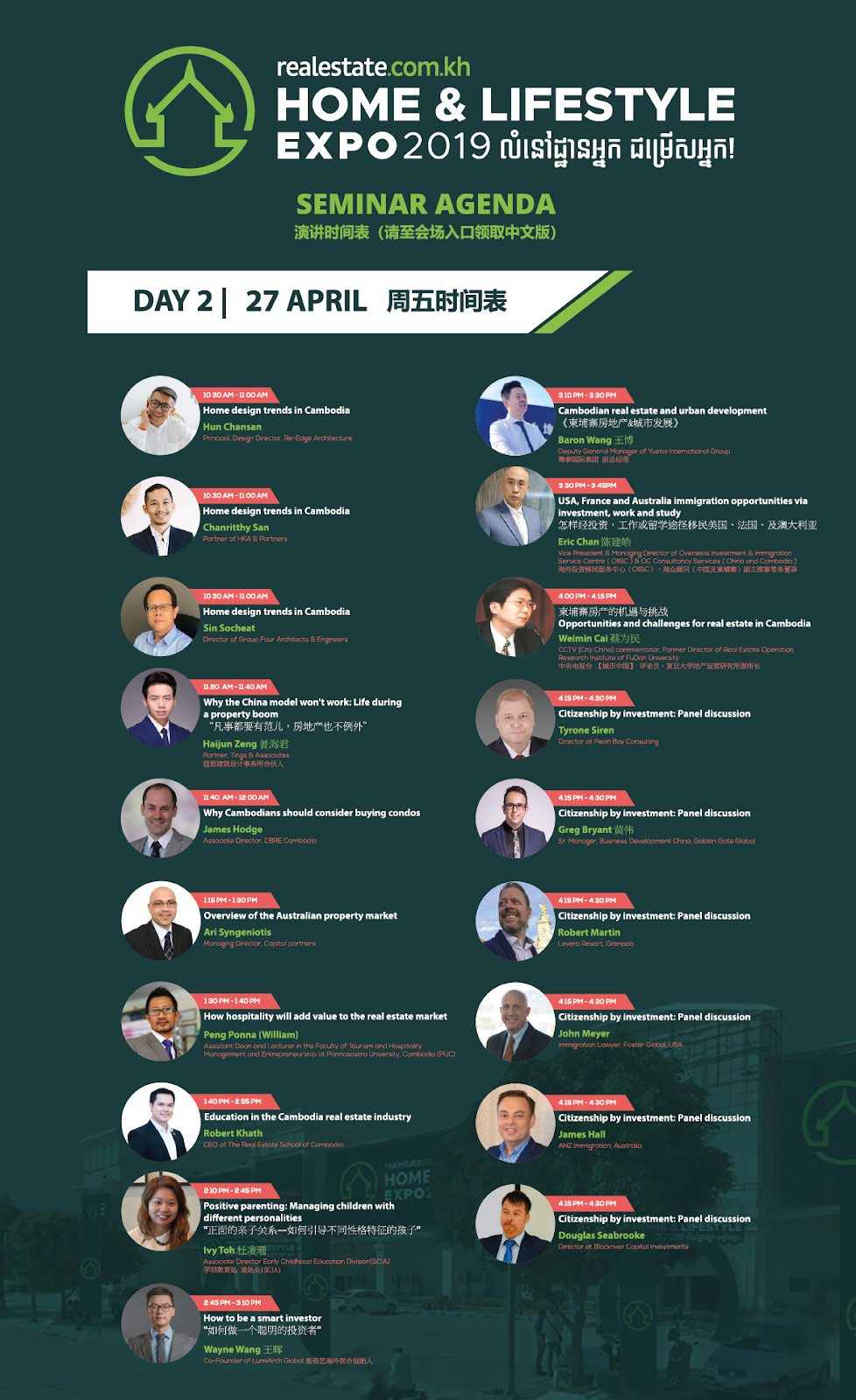 And there are tons of prizes for anyone who buys property at the expo. You can get an E-Bike from Voltra, free home internet for a year from Mekong Net, overnight stays at some of Phnom Penh's best hotels, and even Realestate.com.kh's 2019 Investment Guide.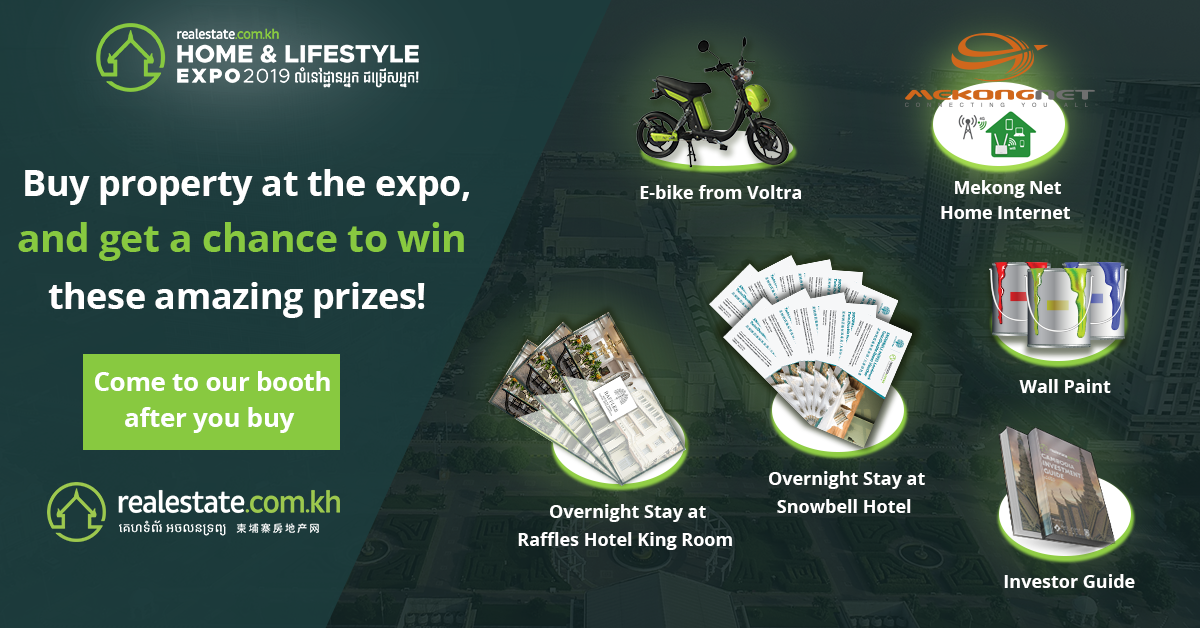 Lastly, there will be free food, drinks, a play area and much more.