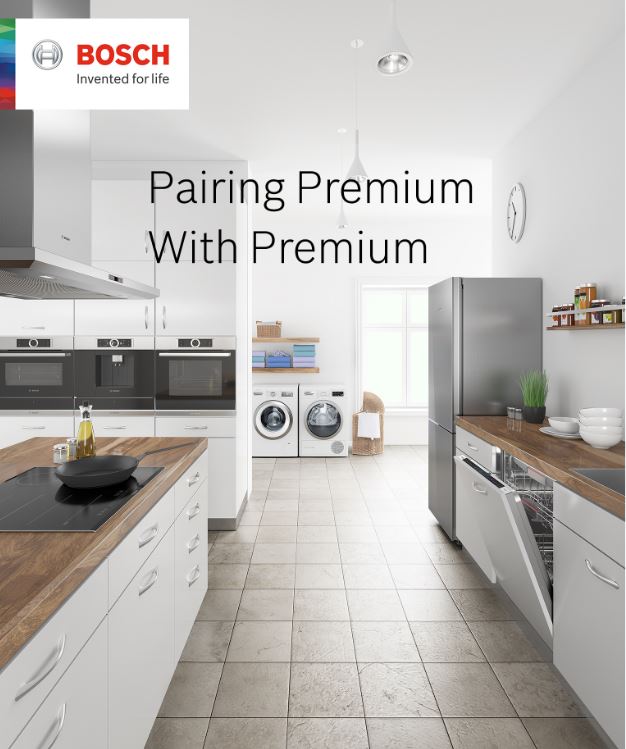 Cambodia's investment climate and property market is expected to grow rapidly and steadily in the upcoming years due to the increase of local and international investors. Together with the growing supply and demand for premium homes, the need for matching premium home appliances is also growing.
Bosch, the premium German home appliances brand under BSH Home Appliances Pte Ltd, has recognized this need. After bringing their products to several iconic projects into countries such as – Korea, UAE, USA, Singapore, Vietnam, Thailand, Indonesia,  the Philippines and many more – BSH Home Appliances Pte Ltd has now partnered with Modern Kitchen Boutique (MKB) to distribute their products in Cambodia.
MKB was established in 2012. MKB is an extension of Gas Toansamay (Modern Gas) and together they have more than 30 years of experience in Home & Kitchen appliances. From the designing of the kitchen cabinet to its construction and to the installation of appliances, MKB provide complete solution to your Kitchen's needs. Now with Bosch, it served to complete this already well-established entity.  
Charlie Chea, MKB's Product & Purchasing Director, said "The market in Cambodia is ready for one of the new premium level of lifestyle and we are glad to offer Bosch appliances going forward."In addition, he added that "Since Bosch is filling a niche for premium European appliances, their product selection is very appealing toward the luxury retail market as well as the booming Project market."
Some of the "premium European appliances" that will be distributed by MKB include Bosch's winning Series 8 Ovens, which comes with a cook-assisted program and unique cooking functions, like perfect Bake and Perfect Roast. It also boasts of a 2.5" TFT Screen for improved usability and control.
For anyone looking to complete the afternoon homemade pastry and coffee experience, MKB will also offer Bosch's Automatic Espresso machine. It features a TFT display too that can easily guide users through options for coffee strength, coffee temperature, and type of coffee drink. Perhaps one of the products the company is most excited about is the washing machine with Eco Silence Drive. With its anti-vibration side panels and automatic loading sensors, the machine is not only pleasant to the ears. It's also efficient both in terms of process and energy consumption. 
Bosch's product will be made available by MKB in its free standing showroom in Phnom Penh by end of June. So, if you're planning on investing on development of a new construction, buying your first new home or upgrading your home, getting appliances from Bosch is an ideal choice to spruce up your home and future proof it along the way.
Find the best real estate news on Realestate.com.kh!