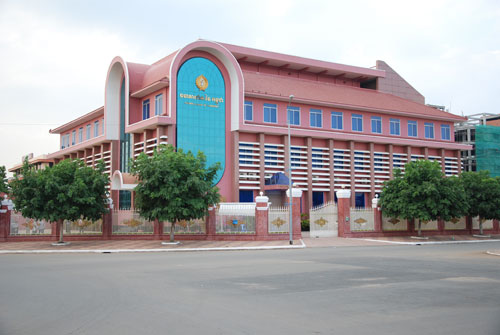 The Banking sector of Cambodia is highly competitive with around 60 banks and other major financial institutions jockeying for position and competing for market share in a country of 16 million people.
There are currently 39 commercial banks, 15 specialized banks, and 6 foreign banks representative offices in the country. 

Nearly $4 billion was loaned out to the construction and real estate sectors last year, but the money came from a just few banks. Latest figures from the National Bank of Cambodia (NBC) show that in 2017 $3.91 billion were loaned out to the construction and real estate sectors, representing 24.28 percent of the $16.10 billion total loan portfolio for 2017.
Loans for construction projects reached $1.52 billion, personal home loans $1.48 billion, and loans for real estate trade were valued at $917 million.
It was noted, however, that most banks stayed away from direct lending to real estate. For the ones that do so the amount is much smaller compared to other sectors or industries. Risks apparently dissuade these banks from getting more involved with the sector.
The risks that banks often think about when dealing with the real estate sector include Market (oversupply results in inability to sell properties), Financial (lack/run out of funds to complete the project), Developer (unmet completion schedules, sub-standard projects) and Legal (title/contract disputes, failure/difficulties in getting necessary permits on time).
ACLEDA Bank, for one, offers home loans, but it's not their priority. According to So Phonnary, ACLEDA Bank Executive Vice President, they use only 7 percent of the bank's total loan for real estate, and another 1 percent for home improvement loans. ACLEDA's home loans were worth about $208 million and home improvement loans were about $70.3 million in 2017.
Banks offer different loan terms and conditions. For its Home Loan Program, BRED Bank offers a special 6.6 percent interest rate with approval fee waived. Loans can be made in foreign or local currency, payable up to 20 years, available to individual and joint borrowers, and provide for 30 percent minimum downpayment.
Guillaume Perdon, BRED Bank CEO, said their bank works closely with a few developers and with end-customers to make their projects come true, but do so with caution.
"So far, we have been mainly providing financing solutions to home buyers but we also started to partner directly with developers to create specific offers for their buyers. As regards direct financing to developers, the Bank has a careful approach but we welcome them to come and meet our team so we can discuss of their project," he said.
Since its launching last year, BRED Bank, the only European bank in Cambodia, has disbursed a large number of home loans thanks to its special home loan promotion with very low interest rates.
Mr Guillaume said they are directly exposed to a wide variety of risks (credit, financial, operational, market, legal, social and environment, etc.), but are coping with it through the successful implementation of a comprehensive risk management framework.
According to him, as part of an international banking group, BRED Bank Cambodia has implemented a strong risk management system fully compliant with local and international regulations. This means defining its risk appetite, strong policies, procedures and organization, an internal control and AML & AMP; Compliance department dedicated to control the operations on a daily basis and a secured information system.
"Regarding credit risk, in addition to our sales team, every loan request is reviewed by a dedicated team of analysts who evaluate the level of risk of each project," he stressed.
David Sok Dara Marshall, Chief Risk Officer, Sathapana Bank, said divergent perspectives on risks could be another reason for lesser bank involvement in real estate projects in Cambodia. 
"When a bank approves a loan to developers, they think about "risk". Whereas developers may not think much about it. Developers usually think about the profit of the property investment, reputation of the development company and project and the image of the project and the builder," he noted.
Mr David added that a bank would give more consideration to a property development designed to provide income streams or revenues from sales or leasing of property.
These property include warehouse/factories buildings to rent out, ports or other infrastructure, condominiums, shop houses, school developments, special economic zones, office and mixed-use developments, hotels and resorts.
Mr David said a bank's duty to its stakeholders makes it more cautious when it comes to real estate projects.
"Banks have a duty to their stakeholders in managing risk to ensure that they prevent financial losses, keep depositor's money safe, ensure stability of the financial system and make profits so they can reinvest for growth and pay shareholders dividends and increase shareholder value," he said.