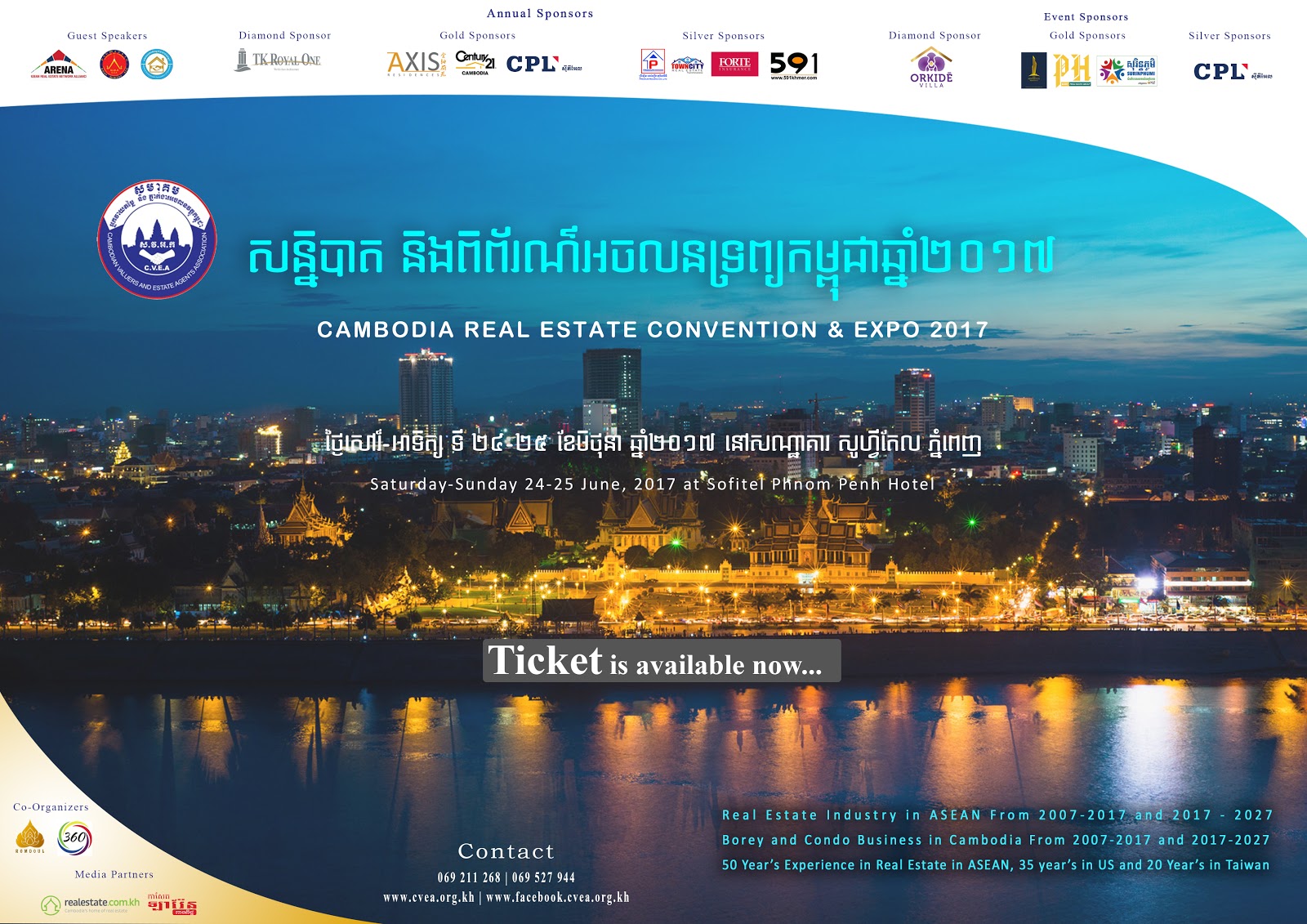 Cambodia is rapidly growing in terms of real estate -- attracting both local and international property developers and investors from across the ASEAN. With a constant GDP growth and investment growth prospects, Cambodia has great potential for small to large scale developments.
The country has also changed in terms of real estate and construction. New developments are now offering a very convenient way of living. Expats are also now allowed freehold ownership. Developments are now also moving from Phnom Penh out to both Siem Reap and Sihanoukville. So, purchasing property in Cambodia may be ideal at the moment for both local and international investors who have a better understanding of potential investment opportunities.
Cambodian Valuers and Real Estate Agents Association (CVEA) is working towards showcasing all those properties in the country and presenting them to the world. As such, CVEA is organizing its first and biggest yearly real estate exhibition and convention. It will be held in two weeks at Sofitel Phnom Penh Phokeethra. It will last 3 days -- from the 23rd to the 25th of June 2017.
Dr. Kim Heang, the President of CVEA, said that "the Cambodia Real Estate Expo and Convention is aiming to promote Cambodian real estate to the international market and also to train relevant members of the industry to better understand the land and residential market of the Kingdom.
Dr. Kim added, "This exhibition is a national event, but it will be attended by international visitors and speakers who have a wide range of experience from their many years in the international real estate market."
Dr. Kim Heang explains, "This event is going to promote Cambodia's real estate as a whole. That means that it's not just going to advertise the projects of partners, but also other developments in Cambodia. There are around 6 project developments exhibiting over the three-day-event. These  include: the Orkide Villa, Borey Chip Mong Land, Borey Peng Huoth, Penthouse Residence, Surin Phumi Project, and CPL Properties Limited.
There will also be some training sessions at the event that will cover a variety of topics. They will be presented by major speakers hailing from Cambodia and eight other Asean countries. The speakers are: H.E, Ngoun Sokha; Secretary General of State at the Ministry of Economy and Finance; Sok Siphana, Managing Partner at Sok Siphana & Associates - a member of ZicoLaw; Chenyi Chiu, General Manager of TK Royal One and Advisor to CVEA President; Dato' Seri Kee Yong Wee, a Former Malaysian Chinese Association Youth Leader from Malaysia; Oknha Ly Hour, President of Housing Development Association of Cambodia; Mr. Harry Yeo, President of the Institute of Estate Agents Singapore (IEA); Mr. Erick Kho, Past President of Malaysian Institute of Estate Agents (MIEA); Dr. Sopon Pornchokchai, President of the Thai Appraisal Foundation; Mr. Hartono Sarwono, President of Assiasi Real Estate Broker Indonesia; Mr. Nguyen Tran Nam, President of Vietnam National Real Estate Association (VNREA); Mr. William Floresta, Senior Vice President of the Philippine Association of Real Estate Boards, Inc. (PAREB); Mr. Khin Maung Than, President of the Myanmar Real Estate Service Association (MRESA); Oknha Cheng Kheng, Chairman of the Cambodian Valuers and Estate Agents Association (CVEA); Oknha Sear Rithy, Chairman of Worldbridge Land; Lok Chumteav Okhna Lim Chhiv Ho, owner of At WOOD and PPSEZ.  
The event is sponsored by Realestate.com.kh and La Reine. All Cambodia TV channels will also be invited to the event.
Topics that will be discussed during the event include the following:
20 Years of Real Estate Industry in Singapore 2007-2017 & 2017-2027

20 Years of Real Estate Industry in Malaysia, 2007-2017 & 2017-2027

20 Years of Real Estate Industry in Thailand, 2007-2017 & 2017-2027

20 Years of Real Estate Industry in Indonesia, 2007-2017 & 2017-2027

20 Years of Real Estate Industry in Philippine, 2007-2017 & 2017-2017

20 Years of Real Estate Industry in Vietnam, 2007-2017 & 2017-2027

20 Years of Real Estate Industry in Philippine, 2007-2017 & 2017-2027

20 Years of Real Estate Industry in Myanmar, 2007-2017 & 2017-2027

20 Years of Real Estate Industry in Cambodia, 2007-2017 & 2017-2027

50 Years Experience in Real Estate in ASEAN

Success of Borey Vimean Phnom Penh

Success of the PPEZ

The Importance of Construction Safety for High Rise Buildings

Role of Cambodia in the Asean region
Registration is required for the event. Admission is at $100 per one attendee. The price will include two lunch meals and four cups of coffee for breaks at Sofitel Phnom Penh!
Find the best real estate news on Realestate.com.kh