On the 20th of August, 2017, Creed Group will officially open the "ARATA Garden Residences" (ARATA). Creed Group is a Japanese real estate firm with more than 20 years of experience in the real estate market of Japan, and has been investing in the growing real estate markets of Malaysia, Vietnam, Myanmar, Bangladesh, Laos and Cambodia since 2012. ARATA is Creed's third project in Cambodia -- made possible with the help of local investor "Triple Gem Assets Co., Ltd."
Creed Group's first project is the condominium "Bodaiju Residences", located just opposite of the Phnom Penh International Airport. The second project is "Boray Maha Sensok", which will be completed at the end of 2017.
Creed and Triple Gem have started cooperating with another Japanese developer "Hoosiers Holdings" for ARATA. Hoosiers has developed 261 projects and 20,000 units since its establishment in 1994. It is listed in the First Section of the TSE (Tokyo Stock Exchange). Creed and Hoosiers will be bringing the "Japanese way" of managing, construction quality, and landscape design into Cambodia.
ARATA is composed of more than 500 units for phase 1. It provides various selections of house types such as Shop Houses (A&B), Luxury Link Villas (A&B), Twin Villas, Jack Villas, Queen Villas, and King Villas.
It also offers a variety of facilities such as a swimming pool, a kiddie pool, a playground, a coffee shop, a mini mart, gym, a badminton court, and a regular shuttle bus to the 2nd AEON Mall. The projects focuses on being a modern and fresh living environment. It's a large-scale landscaped development that can sustain the thick and abundant greenery for a very long time. This results in creating a more pleasant environment for the entire district over the years. ARATA means "New" in Japanese and "Thmey" in Khmer, inspired by "Phnom Penh Thmey".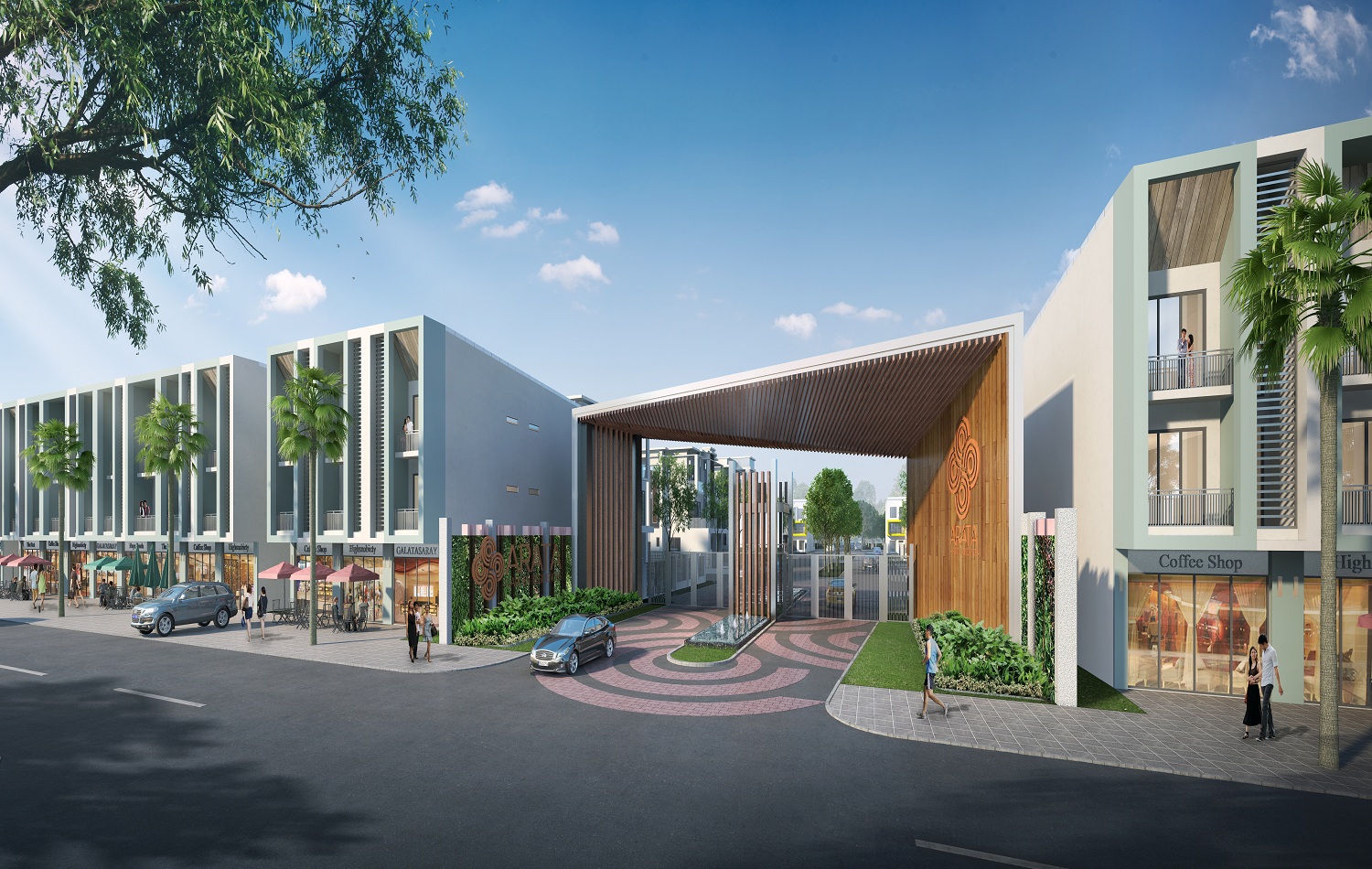 One of the advantages of ARATA is its remarkable location. It is located at Banla Saet Village, Sangkat Khmounh, Khan Sen Sok, Phnom Penh, which is one of the fastest growing areas in terms of land price and population, and on the 40-meter wide road according to Phnom Penh's master plan. Moreover, it is only about 800 metres away from Hanoi Boulevard and has easy access to the 2nd AEON Mall, Makro wholesale, and other business establishments.
Besides its location advantages, the iconic architecture is designed by Japanese Architect Hisaya Sugiyama, principal at Quincy Studio Inc. One of his outstanding concepts is the park along the 40-metre-wide road. The 1 hectare of the park is uniquely landscaped, running vertically from east to west. And the ground is purposely uneven to create the walking trails and the shades. It is designed for the residents and the neighbours to gather and create a community space where they can walk, sit on the bench and chat, relax, dance, or play sports on the grass.
Get more information about ARATA Garden Residences and learn more about Cambodia's newest developments by visiting Realestate.com.kh!